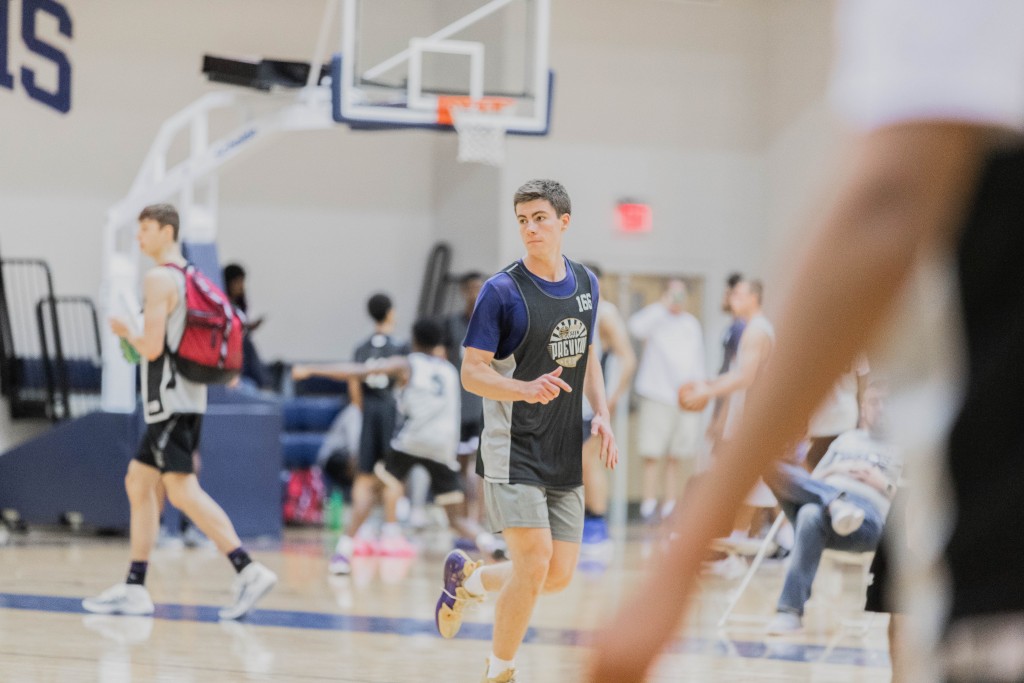 Nolan Dorsey commits to New Mexico, Keishon Porter heading to the Big South, hottest recruit in NC & SC, a look at who has committed from North Carolina, big steal for NCCU, and more. 
Dorsey Heading West
6-foot-6 point guard Nolan Dorsey of Raleigh (NC) Millbrook has committed to Paul Weir and New Mexico. Weir came in and watched Dorsey workout two weeks and offered the lead guard soon after. The Lobos secured an official visit soon after and Dorsey made the decision on Sunday.
One of the best passing point guards in the region, Dorsey had this to say about his commitment, "I wanted to somewhere with great coaches and great players. Obviously, it's great conference with some real talent but it's a challenge I feel I need in order to take my game to the next level. I think Coach Weir and I are similar in the way we think, and he's someone that is going be honest with me and take my game to the highest level possible."
Porter Picks Radford
2020 guard Keishon Porter of Southwest Edgecombe (NC) introduced us at HoopSeen to his ability at our Tip-Off event in March and steadily saw his recruitment rise topping off with an offer from Texas A&M after our Best of the South event in July playing with Team Trezz.
He released a top three of Hampton, Radford and Texas A&M in late September and announced yesterday that he was committing to Mike Jones and the Radford Highlanders. Porter is a prospect that could come in and instantly make an impact with his athletic ability and scoring prowess at the Big South level. He had this to say about his commitment, " When I visited, I just felt like I was at home already and they treated me like family." 
2022 Shooter Zanoni Taking in Visits 
Michael Zanoni, a 6-foot-4 shooting guard out of Charlotte (NC) Providence Day was a top performer at our HoopSeenNC Fall Preview and the Queen City product has been getting a look at college programs this fall. He recently took an unofficial visit to Utah and will now head to The University of Illinois for an unofficial visit next week. Zanoni should be tracking at the high-major level with his shooting ability and size at the guard spot. 
McKinney and Parton Picking up Offers
Two of the top guards in WNC this season, Tyler McKinney of Asheville (NC) Christian Academy and Tyler Parton of Asheville (NC) Reynolds have both been gaining college offers. The 6-foot-5 McKinney has picked up offers from Young Harris, Lincoln Memorial and Georgia Southwest College over the past two weeks. Parton, a 5-foot-9 lead guard has picked up offers from Emory & Henry, Pfiefer, and Warren Wilson over the past month.
NCCU Lands Wright
Justin Wright has been on our HoopSeenNC radar for a while now. The 2020 point guard led Farmville (NC) Central High School to a state title this past season and Wright was a big piece in the title run. The 6-foot-1 lead guard will not wow you with athleticism or flashy plays he just gets the job done at a high-level. He understands the game, can score from either guard position and is a brilliant passer. The Team Loaded NC guard chose LaVelle Moton and staff over offers from East Carolina, Old Dominion, Air Force, Canisius, East Tennessee State, Elon, High Point and Rice. 
Wright has the skill-set to be a an all-conference level guard in the MEAC coming in as a freshman in 2020. This is a huge in-state get for the Eagles and Wright will instantly become an impact guy at that level. Wright was named to the HoopSeenNC All-State team this past season. 
Hottest Recruits in North Carolina?
Since transferring to The Burlington School and re-classifying to the 2021 class, Forward Kuluel Mading has seen his recruitment rise dramatically. Clemson is the latest offer for the agile big man to go along with Elon, UNC-Greensboro, Radford and Western Carolina. Mading spent the travel season with the New Light Disciples. College coaches have been impressed with the 6-foot-9, Mading because of his ability to run the floor, block shots, rebound and can score around the basket.
Grace Christian's Keeyan Itejere, a 6-foot-8 forward who played this travel season with UC 27 Dreamchasers on our HoopSeen stage at the Bob Gibbons Tournament of Champions has picked up offers from Elon and Radford this week. The class of 2021 big man is turning heads with his size and skillset.
Hottest Recruit in SC? 
2021 point guard Tyler Rice of Columbia (SC) Ridge View High School has been taking unofficial visits this fall. He has taken in campus visits to Davidson College and Western Carolina University. This season at Ridge View, the defending SCHSL 4-A state champs will be a big one in terms of college programs understanding the value that Rice brings to the team. He holds offers from Penn State, Elon and USC-Upstate. 
North Carolina By the Numbers
25 prospects from North Carolina have committed to college programs at the D1 and D2 level so far. How does that number rack up against other states? The top four from the HoopSeen coverage area, Georgia leads with 32 commitments, North Carolina is second with 25, Florida is third with 13, Alabama comes in fourth with 7. Here are the players that are off the board from North Carolina as of today. 
| | | |
| --- | --- | --- |
| Player Name | High School | College |
| Ahmil Flowers | Grimsley | High Point |
| Brady O'Connell | Ravenscroft | Old Dominion |
| Cam Hayes | Greensboro Day | NC State |
| Carson McCorkle | Greensboro Day | Virginia |
| CJ Huntley | Davidson Day | App State |
| Daniel Ransom | Vance | Western Carolina |
| Dean Reiber | NW Guilford | Rutgers |
| Djimon Bailey | Greenfield School | Wake Forest |
| Garrett Hein | Concord First Assembly | Furman |
| Jackson Threadgill | Davidson Day | Charlotte |
| Jadyn Parker | West Brunswick | North Florida |
| Jaylon Gibson | Grace Christian | Wake Forest |
| Josh Banks | Olympic | VCU |
| Josh Massey | United Faith | Western Carolina |
| Justice Ajogbor | Christ School | Harvard |
| Kaleb Scott | Holly Springs | Georgia State |
| Kalib Matthews | Henderson Collegiate | Queens |
| Kennedy Miles | Williams | Western Carolina |
| Myljael Poteat | Burlington School | Rice |
| Nic McMullen | Smith | Murray State |
| Nick Farrar | Apex Friendship | NC State |
| Trayden Williams | North Meck | Robert Morris |
| Justin Wright | Farmville Central | NCCU |
| Nolan Dorsey | Millbrook | New Mexico |
| Keishon Porter | SW Edgecombe | Radford |