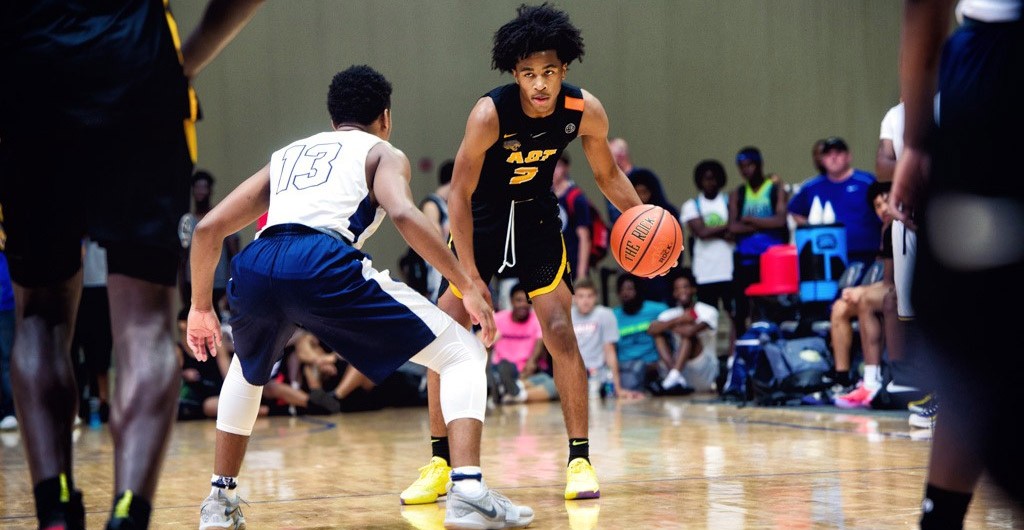 With the summer now over and students all enrolled and in school for their senior years, it is time for us to update our post-summer rankings for Georgia's 2020 class. The list is longer than it has ever been and there are some big changes. We dive deep into it all. 
MOVING OUT, MOVING IN
There were some big move outs and move ins for the class of 2020 and those changes have impacted the state of Georgia's rankings. Out is Brandon Boston. The new Kentucky commitment left Norcross for Sierra Canyon in California. Boston was the No. 2 overall player in the state of Georgia. Now that spot opens up and Woodward Academy center Walker Kessler slides into that position. 
Also notable, combo guard KD Johnson left Southwest Dekalb for Hargrave Military in Virginia. He was a top 10 player in the state prior to his departure. 
So, now what?
JT Thor, a nationally ranked 6-foot-9 prospect from Huntington Prep in West Virginia, transferred to Norcross. And so did Atlanta native Josh Taylor, who returned back to the Peach State after a year at Greensboro Day in North Carolina. The Norcross big men are now our two best power forwards in Georgia. 
There are a number of others who make their debut. We've extended the rankings to 65 total players, making it the deepest ranking we have ever done for the state of Georgia. 
Dylan Cardwell moved back to Georgia after a year stint at Oak Hill Academy. The 6-foot-10 big man is now at McEachern. He checks in at No. 8 overall in our latest rankings. 
SUMMER RISERS 
Grayson's Caleb Murphy was one of the hottest prospects in the nation. The 6-foot-2 guard tore up the adidas circuit and got better each and every week. He shot up to No. 4 overall in our latest rankings. 
Chris Youngblood and Brandon Stroud are a scary 1-2 punch. The East Coweta teammates had terrific junior years and tore it up with the Georgia Knights. They now come in at No. 12 and 13, respectfully. 
Melvin Edwards of Carrollton/Team Forrest comes in at No. 17 overall. He was outstanding for TF and played very well during the June NCAA Live Period. So did his travel teammate Christian Fussell, who comes in at No. 18. 
Also rising is Tucker wing Terrence Edwards, Jr. The long 6-foot-6 senior comes in at No. 23 overall. He was one of our favorite players we saw in June. 
COLLEGE BOUND BALLERS
There are currently five players in the top 65 who are committed to a college. They are: 
No. 5 Dwon Odom (St. Francis) to Xavier
No. 12 Chris Youngblood (East Coweta) to Kennesaw State 
No. 20 Cameron Sheffield (Chattahoochee) to Rice
No. 22 Brandon Harris (River Ridge) to Elon
No. 28 Kasen Jennings (The Heritage School) to Kennesaw State
COUNTY REPPIN'
Here is how the talent is spread about the different counties 
Gwinnett - 10 players
Dekalb - 9
Cobb - 7
Fulton, Coweta - 5
Henry, Washington - 3
Carroll, Cherokee, Clayton, Douglas, Forsyth, Newton - 2 
Ben Hill, Bibb, Clarke, Chatham, Hall, Jackson, Jeff Davis, Walton - 1
POSITIONAL BREAKDOWN
Here is how the top 65 plays out among the different positions - 
Point guards: 7
Combo guards: 8
Shooting guards: 16
Wings: 14
Power forwards: 13
Centers: 7
TOP DOGS 
Point guard: Sharife Cooper, McEachern
Combo guard: Ja'Quavian Florence, South Atlanta
Shooting guard: Caleb Murphy, Grayson
Small forward: Ja'Queze Kirby, Jeff Davis 
Power forward: JT Thor, Norcross 
Center: Walker Kessler, Woodward Academy 
Every player on the ranking was evaluated in person by our staff multiple times. We rank on a combination of how we project the player in college and beyond, travel and high school team performance and the player's production paired with potential.