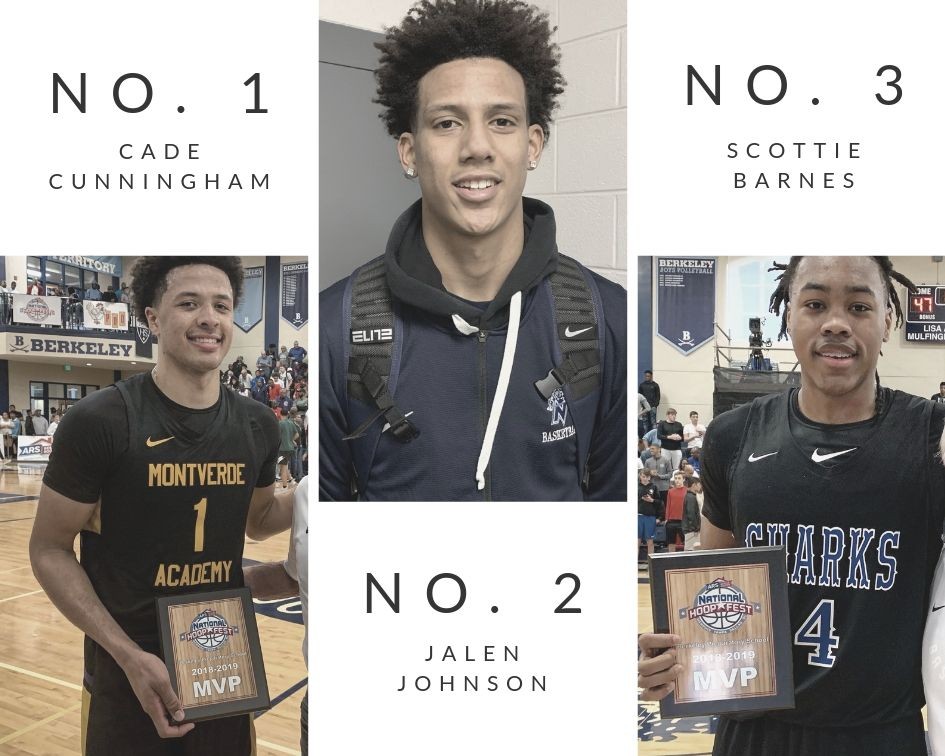 The class of 2020 is absolutely loaded in the state of Florida. 
Absolutely loaded. 
Now that the majority of rosters have been filled and transfers are finalized into the Sunshine State, we are happy to roll out our first go round at the class of 2020 state rankings for the state of Florida. 
The class is packed with talent. The depth of college prospects is mind-boggling. 
POWERHOUSE PROGRAMS FILL THE TOP EIGHT
There isn't a state in the country that can boast the amount of top end talent in one state than Florida can in the class of 2020. With basketball powerhouses such as Montverde Academy and IMG Academy, there is going to be an abundance of talent. 
The two programs make up the eight best players in our class of 2020 post-summer rankings. Each school has four players inside the top eight overall. There are likely five McDonald's All-Americans and five potential NBA lottery picks. 
Those are crazy numbers. 
Cade Cunningham returns for his senior year at Montverde. The native of Arlington, Texas is our No. 1 overall player in the nation for the class of 2020. The 6-foot-7 point guard is down to Oklahoma State, Florida, Kentucky, North Carolina and Washington. There is a belief that he ends up at Oklahoma State. His brother is an assistant coach on the staff at the Big 12 school. 
Jalen Johnson, a Wisconsin native, joins the IMG team this season. The 6-foot-9 do-everything forward committed to Duke after a brilliant summer. He's a consensus top five player nationally. He checks in at No. 2 overall in Florida. 
Of the top eight players ranked players, only one is a homegrown player from the Sunshine State. Scottie Barnes, the No. 3 overall player in the state, is from Fort Lauderdale and transferred from University School to Montverde. 
Back for his senior year is North Carolina native Jaden Springer. He is back at IMG for another go round in Bradenton. Springer was one of the most dynamic players we saw last high school season. He can play multiple positions and continues to get better and better. 
North Carolina commitment Day'Ron Sharpe is now at Montverde Academy this year. The 6-foot-9 center was our MVP for shoe teams on our HoopSeen stage this year. The North Carolina native is one of the most impressive big men in amateur basketball. 
Arkansas native Moses Moody is back at Montverde for another season. He's a top 40 national prospect and No. 6 overall in the state of Florida for 2020. IMG boasts No. 7 Noah Farrakhan, a New Jersey native, and No. 8 Matthew Murrell, from Tennessee. 
HOMEGROWN 
The state, regardless of move-ins, is one of the best places to find high-end basketball talent. There's never been a debate about that. We've seen it first hand at our HoopSeen events. 
New Murray State commit Diante Blanch comes in at No. 9 overall and Bob Gibbons MVP Devin Carter is our No. 10 overall player. Blanch played for Team Speights and Carter starred for the Florida Knights. 
Team Parsons is deep in our Florida rankings and the team's most recruited and productive players come in next. Isaiah Adams is No. 11 overall and Kario Oquendo is No. 12 overall. 
COLLEGE BOUND BALLERS
There are currently five players in the top 35 who are committed to a college. They are: 
No. 2 Jalen Johnson to Duke
No. 5 Day'Ron Sharpe to North Carolina
No. 9 Dionte Blanch to Murray State
No. 13 Jamille Reynolds to Central Florida
No. 14 Malachi Wideman to Florida State (football) 
POSITIONAL BREAKDOWN
Here is how the top 35 plays out among the different positions: 
Point guards: 5
Combo guards: 5
Shooting guards: 8
Wings: 9
Power forwards: 4
Centers: 4
TOP DOGS 
Point guard: Cade Cunningham
Combo guard: Jaden Springer
Shooting guard: Moses Moody
Small forward: Jalen Johnson
Power forward: Scottie Barnes
Center: Day'Ron Sharpe 
Every player on the ranking was evaluated in person by our staff multiple times. We rank on a combination of how we project the player in college and beyond, travel and high school team performance and the player's production paired with potential.