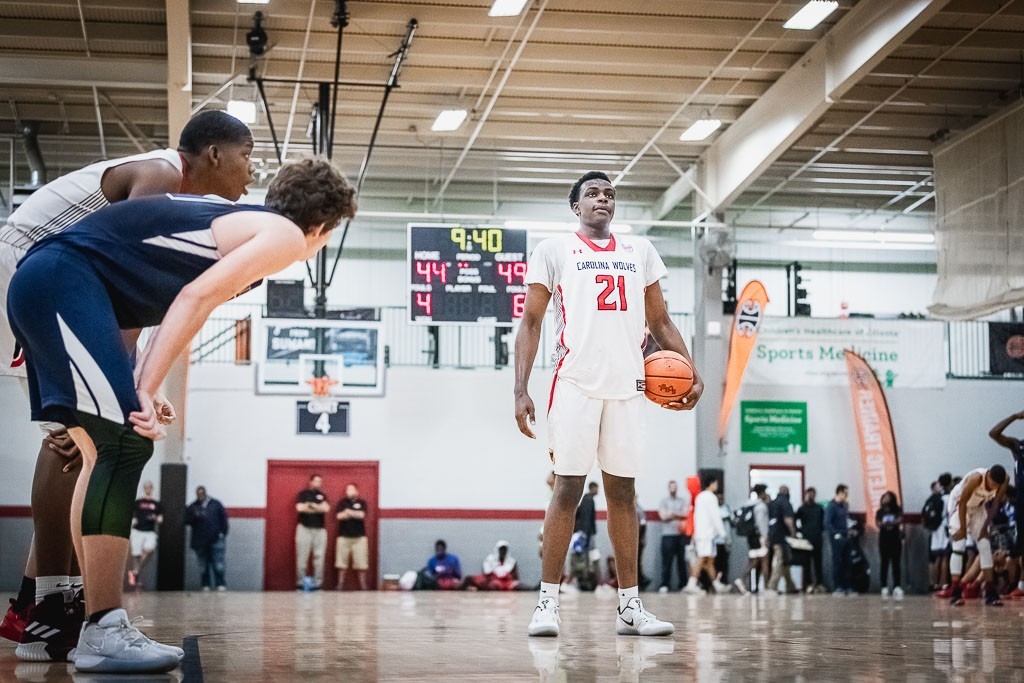 A look at Elijah Jamison's recruitment, a final two for Javon Benson, Justin Wright update, Josh Massey official visit weekend and a landing spot for Josh Hall.
Elijah Jamison's Recruitment Heating Up
"The offer from Elon is big.  Going in I didn't really know what to think about it, but the campus is beyond beautiful and they have a brand-new facility and they are looking to get things started off there and it is not too far from home and something I would greatly consider. Coach Adams and Coach Schrage and the rest of the staff showed me a great visit and showed me the full arsenal of what they have to offer even outside of basketball," he said regarding his recent offer from Elon. 
Jamison is one of North Carolina's highest returning scorers from last season on the high school level and had a great spring and summer with Team Loaded NC 16's. He is a smooth scoring guard that can really get hot in a hurry. 
The Team Loaded NC guard offers now include Elon, James Madison and Ole Miss. He is taking an unofficial visit to East Carolina this weekend, followed by a visit to Appalachian State the next weekend.
Ja'Von Benson's Decision
Ridge View (SC) big man Ja'Von Benson made a splash on the HoopSeen stage with the Carolina Wolves travel program and was named to HoopSeen's All-Independent team. Heading into September Benson is down to two schools, College of Charleston and South Carolina. He will visit the Cougars officially this weekend, followed by a visit to hometown South Carolina the next weekend. Ridge View (SC) High School head coach Yerrick Stoneman had this to say about Benson.
 "Ja'Von is as humble and appreciative young man. He is grateful for the opportunities that he has been given and his teachers speak highly of him. Regardless of the university he chooses, he will uphold that institution's core values to the highest level. At 6'7" and a 7'4" wingspan, his physical attributes set him apart from most of his peers. Despite his current excellent basketball skills, his best years are definitely ahead of him. I feel he has a tremendous upside. Once he begins playing at the college level where he will receive specialized strength, conditioning, and nutrition programs, along with the opportunity to compete against even better opponents, the sky will be the limit for Ja'Von. He has the potential to be a major contributor to any D1 program."- Yerrick Stoneman (Ridge View HS Head Coach)
Looking at Benson's final two and their approach to recruiting him, College of Charleston has been on the 6-foot-8 forward longer than anyone. South Carolina came into the picture late. Also note that South Carolina has secured a commitment from another South Carolina native in AC Flora (SC) High School big man Patrick Iriel who played with The Upward Stars adidas Gauntlet team. Will South Carolina take two big men from The Palmetto State or will College of Charleston's diligent approach with Benson be enough?
Justin Wright Closing in on Visits  
Farmville Central (NC) point guard Justin Wright has steadily been a guy that mid-majors have been recruiting for the last year. The 6-foot-1 lead guard is as steady as they come and is a proven winner. He helped lead a very young Farmville Central team to a state championship this past high school season and his offers reflect that. Recently he picked up an offer from North Carolina Central. His offer list includes Canisius, Air Force, ETSU, Elon, High Point, Rice, Old Dominion and East Carolina. Regarding a timetable on his decision, "I am just waiting after some of my September workouts before I schedule my official visits," he said.
Massey Taking Official Visit to Western Carolina 
6-foot-6 wing Josh Massey out of Charlotte (NC) United Faith will take an official visit to Western Carolina University this weekend. The long and athletic prospect who spent the spring and summer playing with Team United is a versatile wing that can score from the perimeter and can get into the lane. His offer list includes Albany, Hampton, NC A&T, High Point, Winthrop, Wofford and Elon. This is a recruitment to track with a guy that has a solid list of mid-major offers from regional schools. Will the new staffs at Elon and Wofford beat out some more established coaches from other regional schools? 
@JustinByerly's Take on Josh Hall Landing Spot
The HoopSeenNC #1 2020 prospect, Josh Hall has visits to Louisville for this weekend and a visit to NC State the following weekend (September 6th) officially. With the lack of blue-blood recruitment for the 6-foot-9 wing is a little mind-boggling. When was the last time North Carolina or Duke didn't recruit a player that was a top two or three prospect in the state? Duke has never offered a player from Durham to my knowledge and it doesn't look like either will be in good shape to land Hall if he is still available. Hall is one of the prospects that we feel has the most upside at the next level of almost anyone in the Southeast.
As it stands now, I see Josh Hall landing at NC State to play under Kevin Keatts for a year before he heads to the NBA. He would be able to play against Duke and North Carolina twice in a year and show them what they missed out on. Even if North Carolina or Duke come calling, I think the Josh Hall boat has sailed.