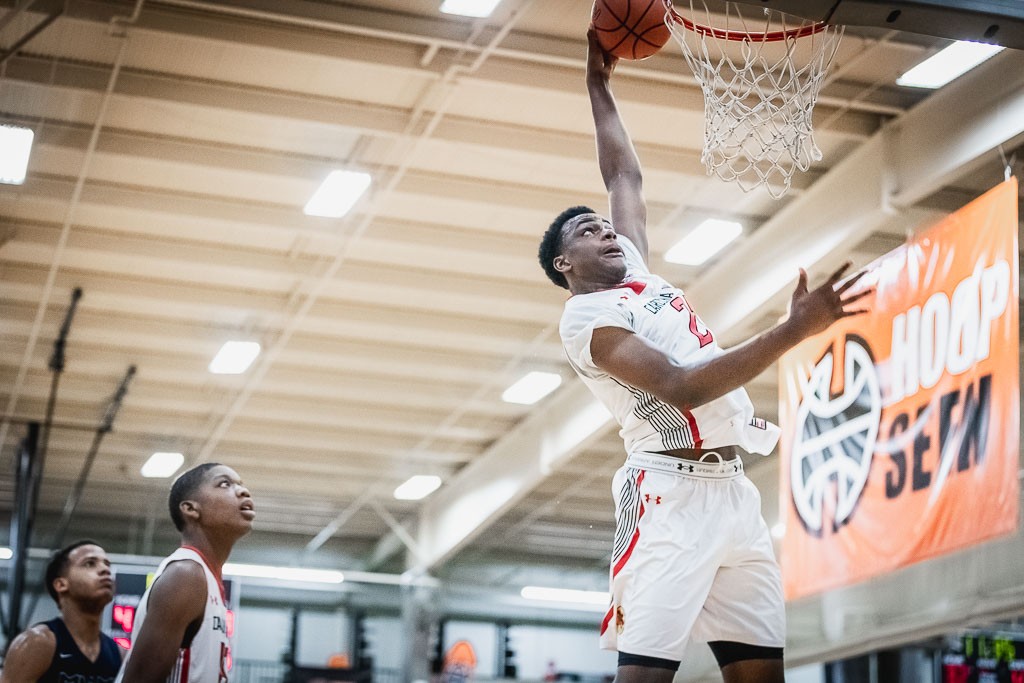 The Best Three Big Men that I Saw at HoopSeen Events Were………
Looking back on our season up to this point, there have been a lot of great teams and players who have come through the doors of our events. Now that we are in the first week of summer, it is time to look back on what an amazing spring we've had.
Javon Benson, Carolina Wolves
Benson burst on the scene with a strong showing during the April live period at The HoopSeen Atlanta Jam. The 6-foot-8 big man is a threat to score from the perimeter and has an array of post moves in the paint. He has a soft touch around the rim and has good timing when blocking shots. He rebounded the ball well and has a big frame and his footwork was impressive. Even more impressive, he averaged 27 points per game during the live period against some high-level competition.
His recruitment went went from Coker, USC-Upstate and SC State in the fall to gaining offers from Presbyterian, Winthrop, Murray State, ETSU, North Carolina A&T and Georgia Southern soon after the Atlanta Jam. I expect some of the same in July with Benson through July with the Upward Stars.
Kelton Talford, Carolina Pressure
Motor, motor, motor. Talfords plays with high-energy and is a mismatch problem for the opposition with his footwork on the block. He can step out and knock down the mid-range jumper and showed he can pass at a high-level.
We saw Talford first at The HoopSeen Tip-Off where he dominated with his ability to create easy entry passes for his teammates. One of his biggest attributes is his ability to get to the free-throw line. He is either making a tough shot when he gets the ball down low or he is heading to the free-throw line. Both of these characteristics are must-haves for college coaches. He blocks shots and does a good job of keeping them in play. He is able to get a hand on the shot and track it down to steal possession. 
His recruitment picked up after the Atlanta Jam, gaining offers from Presbyterian College and USC-Upstate.
Dean Reiber, Team Loaded NC
Northwest Guilford Head Coach Lee Reavis sent me numerous texts about big man Dean Reiber over the past few months so naturally, I was looking forward to seeing him during our Bob Gibbons Tournament of Champions at Suwanee Sports Academy last month. The 6-foot-9 center left me impressed with his play. The first thing that stands out is his footwork and rebounding ability. He not only rebounds his area well but he also grabs rebounds that other guys his size can't get. He is a mobile big man that also showed he can pass and on the defensive side block shots.
With Team Loaded NC, Reiber and Javarzia Belton pack a big two-punch along the front line with Reiber having a 6-foot-11 wingspan. His length allows his to alter shots and come up with deflections. He can score over either shoulder in the post and has a soft touch around the rim.
His recruitment has really picked up over the past month with schools like Rutgers and Penn State offering scholarships. He also holds offers from George Washington, UNC-Greensboro, Appalachian State, Old Dominion, Boston University, Manhattan, Wofford, College of Charleston, Charlotte, High Point, Elon and Rice.
Boston College and Clemson University made stops over the winter to watch him and he has been in contact with Syracuse and Tennessee. The 2020 big man comes in at #13 in the HoopSeenNC rankings.