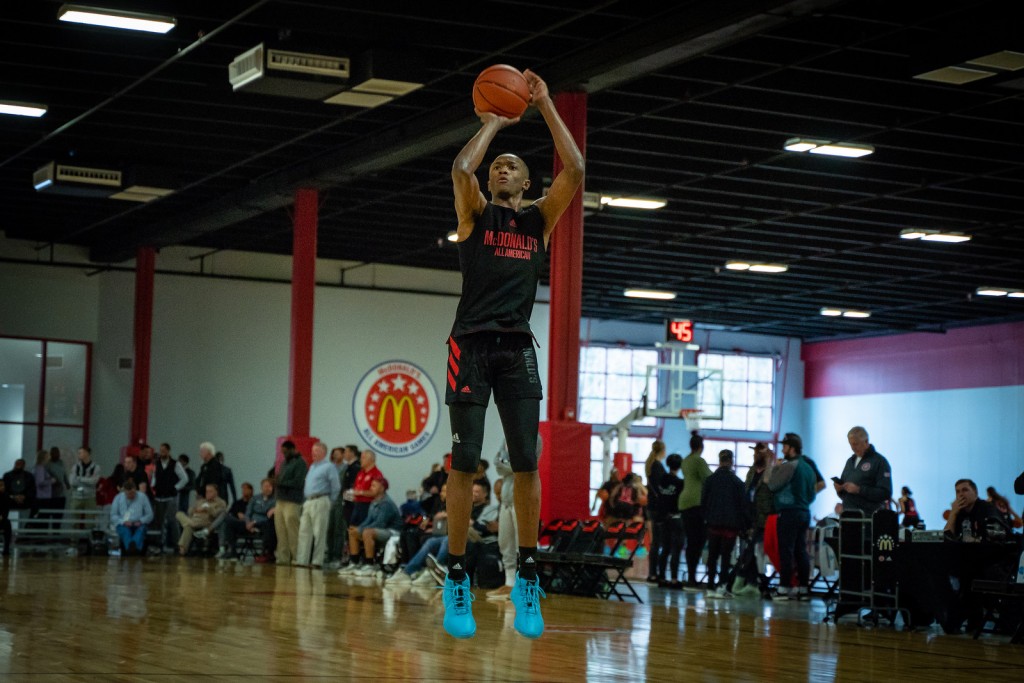 ATLANTA, GA - The McDonald's All-American practice on Monday morning was a nice mixture of energy, production and effort. There was a lot to take in as things turned up as we approach the big game on Wednesday night. 
QUICK HITTERS FROM PRACTICE 
I thought Scottie Lewis was the most locked in during the day. I'm not surprised by that at all. He's a professional in his approach every time I see him. Florida has a team captain and a terrific player coming to Gainesville. He takes on a business approach every time he's on the floor. Lewis was actively engaged in practice and even during breaks in the action. 
His future Florida teammate Tre Mann also impressed with his play. Arriving at this level of game took a lot of work for the Florida native. Getting to this level of basketball comes easy for some players. They are blessed with big-time physical gifts or actively invested in a nationwide tour to always play at every perceived important event. 
For Mann, he just put in the work and let everything else fall into place. The point guard grew his game every step along the way and earned his spot. 
"It's a lot of hard work," Mann said. "After the Bob Gibbons tournament, when people started talking about me and getting me in the write-ups, that's when I started setting higher goals for myself. Then I just kept building on those bigger goals, like making the McDonald's All-American game. I got in the right situations and I just showed what I was working on." 
I thought James Wiseman and the West were very impressive in the opening practice session. The future Memphis Tiger was really good in the hour and a half practice. Wiseman was engaged and made sure he impacted every drill he was in. The NBA guys were impressed with what he did. It was hard not to be. 
It doesn't matter the venue or the game or the camp or the tournament, you know what you're going to get from Isaiah Stewart. The Washington-bound big man was the energy level setter. He plays a man's game and has a Karl Malone flavor to his approach. It is hard not to appreciate what he's all about. Stewart is a favorite by NBA and media types alike. 
Other notables: 
I was impressed by Matthew Hurt and his shooting touch. The Minnesota big man has always been an impressive face-up big man who can stretch a defense. He's down to Duke, Kansas, Kentucky, North Carolina and Minnesota. 
I was impressed with the effort from West Virginia big man Oscar Tshiebwe. Paired against Wiseman, he was ready for such a match-up on such a stage. Tshiebwe shot well, too. 
I was impressed with Villanova bound Jeremiah Robinson-Earl and his versatility. NBA guys liked him, too. 
I was impressed with Precious Achuiwa. He's a NBA talent with NBA size and shot well from the wing in the early moments of the practice 
The NBA was well-represented on Monday as representatives from every team were on hand for the action. There were roughly 100 employees from NBA teams in the building to take in the action.