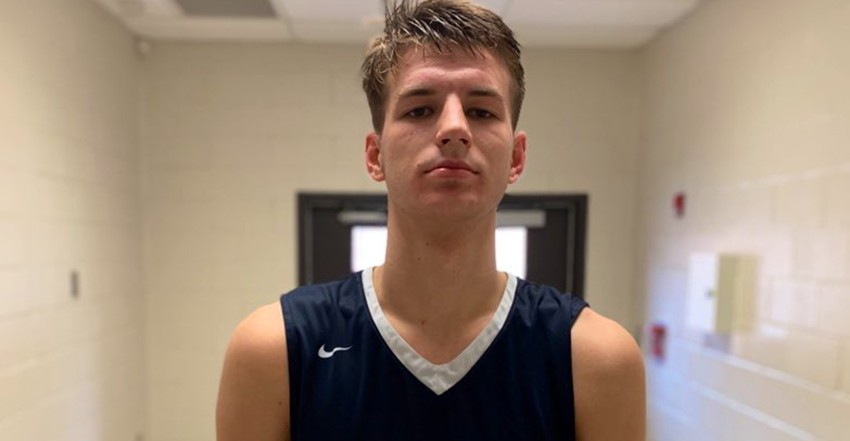 With the playoffs just around the corner in Tennessee, Andre Whitehead takes a look at some of the players who have made a significant movement towards the top of their respective rankings in the Vol State this season. 
Samson Ruzhentsev
6'7 Shooting Guard 2020
Hamilton Heights (Chattanooga)
Has anyone exploded onto the national scene in a bigger way then this talented European. Blessed with size, skill and determination his meteoric rise has been, needless to say, fun to watch. His size and athleticism allow him to finish at every level of the game, he can shoot the three, explode past you on the bounce and defend his position more than adequately.  
Jordan Wilmore
7'2 Center 2020
Whitehaven (Memphis)
Enormous presence in the middle, still learning how to play and be effective. His size is his asset and his willingness to be coached will make him a steal for someone several years down the road. You can't teach this body, at 7'2 and hovering around 260, he can run the floor, his offensive skill set is very raw and he plays on athleticism instead of instinct at this point of his development. 
Quintavious Bailey
6'5 Shooting Guard 2020
Raleigh-Egypt (Memphis)
Big guard can stroke the ball and has the size to go over folks and finish. His ball skills need an upgrade but his ability to put the ball in the hole is his biggest asset at this point. 
Marvin Hughes
6'3 Combo Guard 2020
McGavock (Nashville)
A scoring machine averaging around 25 per game this season. He can score off the dribble and the improvement in his outside game has really increased his scoring presence. 
Nate Bloedorn 
6'6 Power Forward 2019
Nolensville (Nolensville)
Became his school's all-time leading scorer this season and has enjoyed a very productive senior campaign to this point. His squad is on the verge of a second district title. 
Demarious Boyd
6'0 Point Guard 2019
Haywood (Brownsville)
Senior guard has made the most of his final season averaging 20.2 at this juncture and his troops poised for a run at the district and region titles this season. 
Eric Rivers 
5'11 Point Guard 2021
McCallie (Chattanooga)
The diminutive young guard has great handles and explosive moves off the dribble. He sees the floor and has improved his shooting range. Impossible to guard heads up, he is one to watch in the 2021 class. 
Dalton Marsh
6'7 Post 2020
Red Boiling Springs (Red Boiling Springs)
Small town sensation has lit up the scoreboards this season averaging around 25 per game. He recently surpassed the 1,000 plateau and is on pace to become the school's all-time leading scorer. 
Blake Atwood 
6'0 Lead Guard 2019
Johnson County (Mountain City)
Small town sensation has his school ranked in the top 10 in the state and is tipping the charts at 26.5 per game. He is magnificent with the ball and will be a D2 or NAIA steal for someone with his skill level and IQ. 
Jordan Rawls
6'3 Point Guard 2020
Hamilton Heights (Chattanooga)
Has become a dangerous scorer from the lead guard spot with his much improved overall game. He will be one to watch with a close eye this summer as his stock is soaring. Great from the mid-range and can finish at the rim.
Robbie Rusciano
6'5 Shooting Guard/Wing Forward 2020
McEwen (McEwen)
Another small town sensation with a big upside. Slight built but athletic with bounce, young man is averaging 24.5 at this point and is starting to turn some heads with his exploits. Big summer awaits him.  
Elijah Cobb
6'7 Wing Forward 2019
Riverdale (Murfreesboro)
Length and athleticism are plentiful yet his build is slight. He blocks shots and is a work in progress on the offensive end. His shooting is suspect but he crashes the glass and loves the spectacular put back. Intriguing prospect. 
Grant Slatton
6'3 Shooting Guard 2021
White County (Sparta)
Bouncy combo guard has the IQ to run the point but his scoring prowess needs him off the ball. He can shoot and has the first step and athleticism to finish at the rim. When he gets stronger he will be deadly. 
Will Pruitt 
6'2 Point Guard 2020
Mt. Juliet (Mt. Juliet)
Quintessential lead guard with the mentality and skill set to make someone a really good coach. His offensive game is growing but his decision making is top notch. Has his squad ranked #5 in Class AAA. You will love him. 
B.J. Edwards
6'2 Point Guard 2022
Catholic (Knoxville)
Young lead guard with a very specific set of skills. He isn't super quick but he can get by you, he shoots well enough to worry about defending him and he just seems to understand how to play. Bright, bright future. 
Catthadious Moore
6'6 Power Forward 2019
Manassas (Memphis)
Under the radar kid has made such an improvement this season even his coaches have been amazed. Could be a steal for an aggressive junior college looking for a diamond in the rough. 
Carson Cary
6'2 Shooting Guard 2019
Columbia Academy (Columbia)
The Lipscomb signee has made this senior campaign his little project. He is averaging upwards of 22 per contest and has his boys primed as one of the top four teams in the state in Class A. 
Dominique Oggs 
6'4 Shooting Guard 2019
Sweetwater (Sweetwater)
Long and athletic, Oggs sits quietly over in East Tennessee and has his team ranked in the top five in Class AA. He is averaging around 23 per contest and is drawing some interest from schools on a few different levels.