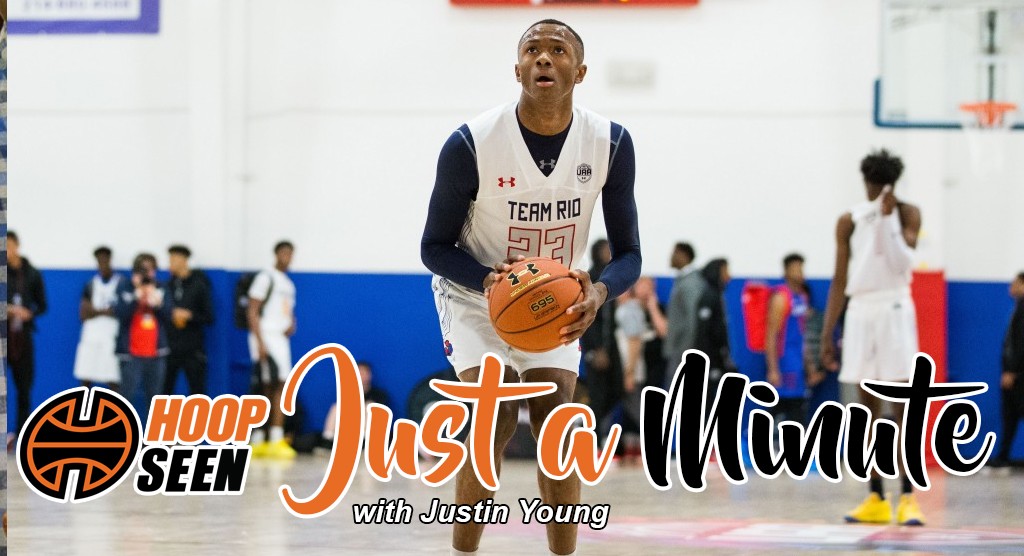 In this week's Just a Minute with Justin Young, I take a look at the value of Florida bound Scottie Lewis, the loaded ARS/Rescue Rooter National Hoopfest Tampa event and a visitor to the Big 12 that we should be talking more about. 
BEAM 'EM UP, SCOTTIE 
The class of 2019 has some star power at the top and the debate on who the top player is has been a two-horse race for several years between Vernon Carey, Jr. and James Wiseman. Then Anthony Edwards reclassified to the class of 2019 and jumped to the top of our list. 
Carey will play 30+ minutes a game at Duke as a freshman. Wiseman will be the face of the Memphis program the minute he gets on campus. Heck, he may be the face of the program right now. Edwards should be one of the most dynamic scorers in college basketball right away wherever he ends up. 
Scottie Lewis may be the best college player out of the 2019 players. The future Florida Gator is our No. 7 overall player in the class but he could be the most impactful out of all the group. 
Mike White and staff reeled in a dandy of a class and have a pair of McDonald's All-Americans coming to Gainesville. Lewis and point guard Tre Mann will be the backcourt of the future for the Gators. 
What we saw at the Naismith Hall of Fame Classic was nothing short of brilliant, particularly on the defensive end of the floor. What he did against Top 5 talent Jaden McDaniels was one of the best defensive performances of the high school season. 
Florida doesn't have a lot of offensive firepower so Lewis comes in and should be the leading scorer. He's a terrific point producer and a three-point threat. 
Pound for pound and overall impact on both sides of the ball, Lewis could be the most valuable and impactful player on a team in 2019-2020 as a freshman. His inclusion, along with Mann and Omar Payne, should move the Gators past their current .500 status in the SEC to a Sweet 16 (or better) level team. 
Lewis wins. He defends. He's the utmost high character player. Valuable? On every single level. 
NEXT STOP: ARS/Rescue Rooter National Hoopfest Tampa
The nation will focus on Tampa, Florida this weekend for the ARS/Rescue Rooter National Hoopfest Tampa. The highlight game pins Montverde Academy (FL) and Oak Hill Academy (VA) 
Sure, there is some serious star power in the field. There are four McDonald's All-Americans playing in the event this year. They are: Precious Achiuwa (Montverde Academy), Cole Anthony (Oak Hill Academy), Vernon Carey, Jr. (University School) and Tre Mann (The Villages).  
The best match-up between Montverde and Oak Hill may not be the guys you think it will be. Montverde's Harlond Beverly and Cam Thomas has been on fire this season. Both players can pump in the points with the best of them. There are others with bigger national profiles in the game and the broadcast (game will be on ESPNU) will be focused on them. But don't be surprised to see Beverly and Thomas both put on a scoring show. 
Future Oregon Duck CJ Walker of Oak Ridge (FL) will have a chance to prove himself as an All-American level player on this national stage. He was one of the biggest snubs on the 2019 McDonald's All-American roster this year. He'll be paired against Jaemyn Brakefield, a top 20 junior from Huntington Prep (WV). 
Some of Florida's best players will be in the field, too. Omar Payne (Montverde Academy), Balsa Koprivica (Montverde Academy), Tyrell Jones (West Oaks) and elite junior Scottie Barnes (University School) are all in the field. 
We'll have coverage this weekend from Tampa. Here is the schedule: 
Friday, February 1st 2019 at Berkeley Preparatory School
5:00 pm Orlando Christian Prep vs. Tampa Prep
6:30 pm Huntington Prep (WV) vs. Berkeley Prep
8:00 pm Montverde Academy (CBD) vs. IMG Academy (Post-Grad)
Saturday, February 2nd 2019 at Berkeley Preparatory School
11:15 am St. Pete vs. West Oaks
12:45 pm Tampa Catholic vs. The Villages
2:30 pm Berkeley Prep vs. University School
4:30 pm Montverde Academy vs. Oak Hill Academy (VA) ESPNU
6:00 pm Oak Ridge vs. Huntington Prep (WV)
VISITOR OF NOTE: Damion Baugh at Texas Tech 
The Tennessee native is visiting Texas Tech this week for an official visit, according to multiple reports. The Tennessee Prep point guard has been a hot target for the Red Raiders - and host of others - for quite some time. The Big 12 school spent a good part of the post-Christmas holiday week in Atlanta watching him at the Big Hoops Shootout. 

Baugh is one of the most impressive passers in the class of 2019 and could be a terrific sleeper to watch grow at the collegiate level. 
He's ranked outside of the 140 range in the industry composite rankings but should be higher than that in my opinion. He's a terrific defender with great speed, footwork and vision. His offense will come with further development at the next level.