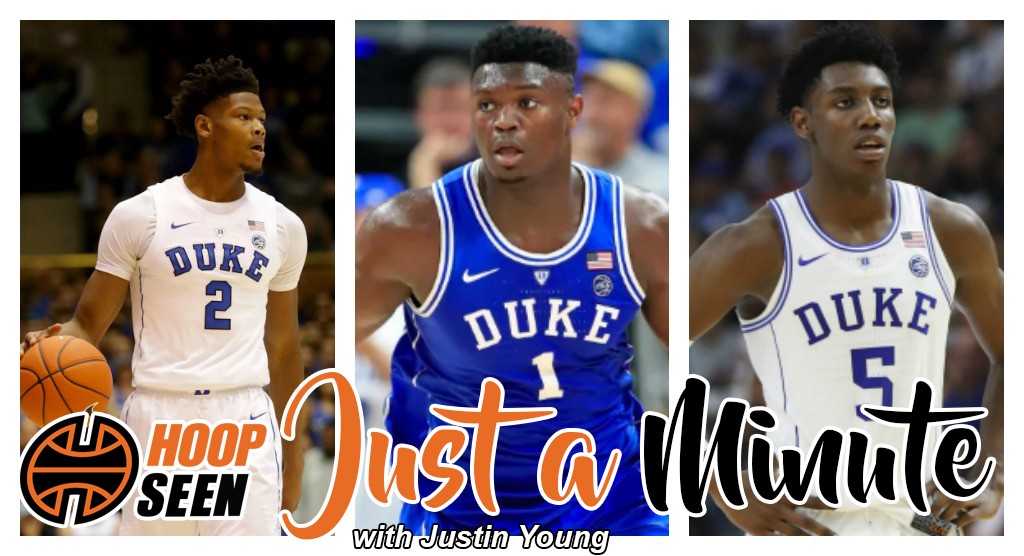 This week's Just a Minute focuses in on Duke, Coach K's shift in recruiting and the real advantage gained from coaching USA Basketball. Where will Vernon Carey go to school? There is a Tennessee point guard still available in the 2019 class that college coaches should take a peek at, too.
THE GOLDEN ADVANTAGE
When Mike Krzyzewski was named head coach of USA Basketball in 2005, the college basketball world bemoaned about the advantage he may be walking into from a recruiting perspective. 
At the time, the Blue Devils were landing guys like Elliott Wiliams, The Plumlee brothers, Tyler Thornton, Josh Hairston, Quinn Cook, Amile Jefferson, etc. - good players all in their own right but not the one-and-done types of guys. In fact, there was a belief that Krzyzewski didn't want to dabble in the short term college player. 

Did USA Basketball change that? Maybe. Or maybe the overall landscape of college basketball did. In order to win at a high level, you had to have high-level players. 
Whatever the shift in recruiting was, it worked. Duke has been home to 14 one-and-done players since 2011. There have been seven players leave after a year over the last two years. The next draft may have three straight Duke players - Zion Williamson, RJ Barrett and Cameron Reddish - selected for the first three picks. No other school has ever made such a claim. Ever. 
The USA Basketball advantage may go far deeper than Coach K's ability to land the very best talent. The advantage may just be his understanding of how to let three of the most dynamic freshmen in the country play together and play with freedom. 
Coach K of old would have stuck to a role for a player, meaning a four should be a four and a shooting guard should be a shooting guard. Basketball is interchangeable. Krzyzewski gets that. 
He came to better understand that at an elite level when he coached USA Basketball. When guys like Kobe Bryant and LeBron James were on the team, they had to learn how to play without being double teamed - an interesting thought - and then how to know when to score when they had open and/or one on one situations. Krzyzewski stressed at the beginning of the year how to play in his 5-out motion offense and hitting standstill threes. Ten years ago, he may not have preached such a message. 
A decade ago, Williamson would have been a paint forward that was good for a transition dunk or two. But a 280-pound guy being a ball-handler and a wing-to-rim attacker? No way. That just didn't happen with the Blue Devils. 
But times are different now and Duke has the best 1-2-3 freshmen group maybe ever. Williamson seems to have the freedom to do whatever he wants on offense. So does Barrett. So does Reddish. 
Sure, USA Basketball and gold medals probably help in recruiting wars. The biggest pitch, however, may be Duke's ability to use star talent all at the same time. Ultimately, Duke wants to win another National Championship and the Duke trio wants to be drafted 1, 2 and 3. 
VERNON CAREY, JR. WATCH

The best big man in the class of 2019 - Vernon Carey, Jr. - will announce his college decision on Thursday. The University School (FL) power player is down to Duke, Michigan State and North Carolina. 
We posted a poll on Twitter and asked our followers where they think he'll go. Duke was the pick (51% of the votes), then North Carolina (28%) and Michigan State (21%). 
I'll go on the record and take Michigan State. Sure, I'm in the minority, and Duke has made a big jump here in the final weeks of his recruitment. But the Spartans have been a major player for his commitment for quite a while. Guess we will find out on Thursday. 
BEST AVAILABLE: Keishawn Davidson, Athens Prep
The one-time Middle Tennessee State commitment is off to a strong start for Athens Prep. He currently holds an offer from VCU, according to Tennessee Prep Hoops expert Andre Whitehead. He also has interest from Charlotte and Central Florida. 
Davidson played well at the TSF Invitational during the Thanksgiving week. The 6-foot-2 guard mixes scoring and smarts well.