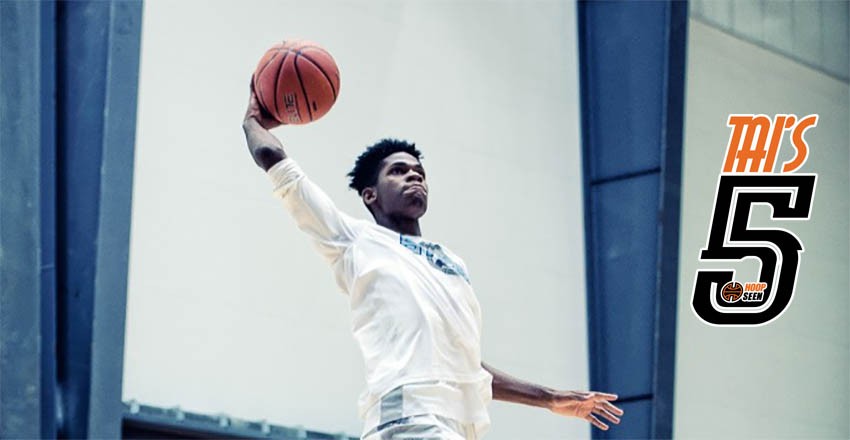 Devin Vassell continues to get better every time I see him
The confidence the Devin is playing with is oozing from his pores before he even gets his first shot attempt. He's carrying himself like a high major player, something I didn't see earlier in the summer. Mountain view made it a point to be physical with him off the ball and he did not seem fazed by it at all.
Miles Long is a quality pick up for a 4-year program
It's easy to get caught up in the wing production for Mountain view but the engine that keeps them going in PG Miles Long. There's a ton of value in a guard that has an off and on switch on his ability to get buckets, then focusing on other ways to get his talented teammates the ball. Miles never made me question what his decision making and keeping things flowing for Mountain View. The unsigned senior could be a hidden gem for a quality Division 2. 
Spencer Rodgers (pictured above) will have a very productive 4 year career
With the way the game is being played now, there is always room on the court for a shooter. His size and ability should help position himself for early minutes at Troy. He's mixing in some pump fakes to 1 and 2 dribble pull ups that should translate well to people closing out hard to him. 
Naheim Allenye is up next
The 6'3 guard will play a more prominent role next year as Spencer Rodgers takes his talents to the next level. He's ready for it. As a junior, he already shows a good ability to score at all 3 levels. Strong enough to be a bully but crafty enough to dodge contact. More importantly, it seems like his production is steady from the times I've watched him. It'll be interesting to see how he handles being at the top of every team's scouting report. I think he's looking forward to it.  
Peachtree ridge gets it done by committee
Devon Higgs, Hirum Maxey, Paul Hosey,  are just some of the guys that have a claim to some of Peachtree Ridge's success. Every player contributes to wins whether it be stretching the court, bring energy, rebounding etc. Every guy plays a role and seems to not deviate too much from what they are able to do. There is a ton of value in playing to your strengths.