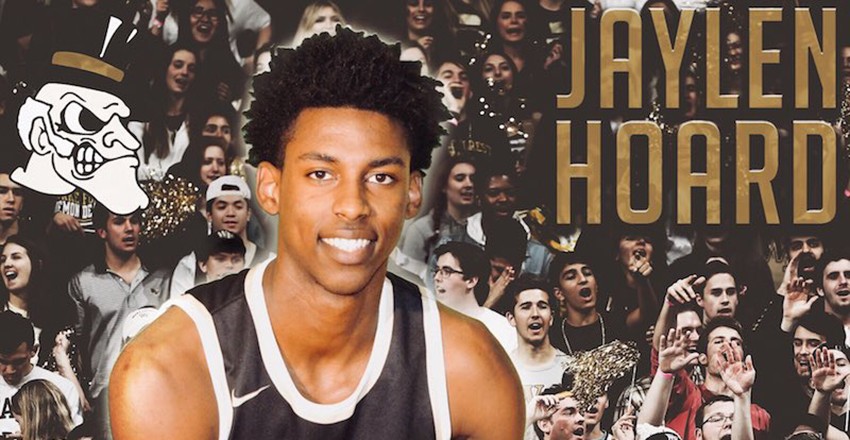 Wake Forest continues to quietly reels in big time talent on the recruiting front. 
We saw it first with John Collins, a player that few considered anything more than a serviceable four-year big man. 
Now he's one of the hottest rookies coming into the NBA season with the Atlanta Hawks. 
Then last year the Demon Deacons pulled in Floridian Chaundee Brown and beat out Kansas for the 6-foot-5 wing. Brown is a top 40 consensus player (and a top 25 player by our count). He should be one of the best freshmen in college basketball this season. 
Now the ACC school has a five-star player coming to Winston-Salem. French import Jaylen Hoard committed to the Deacons after visiting the school. 
He's a major score that, surprisingly, more people aren't talking about. This is a coup. Hoard picked Wake over offers from Florida, Maryland, NC State and Southern Cal. He came over to the United States last summer after dominating the FIBA u17 World Championships. 
Hoard shined on the travel circuit with CP3, averaging 14.9 points and 6.4 rebounds through 21 games on the Nike EYBL circuit. He'll need to continue to improve his perimeter game and physicality. He has the frame and length to be a mismatch on the wing to the rim. 
As the ACC continues to reel in top talent, schools like Wake have to pull off recruiting wins like this one. Hoard, paired with Brown, should make for a deadly 1-2 scoring punch from the wing to the rim. Will they be good enough to beat a program like Duke, North Carolina, Louisville and the like? You better believe it. 
RELATED: Nassir Little visits Georgia Tech | Three mid-major visitors to watch