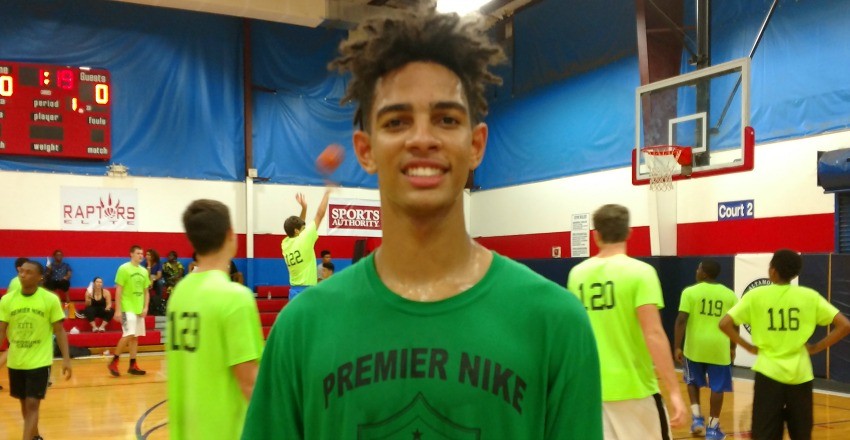 Now that school is back in session, with it, the fall camp schedule has begun. Kicking off the month of September in Florida, Steve Reece and his E1T1 crew hosted their annual showcase event. While a bevy of his own top prospects were on hand, a load of others from all throughout the Sunshine State laced up their sneaks for a few hours in Orlando. We take a look back at some of the standouts from our day spent in the gym.
MOST IMPROVED
MICHAEL DEVOE, PG, E1T1, 2018
While we had the chance to see DeVoe a number of times during the travel season this past summer, no one took a bigger leap than the 6-foot-3 guard on Saturday. A super bouncy and quick junior that possesses an excellent feel for the game and a knockdown jumper, the Oak Ridge guard had it going all day long. The lefty finished at the basket in a number of ways, even displaying a nifty euro step move prior to the off handed conversion. He made shots from deep and displayed excellent passing skills near the basket. Add it all up and DeVoe did his best to impress in making a move into our next update within the 2018 HoopSeen Top-100 Rankings.
MOST SLEPT ON
SYLVAIN FRANCISCO, PG, E1T1, 2017
One of the more underrated and under appreciated guards from a national perspective, Francisco exudes unbelievable quickness and a motor at the lead guard spot. While there has been some talk of taking a pro contract in France next year, if the European guard does get it done in the classroom and remains intent on playing in college next fall, expect for his stock to soar this winter. He has become a much better facilitator in the half court and was his typical, lock down defender self out on the perimeter. Programs like Rhode Island, Texas, and Murray State remain involved, though expect that to change with many others to come into the picture in the coming months.
BIGGEST FIND
CJ WALKER, F, NIKE TEAM FLORIDA, 2019
We caught a glimpse of Walker on Friday at his local high school's open gym. The next day, the New York native surpassed our original thoughts of him and in a big way. UCF and Iowa State jumped on board with offers and that will just be the beginning. A multi-positional defender standing over 6-foot-7, Walker is the ideal combo forward. He is athletic, can handle it a tad on the breakdown, makes open jump shots, and can rebound his area. The makings of a top-100 recruit, the sophomore began his story in a major way on Saturday in Orlando.
MOST SPEEDY
RONDO SEGU, PG, SHOWTIME HOOPS, 2018
A relatively well known name out of the Sunshine State, look for Segu to have his name tossed around more often from those outside of the state. One of the fastest guys you're going to find, even if you back off the junior guard, he still is going to blow by you like a swift, Florida breeze. Segu has become much more explosive at the basket as he threw down the dunk of the event and while his jumper remains a work in progress, this kid is a complete gamer and someone that should be included during our next 2018 rankings in a few months.
MOST POLISHED BIG MAN
ISAIAH STOKES, C, TEAM PENNY, 2017
The lone top-100 senior college prospect suiting up in the event, Stokes continues to do what he does best. What might that be? Absolutely annihilate others around the basket with his counter moves and when double teamed, hit the open teammate via the kick out pass. While he will never be seen as an explosive athlete, Stokes is someone that plays to his strengths and in an efficient manner. Those involved the most include Tennessee, Iowa State, Florida, and TCU as Stokes looks to be an early signee this November and someone that should immediately solidify a college program's interior next winter.
MOST SAVVY
TRE MANN, PG, E1T1, 2019
He might not look the part just yet, though that should all change in the years ahead. One of the most talented and savvy guys in the gym, Mann strictly just knows how to play the game. He hasn't physically matured just yet but once he does hit his coming growth spurt, watch out! The talent, ball skills, and feel for the game is evidently clear with the sophomore out of The Rock School, a top tier talent that the Florida Gators have done some major work with early on.
MOST INTRIGUING
ZIMIFE NWOKEJI, F, SHOWTIME HOOPS, 2019
A native of Michigan, Nwokeji was a massive breakout in Florida. Displaying major upside and potential, the Showtime Hoops product incorporates a lump load of length, early ball skills, and athleticism into his bag of tricks on the floor. While he has yet to fill out, the sophomore forward does have a set of broad shoulders that should enable for quality strength gain. Virginia Tech joined the fray with an offer following the event, the first of many big offers for the high ceiling forward that can finish in traffic, lead the break, and also knock down open jump shots whenever they are presented to him.