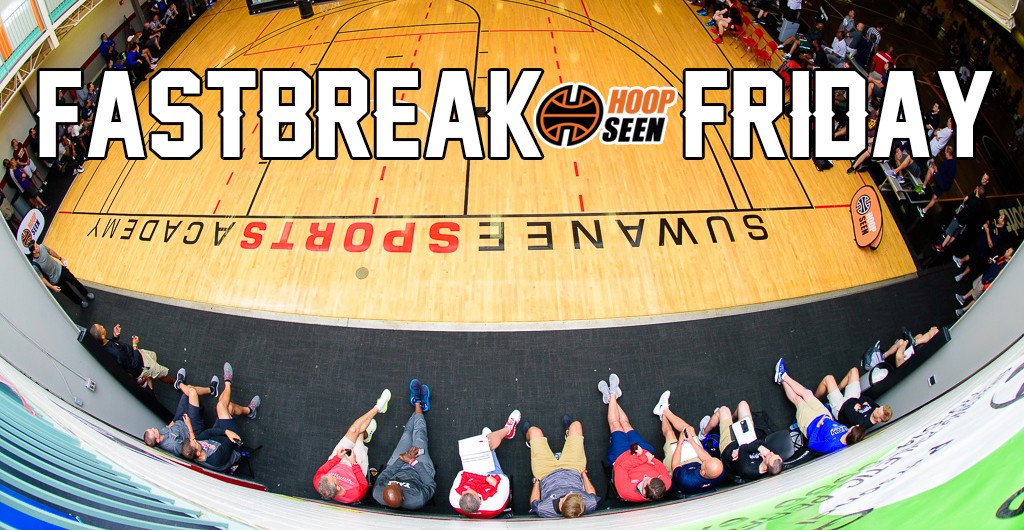 We ran down all of the visits that are taking place from coast to coast in our weekly On the Trail series yesterday. Today, we give a glimpse at some of the key visits set to ensue and our prediction for the top commitment of the weekend. In this week's Fastbreak Friday edition, we point our eyes to the visits taking place at Purdue, Butler, and Texas.
PURDUE HOSTS THREE TOP TARGETS
Sure, there is going to be enough talent to go around on the campuses of UAB and Syracuse as each hold their respective elite camps this weekend, while California puts on their very own team camp. However, no one will have a more crucial 48-hour stretch than the Purdue Boilermakers.
With potential departures of Isaac Haas and Caleb Swanigan to the NBA Draft in June, that is if all goes right this upcoming season, and the graduations of Kendall Stephens and Spike Albrecht, the need for immediate production out of the 2017 class is a need for the Big 10 bunch. This weekend could go a long way to future success for Matt Painter's bunch. Hosting two of the top prospects from the Midwest, Nojel Eastern and Xavier Tillman descend about the Lafayette campus. Eastern, a 6-foot-5 guard that can play on and off the basketball, has USA Basketball pedigree in tow, is a vicious competitor, and would be an excellent, playmaking addition that would excel immediately at Purdue. Right alongside of him is Xavier Tillman, a 6-foot-8, hard-nosed and energizing center that has moves down low, sets the tone each time he hits the hardwood, and would be a fine stopgap for the potential loss of sophomore center Caleb Swanigan.
The  Midwest duo aren't just the only two heading to Purdue on Friday as Terrell Brown, a vastly improved big man out of New England, will hit the campus for his first official visit. Planning on taking a prep year at the Tilton School this fall, the same program that produces Nerlens Noel and Georges Niang, Brown is someone that can be leaned upon for his ability to extend the defense with the perimeter jumper, but also score the ball in the paint and protect his basket on the defensive end of the floor.
A commitment from any of the three would be huge for the Boilermakers but getting the trio on the Lafayette campus before the beginning of September could lead to a great domino effect to be put into place if one would decide to pop off the board.
YOUNG & BEDE CAPABLE OF CONTINUING THE BUTLER WAY
The past calendar year has not been great for the Butler basketball family off of the hardwood. Tragedies have hit the program with a sharp sword but things have remained bright on the court along with on the recruiting front and this weekend could be a giant catapult to even further success as the Big East squad hosts two, top-125 prospects in Kyle Young and Wabissa Bede.
Young, a 6-foot-7 power forward out of Ohio, is down to a final five that consists of Michigan, Michigan State, Clemson, Ohio State, and Butler and getting the regional recruit onto campus for his first official visit could go a long way in landing the blue-collared forward. Young has been the top frontcourt recruit for Chris Holtmann's squad for some time now and while it will be difficult to beat some of the top Big 10 programs for him, the fit and immediate production that could ensue with Young on campus in Indianapolis is pristine.
Along with Young, one of the top breakout performers from this past summer hits the campus as Wabissa Bede, a 6-foot-2 combo guard out of New England, gets a 48-hour look of the Midwest institution. Looking at others like LaSalle, UMass, Virginia Tech, and Minnesota, Bede is a tough-nosed and strong playmaker that would be another ideal addition to the program that prides itself on its character and grit.
The Butler staff has gone to work quickly in 2017 as they have already hosted a bevy of top recruits this month and with two commitments already in the hopper with sharpshooting guard Cooper Neese and playmaking forward Jerald Butler, a commitment from any of the two visitors this weekend would be just another fine step in the right direction for the alma mater of NBA pros Shelvin Mack and Gordon Hayward.
COMMITMENT PREDICTION: TEXAS LANDS JERICHO SIMS
While there had been some talk about how Shaka Smart would indoctrinate himself into the Texas heat and deal with all of the hoopla throughout the state, it is a bit difficult to argue with what he and his staff have done thus far at UT. Now a full year as the head boss of one of the most powerful brands in all of college basketball, Texas has locked up six top-100 prospects within a matter of 16 months. Could the next 48 hours lead to number seven?
A mobile and active big man with ginormous upside, Jericho Sims has evolved into a top of the line big man prospect out of the senior class. The Minnesota native does need to fill out a bit more and also become a more consistent producer but in flashes, the D1 Minnesota product can be a special watch. Texas gets the first shot at hosting the 6-foot-9 lefty big man this weekend as Sims would be a slam dunk replacement for graduating big man Shaq Cleare, where another interior piece could be lost as Jarett Allen might just be the next one-and-done to leave the Big 12 program.
Royce Hamm is already committed to UT, a 4-man that can stretch the floor a bit but is rather engaged and productive on the glass, yet Sims, who is the son of a former Minnesota Gophers' star Charles Sims, would be a slam dunk pick-up as he is trending upward ranked now at number-58 overall within our 2017 HoopSeen Top-125.
Kansas recently offered while the in-state Big 10 program has made him a priority and with further interest coming from UNC, expect for Shaka Smart to do all that he can to shut down the recruitment of the bouncy bodied and enticing senior big man that is Jericho Sims.
OTHER POSSIBLE COMMITMENTS TO WATCH:
Tevin Brown to Murray State
John Petty to Alabama
Javon Greene to George Mason