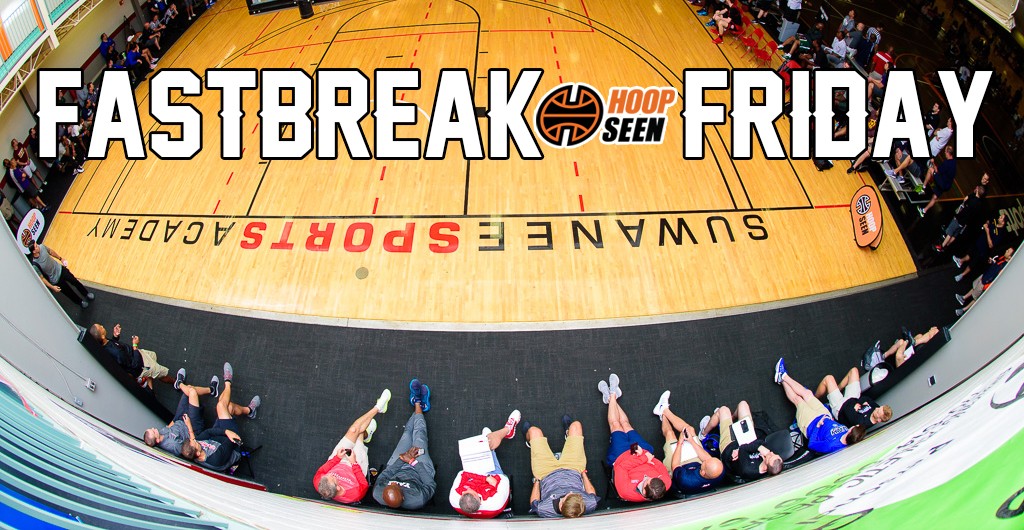 The official visit tour has begun and while a few prospects have already extinguished a few of their allotted five, this weekend kicks off the first of many that some of the top recruits will hit the road. Each Friday, we will highlight some of the key visits taking place along with a commitment prediction that could set off a domino effect.
Related: This week's recruiting visits
This week, it is two Big 10 programs that enter the fray where the spotlight will be on in Champaign and in College Park. Outside of the power conference ranks, UT-Chattanooga rolls out the red carpet for two of the top, under the radar prospects from the Peach State where, a commitment from any of the duo, would create for an even better foundation to be built under Matt McCall's watch.
TRENT FRAZIER HEADS TO ILLINOIS
Much has been said about the class that Illinois has already put together within the 2017 ranks. Holding the verbal of top-30 big man and top in-state recruit with Jeremiah Tilmon, along with previous commitments from two solid, tough guards in the backcourt in shot making wing Javon Pickett, and hard-nosed combo guard Da'Monte Williams, there is a ton of positive buzz around this group. This weekend, the Big 10 bunch will play host to its top point guard recruit, Trent Frazier.
Unheralded until this past summer where Frazier went bonkers with his Florida Elite crew at the Best of the South in Suwanee, the Sunshine State native heads north on Friday in getting a 48-hour glimpse of the Illinois basketball program. A 6-foot-1 lead guard that has become much better in facilitating for his team in the half-court, yet has remained his fiery self in scoring it at the basket and from beyond the arc, Frazier would be another top-125 add for John Groce's crew. Georgia is expected to host the Wellington High star next weekend but one has to believe that the Illini staff will do all they can for Frazier to commit before he leaves the Champaign campus.
MARYLAND LOOKS TO KEEP DARRYL MORSELL HOME
Where the Frazier visit comes in the official variety, Darryl Morsell will head to Maryland for an unofficial trip, one that will last just a few hours but could go a long ways with the in-state recruit.
One of the top breakout prospects from the summer of 2016, Morsell has steadily climbed up the rankings where he can now be found within the top-60 of our recently updated 2017 Top-125. A giant play maker out on the perimeter, the Mount St. Joseph guard is a ferocious competitive, explosive athlete, and composed beyond his years where he rarely ever gets rattled. He is down to a final five of Virginia Tech, Notre Dame, a place that he will visit officially on September 17, Villanova, Dayton, and the Terps. While a commitment is not expected for some now with the versatile recruit, Mark Turgeon and his staff could take a giant step forward and into the driver's seat with the recruitment of Darryl Morsell beginning on Saturday.
UT-CHATTANOOGA EYES THREE TOP TARGETS
Matt McCall took over at UTC last fall, used the talent already in place by former boss and now current VCU head coach Will Wade, and not only established a successful culture, but nurtured it further into wins on the playing floor that enabled for a run through the SoCon finals and a bid for the NCAA Tournament. Back again with a loaded roster, Chattanooga will play host to three key visitors this weekend that, if all goes right, could be the reason that UTC make a run for Marches to come.
On Friday, UTC will play host to Javon Greene, a 6-foot-2 lefty guard out of Georgia that is a smooth lead guard that operates well within his own comfort zone as a facilitator but also someone that can create for himself. Very sturdy and ready to help from day one, the Atlanta All-Stars travel team product has George Mason also on visit list for the end of the month but a quality, quick trip to the Tennessee-based institution would create an excellent haul for the SoCon power.
Joining Greene is another Peach State native coming in the looks of  Ja'Cori Wilson, a 6-foot-7, slender and lefty forward that can act as either a three or a 4-man. A big time shot maker from off the catch, Williams and Greene would be dynamic commitments for UTC and would then enable for even greater success within the Southern Conference and outside of it.