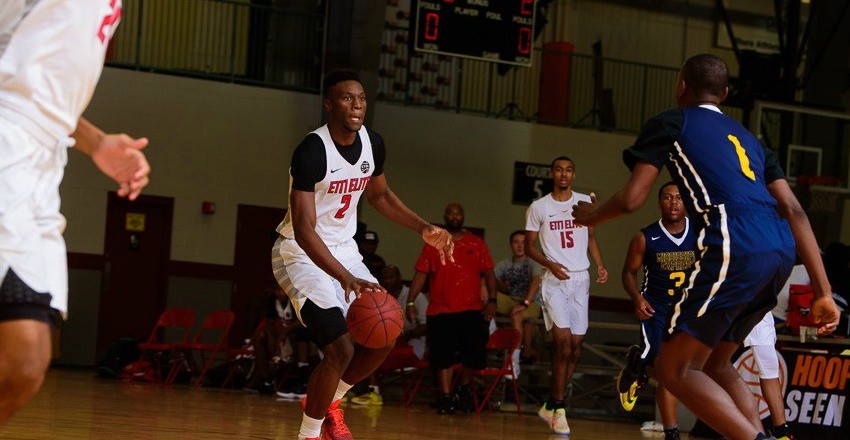 After releasing the update 2018 HoopSeen Top-100 Rankings, there hasn't been a ton of movement up top. Sure, a few like Reggie Perry and Moses Brown entered into five-star territory, while others such as Marvin Bagley, Zion Williamson, and Javonte Smart cemented themselves atop of their class. However, a few others made some noise within the rankings as we take a look at the five biggest movers from the most recent update.
Related: 2018 Post-Summer Top 100 Rankings
EMMANUEL AKOT, SF, EXUM ELITE – RANKING: 18
The biggest riser within our rankings and rightfully so, Emmanuel Akot now sits within our top-20, this ranking actually being a conservative one on our part as the Canadian could jump even higher this winter. Receiving the final nod within the top-100 of our rankings this past spring, all that Akot has done since then was go out and put up numbers on the adidas circuit and also fill it up for his U17 team in Spain, averaging nearly 10 points off of over 58-percent shooting from the field. The upside with the 6-foot-7 wing is staggering as Akot can play make, shoot the ball, and score at the basket. He is already a versatile defender where he recently nailed down offers from Louisville and Arizona as it looks like Akot is tracking as a five-star recruit and a blueblood one at that. 
RECHON BLACK, G, TEAM LOADED NC – RANKING: 14
While Rechon Black has been off of the board for some time now after having committed to North Carolina earlier in the year, the 6-foot-6 junior has developed into a productive ballplayer on the hardwood. His upside is vast and so is the versatility that he brings to the playing floor. A native of the Tar Heel State, Black was last seen ranked at the number-45 spot but due to his continued progressions and again, major potential, he now sits within the top-15 of our rankings. He can play as a point guard in spurts as he has improved his decision-making skills and play making abilities. The final numbers on the stat sheet don't always support all that Black does but he is now tapping into just how great he can be and seems ready to stay within the tops of our rankings.
QUENTIN GRIMES, G, BASKETBALL UNIVERSITY – RANKING: 49
The offers came in last month for Quentin Grimes as the 6-foot-4 guard from Texas displayed everything that you would want in a combo guard. He brings great size to the backcourt, an excellent feel for the game, three level scoring abilities, and athleticism at the basket. The holdup in the past with the Basketball University product has surrounded the fact that he hasn't always brought it to the floor. That is changing and because of it, Grimes gets a giant bump up in our rankings. While he is even more talented than some of the guys ranked above him, the Lone Star State native received a 33-spot jump and into the top-50. By showing that he can contribute each time out and produce whether he is seeing the ball or not, Grimes has the chance to receive the last star in becoming an elite recruit down the road.
MATT MAYER, F, HOUSTON HOOPS – RANKING: 37
Guys that can make shots with consistency from deep, are athletic, and stand above 6-foot-7…yeah, they are difficult to find. Hence, our value in Matt Mayer has enabled for the Lone Star State native to rocket up our rankings as he can now be found within our top-40. While he does need to handle it better, Mayer has quite the future ahead of him, thus the reasoning for his 30-plus spot jump within our rankings.  A bouncy, 6-foot-8 forward that pummels guys at the basket with hammer dunks, Mayer is at his best creating for himself off of stepback jumpers out to 22-feet. Baylor, Texas, and Texas A&M are those heavily involved for the in-state recruit early on, a prospect that could soon eclipse the top-25 of our rankings and enter himself into a nationwide recruitment.
EMMITT WILLIAMS, PF, E1T1 – RANKING: 21
Whether it was my own stubbornness or Williams' continued nurturing and utter domination on the playing floor, it has become the time to appreciate just how good the E1T1 product really is. While he is bit on the smaller side just scratching 6-foot-7 out of the power forward position, it is the Florida native's unrelenting nature and consistent production that makes Williams one of the best in his class. Taking a 50 spot move up the rankings, Williams comes in the mold of Denver Nuggets star big man Kenneth Faried. Sure, he has developed an outside jumper a bit and also a hook jumper over his left shoulder, but his interior production and killer mentality makes his spot within our top-25 cemented and someone that seems will remain in the mix to be among the very best for the next two years.