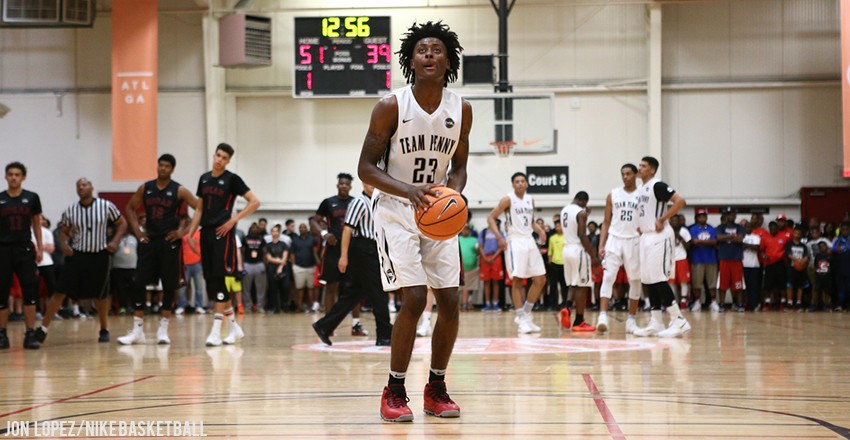 As we are now officially in June and the spring travel season is now behind us, it is a great time to update our 2017 Alabama state rankings here at HoopSeen.com. The top of the list remains mostly the same, but there is some movement in the middle and towards the bottom of the new rankings.
PETTY HOLDS SERVE AT NO. 1
2017 Huntsville (AL) Jemison shooting guard John Petty got off to a slow start during the spring due to the flu, but he proved he was back to full strength at the final EYBL stop in Atlanta last weekend. The 6-foot-5 wing has a polished offensive game and is a well-wired scorer. He had a couple of good showings in Atlanta, including an impressive performance against Michael Porter, Jr. and Mokan Elite.
Auburn commit Austin Wiley returned to the court late in the spring for Team Thad on the Under Armour circuit, and, after a couple of productive showings in Los Angeles, he proved he is still an elite talent on the floor. The 6-foot-10 center is an elite shot-blocker with his timing and length. While he comes in at No. 2, there is a slim margin between Wiley and Petty for the top spot in 2017.
Alex Reese, Herb Jones, Garrison Brooks, and Jamal Johnson round out the top six spots as high-major prospects.
RANKINGS RISERS
A handful of prospects had productive springs and earned themselves scholarship offers and recognition. Three players made steady rises in this edition of the rankings.
Tevin Brown, a 6-foot-5 wing from Fairhope (AL), had a solid spring with CP25 Southeast Elite FBC, as he led the team in scoring and also was a big contributor in rebounds, assists, and on defense. After earning his first few scholarship offers, Brown rises from No. 14 to No. 11. Brown has the opportunity to earn several more scholarship offers during the month of June, as he has several elite camps visits planned.
Sacred Heart combo guard Kevion Nolan put on a show during the EYBL's Atlanta stop with his shooting performances. The 6-foot-1 sniper was dangerous from behind the arc, as he was all travel season. In fact, Nolan finished the league regular season tied for second with 52 3-point makes. He's shooting the ball at a high level right now and makes the climb to No. 14. Jacksonville and Samford are currently his only scholarship offers, but give it a month – he's going to be a sought-after guy at the mid-major level.
An unlikely star emerged with Team Carroll during the first two live evaluation periods in Dallas and Atlanta on the Adidas circuit. 2017 Chelsea (AL) guard Joseph Lanzi had a top-notch spring and went from unknown to on the radar of many different college programs. The 6-foot-4 guard shot the ball well and showed his high IQ, both appealing to college coaches at the next level. Lanzi makes out biggest jump, going from No. 35 to No. 27.
NEW TO THE RANKINGS
There are two new faces to the post-spring installment of the 2017 Alabama state rankings. Lee-Montgomery combo guard Henry Ruggs and Daphne point guard D.D. Buskey both make their rankings debut at No. 22 and No. 31, respectively.
While Ruggs doesn't play AAU, he had a tremendous high school season and was named to the All-State team. He is one of the best pure athletes the state has to offer. Unfortunately for hoopheads, he probably will never hit the hardwood at the college level because he is one of the top football prospects in the Southeast.
Buskey had a productive spring with PCBC and CP25 Southeast Elite FBC and impressed with his athleticism and ability to get to the basket. The 6-foot-1 guard can put up points in a hurry and has a game similar to Russell Westbrook. He's another guy to watch for lower-level schools.