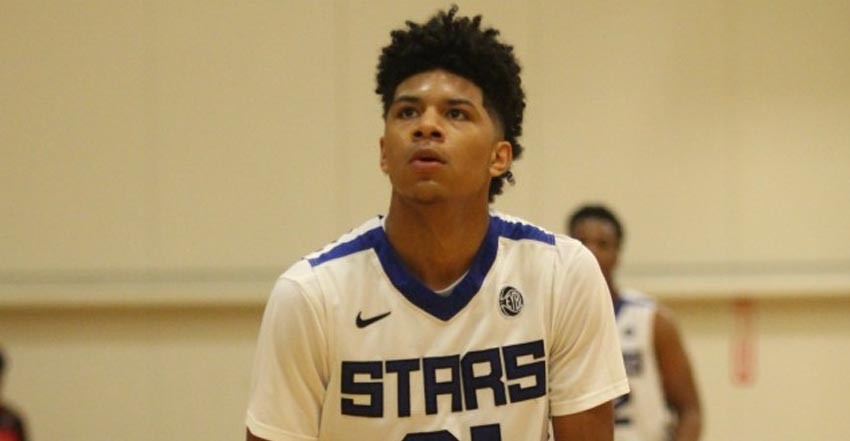 The Class of 2018 has officially completed their sophomore years in the state of Alabama. With that being said, it's time to look toward the future and pinpoint the top rising basketball talent in the state. While there is still a ton of time to play out, here's our first installment and introduction to the 2018 HoopSeen Alabama state rankings with an initial Top 25.
CLASS OF 2018 ALABAMA RANKINGS
WOOD CLAIMS TOP SPOT
The debate for No. 1 in 2018 is wide open, as there are a handful of deserving candidates throughout Alabama. Nevertheless, Sacred Heart forward Diante Wood gets the early nod in our introduction rankings.
Wood, a 6-foot-5 skill wing, helped lead Sacred Heart to back-to-back state championships the past two years. He is an all-state player who already holds a handful of scholarship offers, including Auburn, UAB, Samford, and New Mexico State. Wood's skill and versatility from the forward spot are something college coaches are already impressed with. He has all had a productive spring on the EYBL circuit with the Georgia Stars 16U team.
The state's top 2018 big man, Trey Jemison, is next at No. 2. He helped guide Homewood to the 6A state title this past season. At 6-foot-8 with broad shoulders and still growing, there's a lot to like about Jemison's potential in the coming years. Many college programs have already thrown their hats in the mix for him. Auburn, UAB, and Samford have extended offers, while Alabama, Georgia, and many more SEC schools are showing interest. Jemison is a guy to buy early stock in.
Eufaula combo guard Tony Johnson checks in at No. 3. The 6-foot-4 guard is tough and physical for his position. He has no problem embracing contact and competing at a high level. He plays both guard spots effectively and has scholarship offers from Auburn and Georgia. Johnson will make a run at the No. 1 this summer, too.
Coming in at No. 4 is Cordova forward Isaac Chatman. The 6-foot-6 long athlete oozes with potential and upside, but he brings production to the table, too. His offensive game is still coming along, as he has shown flashes of being able to hit shots from the perimeter and handle the ball well. However, his biggest value is on defense and the boards right now. Chatman rebounds and blocks shots well for his size. Auburn, UAB, Murray State, Texas Southern, and others are actively recruiting him.
Rounding out the top 5 in Huffman combo guard Myreon Jones, Jr. Jones burst onto the scene last spring at the inaugural Alabama Elite Preview camp, where he showed he was one of the state's premier shoots and scorers. It's safe to say he hasn't looked back over the past year, as he has taken his game to the next level and embraced the competition. Jones has outstanding ball skills and a high IQ. UAB, Samford, and New Mexico State have all extended early offers.
CLASS OF 2018 ALABAMA RANKINGS
TONS OF FORWARDS AND VERSATILITY WITHIN CLASS
The biggest early storyline from the 2018 class is its versatility. Several different players can play all over the floor from top to bottom.
Josh Strozier, Anquavious Pollard, Emmanuel Littles, Dalton Dodd, Dylan Robertson and others bring matchup problems to the floor with their unique games. Their skill-set, athleticism, and size set them apart from many of their peers.
While the forwards and versatile players are abundant, there aren't many pure point guards on this early list. Leflore's Nick Preyer is the first pure point guard on the list at 14, while Tony Johnson, Myreon Jones, Jr., Au'Diese Toney, and Azariah Seay are all combo guards.
BY THE NUMBERS
The talent in scattered across the state in 2018. Six players from the Birmingham area are included in the top 25; three from Tuscaloosa; two from Huntsville. The majority of the players ranked come from areas we don't typically see top-tier talent.
For example, Haleyville sports No. 7 overall prospect Logan Dye, while Tyler Stallworth, No. 10, goes to Monroe County. There's several players that are located off the beaten path in the initial rankings.
Four players in the top 25 were state champions this past high school season: Diante Wood (Sacred Heart), Trey Jemison (Homewood), and Anquavious Pollard and Emmanuel Littles (Lanett). Several other players participated in the Final 48 in Birmingham.
No 2018 prospects from Alabama have made early commitments to a college yet. The majority of the players have scholarship offers, though.