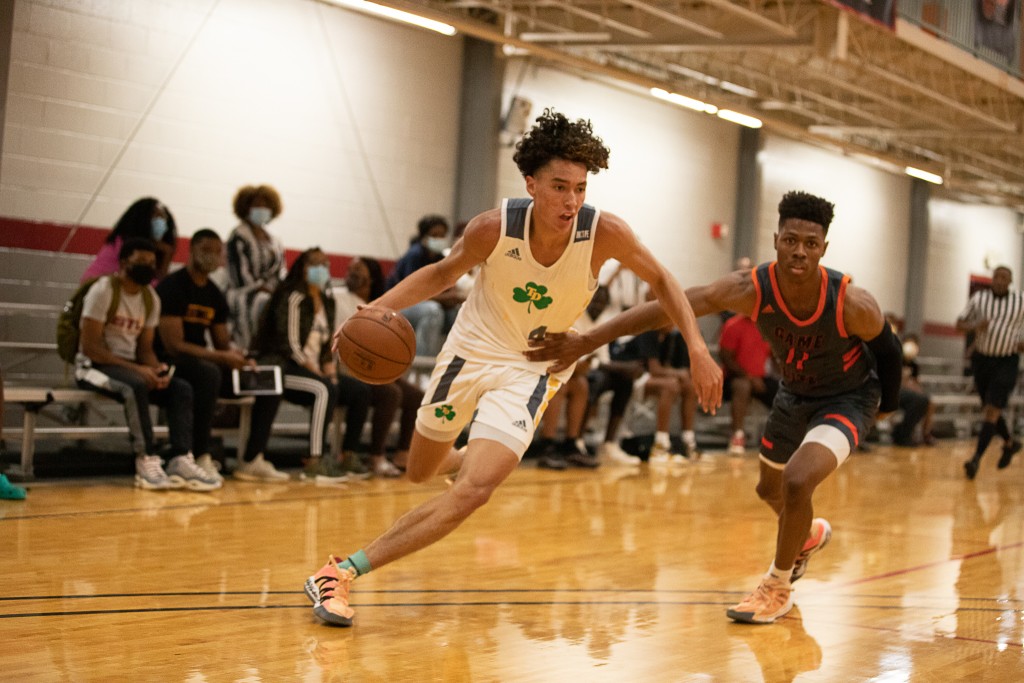 Jusaun Holt makes it look easy when he's out on the court doing his thing. The 6'7" wingman has the experience and ability to play guard, along with the size and skill to back his man down in the post and easily get his shot off over defenders.
Playing for a Team Dickerson group stuffed with talent, Holt impressed the HoopSeen staff at the Be The Beast Always Live Showcase, and he surely stood out to college coaches tuned in to live streams of his games.
Holt scored 27 points Saturday for Team Dickerson in a tight loss to Game Elite, keeping his team in the game until the final seconds with his ability to find points on offense.
And this came on the heels of a battle with COVID-19, which kept him sidelined and quarantined in his home for a month.
"I couldn't even get out of my bed for like three weeks," Holt said.
The soon-to-be senior at St. Francis (GA) already has a hefty list of college offers from power five and high major schools. Holt currently holds offers from Clemson, Washington, Xavier, Georgia, Georgia Tech, Tulane, Ole Miss, Wake Forest, Alabama, Dayton, and most recently Miami. He said he's been hearing more from coaches at Kansas State and Oregon, too, so offers could come soon from the Wildcats and Ducks. 
Holt said he doesn't have a timeline in mind for naming top schools or committing to one.
"I'm trying to wait it out a little bit longer to see my options and pick the best fit for me," Holt said.
There are a few schools that have been hitting Holt's line more than others, according to the man himself.
"I've been talking to UGA a lot, and definitely Xavier and Alabama," Holt said.
UGA was the second Division I program to offer Holt back in August of 2019, with the offer from Xavier following suit a month later. Bama offered Holt more recently in July. 
Xavier poses a unique opportunity for Holt, as he could reunite with his former teammate at St. Francis, Dwon Odom. The two formed a dynamic at St. Francis, where they won back-to-back state titles in 2018 and 2019. 
"He's been talking to me a lot, but I'm exploring my options still," Holt said.
For now, Holt is locked in on finishing his summer season, and he's keeping his fingers crossed for an opportunity to defend St. Francis' state title once again.
"I'm looking forward to playing my senior year with St. Francis and hopefully winning another state title," Holt said.