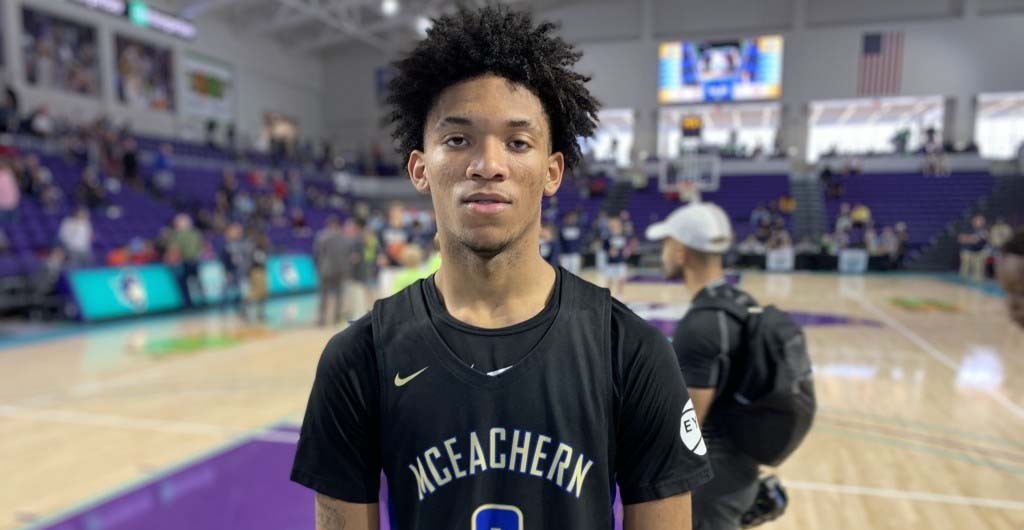 Camron McDowell isn't alone in his feelings about the pause of 2020. 
"I'm just mad," McDowell, a 6-foot-5 guard from Powder Springs (GA) McEachern, said with a laugh. "I just wanna hoop!" 
That sentiment rings true for just about every high school athlete right now. So with five-on-five competition put on the shelf, athletes are looking to keep their skills sharp and their competitive spirit high. McDowell is finding his growth can still happen outside of the lines of a full court game. 
"I lift weights in the morning, then I'll go run. I mix in some ball handling. Then at 10 at night, I'll run around the neighborhood so I stay fit," McDowell said. "You can still get better during all of this." 
McDowell said he's getting shots up on his own goal at his house, too. 
"I'm getting better everyday. It's a great time to get ahead," he said. "Normally, the teenage athlete is playing just sitting around playing 2K. So, I try to stay ahead of it."  
McDowell is trying to keep his game up to the standard in which he finished the season. Playing alongside a player like Sharife Cooper takes a while to find your comfort zone. The back half to the year, McDowell felt like he found it. 
"I feel like I was at the highest level but I could do a lot more. Getting to know what (Sharife) does best and then feeding off him was what I wanted to do. He made me look good and I made him look good. Practice does make perfect, Coach Thompson would tell us that and he picked up on that. So me and Sharife were always competing. That's what helped at the end of the year." 
As much as he's doing his part to keep his game ready to compete, McDowell admits the time away has put other parts to the process on a bit of a pause. 
"It kind of hurt my recruitment. Some things happen for a reason but God got me," McDowell said. "It did take a dip in my recruitment. A lot or schools have reached to me though. Some coaches FaceTime, some text, all types of contact. It's fun. I love interacting with coaches. Some coaches act just like me and my friends. Some are more serious. It's cool." 
With recruiting moving away from sidelines and campuses and visits to technology, the process of developing chemistry on both sides of the recruiting lines has made a shift, too. Technology has allowed players and their families get to know coaches and their families more now, too. 
"I feel like they are being more interactive," McDowell said. "They want to build a better bond now." 
McDowell said he holds an offer from  Virginia Tech while he sais Alabama, Auburn, Georgia, Georgia State, Middle Tennessee State, Troy, UMass, UNC Greensboro and Virginia have shown interest so far. 
McDowell said he has already been on the campuses of Alabama, Auburn, Georgia and Georgia Tech. 
"I was supposed to take a lot of visits but the virus messed so much up," McDowell said. 
Four of McEachern's best players have matriculated to Auburn over the last three seasons. There is a legit AOT/McEachern pipeline that leads to the SEC school. McDowell knows it. 
"A lot of people think I'm just going to Auburn," McDowell said. "But they should stop basing their opinions on what people say on the internet." 
McDowell said he saw was Grayson guard Caleb Murphy did and committed to South Florida, taking a non-traditional path for himself where he could write a story that was unique compared to other highly-recruited players. McDowell said he would like to take a similar route. 
"I don't have a problem playing looking at a blood blue," McDowell said. "I love playing them. I think it is kind of better, though, if you can be the man of your team. What if a players goes to Duke and sits on the bench the whole time?" 
Time away from the game also gives you time to think about your future. Will of this time away allow him to think through his decision even more? Perhaps. In the meantime, his perspective is focused on the moment we are all in. 
"We take basketball for granted," McDowell said. "I just take it day by day,"