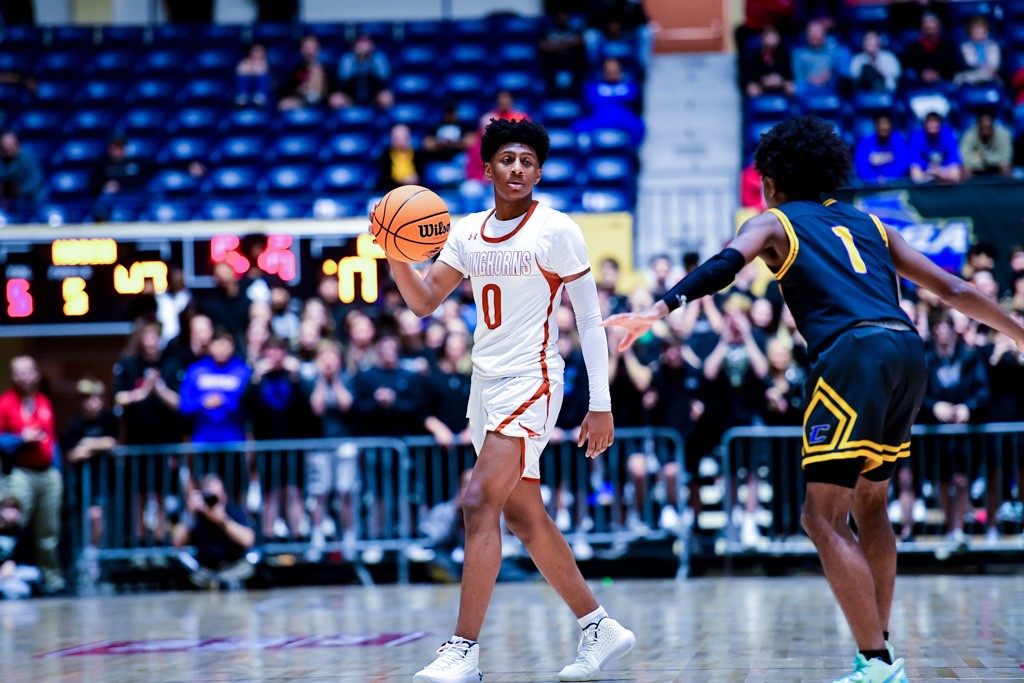 So often during a travel ball event, my eyes and mind can divert to more pressing matters than whats happening on the court. 
Are the scorekeepers at the table? 
Did all of the refs show up? 
Is that team going to make that dreaded 8 am start time? 
For as much as I miss running our events, the time spent alone with only my thoughts and a laptop have brought me back to a tool that I used to utilize everyday. As we all look to navigate the new landscape ahead of us, the use of film has never been at it's highest point. 
Since seeing him against South Cobb in the 6A playoffs, I've been intrigued by the skill set of junior guard Andrew McConnell. While Tulane signee Sion James was the games best player, McConnell made enough plays as a shooter to catch my attention. After receiving multiple games from Lanier head coach Branden Mayweather, I spent the weekend evaluating McConnell against a few different opponents. 
The shooting that I saw at Buford arena was just a glimpse into the high level ability that McConnell has as a dynamic floor stretcher. While most high percentage shooters make their living off of other players shot creation, McConnell's percentages don't seem to differ even when shooting off the bounce. He brings a different dynamic to the game as his baskets in transition give the offense a vertical affect. It's far very common to see McConnell stop a step or two behind the line during a numbers advantage and show off the confidence in his stroke. After watching a few games online, Mayweather provided me with an eye opening statistic from the season.  
"He shot 38% from three and you can tell so many of them are contested from the film that I sent you. He made 100 threes this season on the nose which is the second highest mark for a single season in Gwinnett County History trailing only former Berkmar High School and Ga Tech star Tony Aiken."
His shot making is, and will always be the backbone of his game, but it's his ball handling that will be the difference in his recruitment. In fact, it's his ball handling that adds another level of separation between himself and many of his shot making peers. Shooting remains as the games most valued aspect but a close second should be those that create the shooting opportunities. In McConnell, offenses have both. From the opening tip it was easy to see that defenses made it a point to crowd his space, even resulting to face guarding him 22 feet from the basket. Now with more of the floor to work with, McConnell's quickness and crafty handle would jump off the screen as he gave the defense the poison they picked. Shifting across both guard positions can only help his stock going forward as he's spent quality time as both the lead decision maker and off the ball threat. The next phase of his game will be how he handles being at the very top of teams scouting reports.  
"With Sion leaving, he immediately steps into the role of our team leader and our best player. There will be no sneaking up on people. He was an All State selection, All Region Member, and he will have a bulls eye on his back night in and night out. What comforts me though, is  I know with the work that he puts in,he will be up for the challenge and I am excited to see his game continue to grow. In transferring in, we knew he was a talented kid and could really shoot the basketball, but he had to evolve into a player and it started with his willingness to push himself. Each day he came in with an attitude that he was going to trust the coaching staff and the things we asked of him. He became more vocal, he became a better leader, he became a willing passer, and all of those things along with the talent he possessed already continued to raise his stock as a player. He put in the work and laid his ego aside and as a result he has started to tap into that potential that was in there all along." 
 According to coach Mayweather, there is a wide range of schools involved in his recruitment. Georgia, Clemson, Wofford, Middle Tennessee State, Charleston Southern, Ga State, Kennesaw State, and Navy are all involved and tracking his progress along the way. When looking at the guards in Georgia's 2021 class, McConnell's off the dribble shooting rivals that of Tri-Cities guard Peyton Daniels and Chattahoochee's AJ White. While watching in person and now over film, I got a strong sense of nostalgia when evaluating his game. Memories of a young Patrick Good(senior guard at ETSU) came to mind when thinking of players that shot the ball this well coming out of high school. To McConnell's credit, at this stage his ball handling is significantly better while having the same long distance ability.