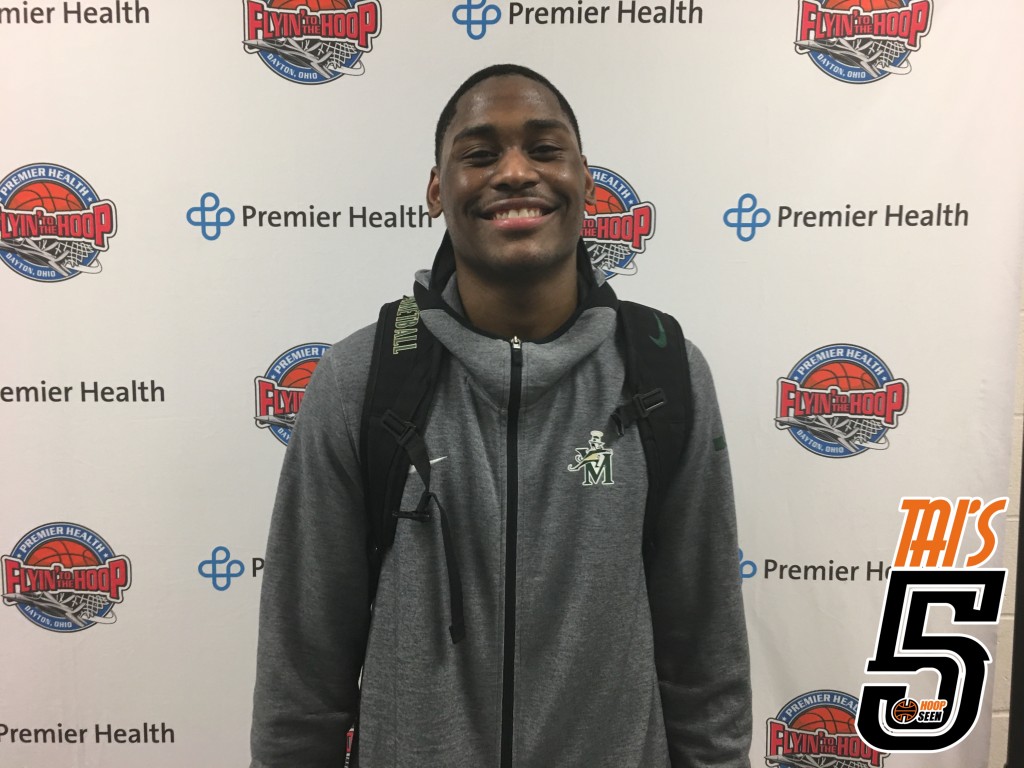 Dayton, Ohio- Thirty eight teams converged on the Trent arena for one of the most talked about events during Martin Luther King weekend. Flyin to the hoop featured teams from Georgia to Arizona as they faced off with several talented teams in the state of Ohio. While there were a ton of prospects to take in, five made my list as the most impressive of the weekend. 
Malaki Branham, 2021 G, St Vincent Marys: In today's game when a player has a forty point showing, it is often made possible with a high number of attempted threes. That couldn't be further from the case when thinking back on the game that Branham had as he set the highest scoring mark for the weekend. With most of his attempts coming from inside the arc, Branham inflicted his will on defenders as so few wings are accustom to doing. Most defenders could not tolerate his bruising mentality as he willingly threw his weight around in the paint. The brute strength he showed was impressive as he absorbed a beating en route to the weekends single best performance. 
Mason Manning, 2022 G, First Love: Manning' natural ability to score the ball was evident from the moment his first shot rolled off his fingers. The game appears to be played in slow motion as his craftiness and instincts made most of his scoring seem very effortless. His potential as a three level scorer is enough to keep coaches intrigued as he makes the most of his time with DJ Gordon sidelined. With reported offers from South Florida, Baylor, Ole Miss, and LSU, Manning is well on his way to being a priority prospect as we gear up for the travel season. 
Kebba Nije, 2022 F, Centerville: Nije's first possession of the game gave me a ton of insight into what to expect from him as he develops down the line. With nimble feet and impressive mobility, Nije displayed a natural ability to make moves in crowded spaces. It was an impressive feat from a player that is only slightly shorter than his 6 foot 9 brother, Mo Nije. Despite his limited production, the flashes were enough to project him as one of the better young prospects to come out of the state in the next two years. Mid to high major programs would be wise to track his progress going forward. 
John Hugley, 2020 F, Brush: There was a great mixture of inside-out play that kept me locked in on the future Pittsburgh forward. His combination of size and strength makes for a difficult match up as a pick your poison type of scorer. On a number of possessions, First Love would double and even triple team him, which speaks to his ability to affect the games ending result. His production never seemed forced despite not having the luxury of going head to head against a single defender. In terms of a long term outlook, Hugley positioned himself well with a small group of players at the event.  
Jacob Conner, 2022 G, Alter: Perimeter size, coupled with an ability to stretch the floor are two highly sought after traits in today's game of spacing the court. At a young age, Conner checks off both boxes while still having room to grow in other areas. His movement along the perimeter created some scoring opportunities that he made the most of with very little effort. Given his elite ability to shoot the ball, Conner will have an offer sheet a lot sooner than later. 
Our HoopSeen stage is designed to provide the best exposure opportunities for top independent programs. Tons of coaches, social media exposure, and elite competition are some of what you'll find at our events. For more information on our 2020 events, visit our events page, or call our hotline at 470-266-8862.