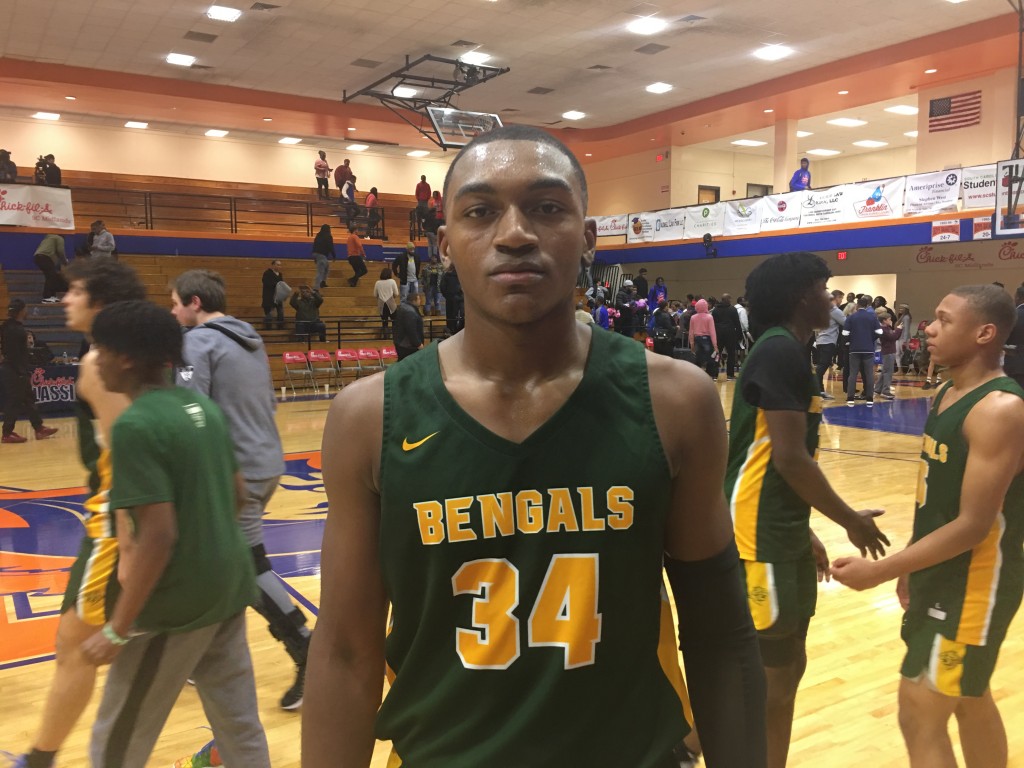 Columbia, SC-The Chick Fil A Classic has become a staple during the Christmas season as one of the best high school events in the country. Day one featured a handful of games and gave the opportunity for some players to showcase their game on a national stage. Here are a few quick thoughts on players that impressed. 
The coming out party for Raekwon Horton
It was at last years Chick Fil A Classic that Raekwon Horton first landed on my radar as a junior to track going forward. While I've seen him a handful of times since then, last night was by far his most well rounded effort. Horton negated any doubts I had about his motor after June's high school team camp given his spirited defense against future Clemson forward PJ Hall. Horton's activity led to a number of steals that he then turned to easy looks at the other end. While he was once thought off as a catch and shoot specialist, he's maintained his shooting while adding value as a ball handler. On a number of possessions, it was Horton's play making that would create a scoring opportunity for himself or others. Not only did his play erase the concerns that I had over the summer, it solidified his place as one of the southeast's best availables. 
Put me in the fox hole with Bryce Harris
You win games at the next level with prospects like Greensboro Day wing Bryce Harris. He's built like a tank, competes on both ends, and has a skill set that can fit well in a number of systems. While Cam Hayes and Brock Williams carry the bulk of the play making responsibilities, Harris is uber-efficient with his possessions, often squeezing out positive results. As a passer he's sneaky good, much in part to his unselfishness and ability to thread the needle. One of his best characteristics is that he's wired to take on the challenge of guarding the other teams best perimeter scorer. Given his size, he's more than capable of switching around at the high school and collegiate level. A few schools have gotten it right so far as Harris lists Elon, Stony Brook, Bryant, Howard, and Lafayette as his current offers. 
One of the best available in the southeast
There needs to be a ton of praise pointed in the direction of Catabwa and Cleveland State for being the only offers on the table for Gray Collegiate forward Latavian Lawrence. It's truly puzzling as into why more aren't on board given his showing on opening night. As an absolute pest defensively, Lawrence guarded every position, altered shots, and played with an edge that's often unmatched by others. Being 6'6 has it's advantages and he's just in the early stages of utilizing all of them effectively. So much of his game seems to be geared off of sheer instincts. Offensively he was equally as impressive going 8-12 from the field and 4-6 from three. Similar  prospects flew off the shelves in the early signing period, making his lack of offers that much more perplexing. Mid major programs would be wise to get involved while his stock hasn't taken off. 
Our HoopSeen stage is designed to provide the best exposure opportunities for top independent programs. Tons of coaches, social media exposure, and elite competition are some of what you'll find at our events. For more information on our 2020 events, visit our events page, or call our hotline at 470-266-8862.