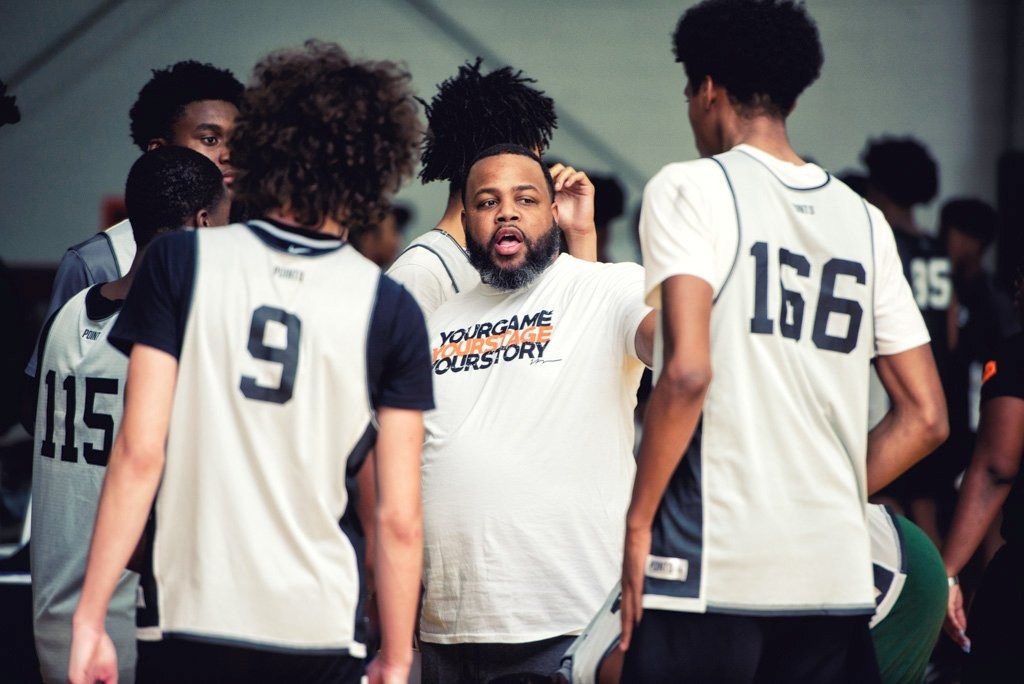 Our second fall preview camp is in the books as both players from Georgia and around the southeast met us at Suwannee Sports Academy. As the players competed and showcased their skills, our staff branched out to tell their stories. Here are our evaluations for team 5.
JC Curry, 2022 G, Hart County: This knockdown shooter form Hart County did a good job of stretching the floor for team 5. On a team full of penetrators, Curry kept a steady hand ready as he patiently moved from spot to spot. By keeping his head on a swivel, Curry was able to move into open spaces and show off a nice stroke from deep. As the closeouts got faster, the sophomore guard showed that he was able to put the ball on the floor. 
Erik Lynch, 2022 G, Langston Hughes: As others slowed down, Lynch sped up as he loved playing in an up and down pace. In the open court he shined as very few could stay in front of his tight and low dribble. His shiftiness along with his speed made him a blur in transition as teams couldn't slow down his progress.  
Trevon Howze, 2021 G, Alcolvy: Team 5 benefitted greatly from the well-rounded skillset from Alcolvy guard Trevon Howze. Given his size and ability to put the ball on the floor, Howze was one of the more difficult matchups for guards that lacked his length. Even shot blockers couldn't tee off on him as he stretched out long and wide around the rim. As a playmaker, his smooth approach often lead to offensive possessions that ended in open looks. This season could be the break out year for one of the camps more intriguing prospects. 
Barron Bowie, 2020 G, Pebblebrook: The majority of players try to make their mark offensively at our preview camps. It was refreshing to see a different approach to the game as Barron Bowie brought the defensive stopper mindset to the court. Bowie's instincts and length made his an on the ball nightmare for players that couldn't handle his pressure. Good lateral quickness and an overall willingness to compete set him apart as he flew around continuously to the ball. Bowie found his niche at our Fall Preview camp. 
Bryce Wilson, 2021 G, Dacula: Named his team's MVP by his camp coach, Bryce Wilson did a little of everything through all three of his team's games. As an athlete, he disrupted the opponent's defense with his anticipation in the passing lanes. A relentless motor on the glass would cap of possessions in which his energy carried the possession. Offensively he made the most of his attempts by being a knockdown shooter for his unit. 
Malcolm Noel, 2022 G, Peachtree Ridge: It would be hard to point to a possession that Malcolm Noel completely took off. As a sophomore, Noel has learned how to compete and not let his offense dictate his defense. He's a high energy prospect that gets the job done, regardless of how much he touches the ball. Given his few opportunities, Noel would make the most of his attempts around the rim. 
John Jenkins, 2020 G, Sprayberry: Another solid playmaker for team 5. John Jenkins used a steady pace of play to get his team organized. With Jenkins at the helm, his offense had some sort of rhythm and purpose to it en route to a basket. A floor general at heart with a knack for the smart play, the senior guard would put his team in the right position more often than not. 
Rashad King, 2021 G, Evans: King's athleticism stood out offensively as he got up and down the floor very well. His creativity as a ball-handler was seen with either hand as the slashing guard could burst past his matchups. King's low maintenance approach to offense allowed others to dominate the ball while he picked his spots. Smart shots and a willingness to play within the flow of the offense led to some highly efficient shots. 
Javani Brown, 2020 F, Johns Creek: Some highlights were provided free of charge when Javani Brown took aim at the rim. The senior forward lived above the rim as his rim-rattling dunks brought people to their feet. From the dunker's spot he caught dump-offs and ran well enough in transition to be rewarded. 
Gabriel Omoregie, 2023 F, Dacula: One of the most impressive freshmen at our Fall Preview II camp showed our staff that he would be a player to watch going forward. A nice blend of both skill and athleticism was on display as the freshman forward contributed in a number of ways. On the defensive end he defended the rim well and didn't allow many easy attempts. The story of Gabriel Omoregie started with a bang as he competed at a very high level.