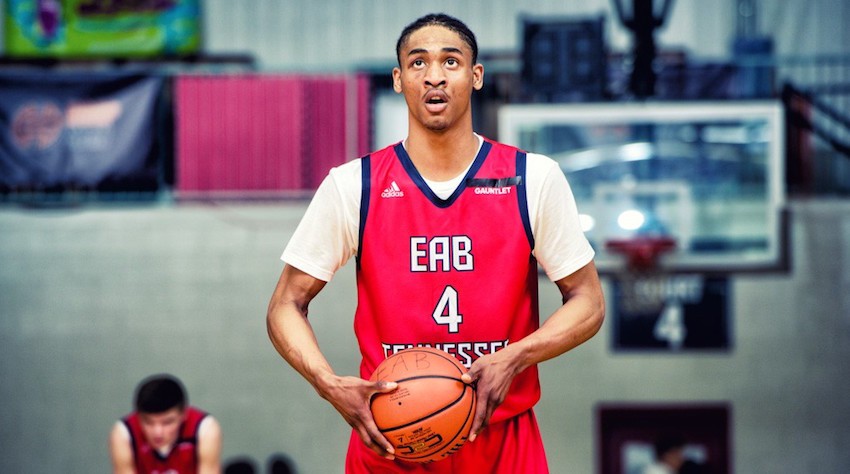 Keon Johnson has been loyal to those who are loyal to him. That's been the case with high school ball. That's been the case with travel ball. And now that he's picked his future college, it's pretty evident that train of thought has carried with him. 
Johnson will stay home and play for the hometown Vols, ending his recruitment officially on Tuesday night at Bird St. Church of Christ in Shelbyville, TN. He picked Tennessee over Ohio State. Virginia was also deep in the mix until the last month. 
Tennessee was involved with the home state prospect for quite some time. They were involved with him prior to any other high-major school. We asked our Tennesee expert Andre Whitehead about Johnson's value at the next level and what these means in the Vol State. 
"Great get for Tennessee securing the number one player in the state. Keon has grown from a long athlete who was offensively motivated by the dribble to a complete player who will excel on defense and has added the weapon of the outside shot to his repertoire," Whitehead said.
"He is on the verge of becoming unguardable. His handles, quick-twitch and explosion were his staples now with the addition of the stroke you cant lay off and if you close, simply watch him glide past for buckets. As he matures his future is as bright as anyone this staff has brought into Knoxville during their tenure." 
Johnson has been a top performer at HoopSeen for three seasons as a member of the talented EAB team. He first caught our attention at the 2017 Best of the South on the 15U circuit. Since then, he's been a multi-year selection to all-tournament teams and top performer selections.