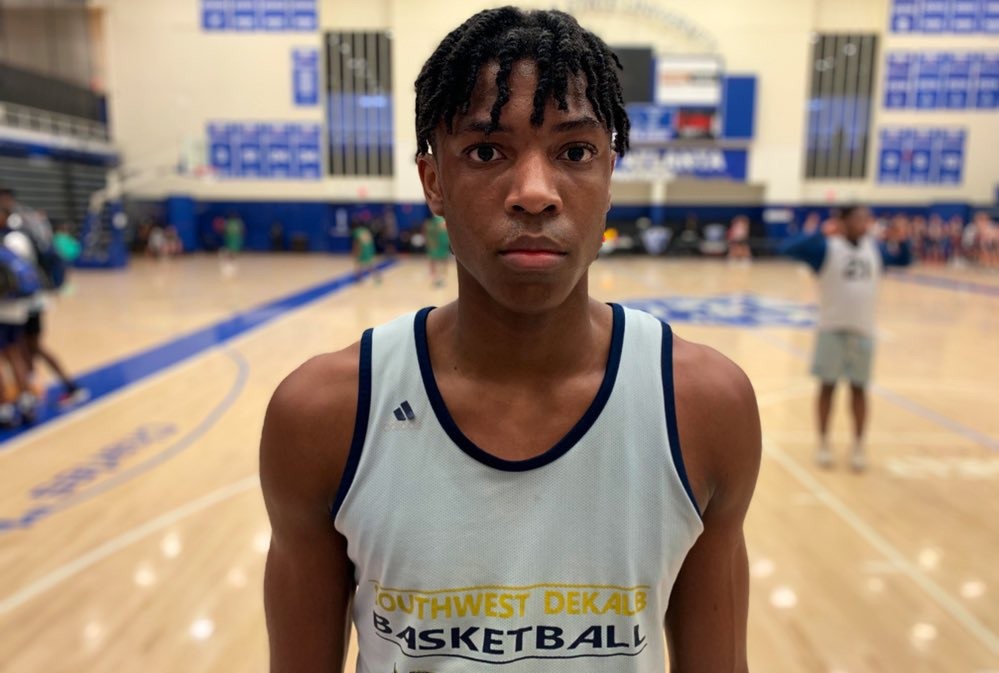 Looking back to the Holiday Hoopsgiving event in metro Atlanta right after the Thanksgiving holiday, Southwest Dekalb SG Eugene Brown put together a body of work that elevated his profile and jump-started his recruitment. 
A week later, Brown went down to a terrible injury that many believed would railroad his entire junior year. 
After successful surgeries and intense rehab, Brown is back on the hardwood and jumping back into a heavy recruitment by some of the best universities in the country. Getting back to 100 percent though was not an easy path to go down. 
A screw was put in his leg and he even returned to the court in March to help his team in the postseason. After the hardware came out and he had a clean bill of health, the mental recovery was still taking place. But the time away allowed him to reevaluate himself and his approach to the game. 
"It helped a lot. It helped the IQ part." Brown said, referring to the time spent watching and not playing. "Everything just looked different from the bench. Watching the games, you realize what you could have done and what could have happened. It basically helped my IQ a lot." 
The son of a coach, Brown grew up around the game and he grew up in good locker rooms in Georgia high school hoops. But sitting out allowed him to grow his game in other ways, too. 
"It helps me be a better leader. I can see more and know more. I can make sure everything is happening right on the court," Brown said. "With the explosion back through physical therapy, I actually feel like I'm more explosive than I was before." 
He's preparing for what should be a big month ahead with the NCAA Georgia team and individual camps. He has his sights set on big goals in June and July. 
"I'm in the gym heavy this month since I've been off for a cumulative of six months now. I've been in the gym hard, working so I can be ready for these team camps and Peach Jam," Brown said. 
There will certainly be a lot of coaches in to see him, too. Brown said he's hearing the most from Butler, Xavier, Virginia, Ohio State, Clemson, Georgia Tech, Georgia and Virginia Tech. 
To date, he's taken an official visit to Butler and he's currently on the campus of Virginia Tech. He's also unofficially visited Clemson, Georgia and Georgia Tech. He played at the in-state high-major programs and shined. Georgia just offered him a scholarship. 
Xavier will host him for an official visit in August, he said. With so many great options to choose from, what will be the most important thing to find in a future school? 
"I'm looking for fit and look to people that I trust (for advice). So, when I go on these visits, I'm talking to the players and seeing what the coaches are like and seeing if they are trustworthy," Brown said. "Can I trust them? Do they keep their word? And do I fit their system?"
Brown said he plans on signing in November.