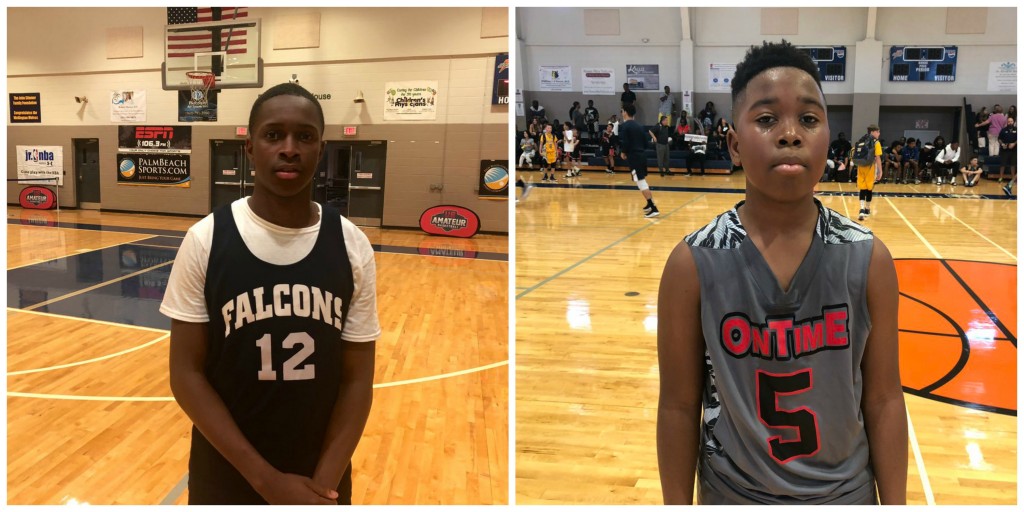 I had the opportunity to go down to Wellington, Florida over the weekend to check out the Wellington Wolves March Madness tournament. The tournament, which has been sold out for the past years, was comprised of over 100 teams and had games at over 10 venues. Here's my weekend notebook.
3rd Grade Division
 The South Florida Heat and Wellington Wolves had a competitive matchup and remained within one point of each other for the better part of the game. Though they were down for most of the second half, the Heat made a strong push to close out the game and free throws helped them secure an eight-point win.
            Forest Hill Basketball picked up the championship game win over South Florida Heat on Sunday evening. Honour Mays of Forest Hill lead all scorers with 23 points. South Florida's Cameron Marcelo wasn't far behind with 19 points.
4th Grade Divison
Jupiter Jaguars point guard Patrick Armour hit four threes in the first half of the Jag's matchup with Bad Boys Basketball. Armour would finish with 16 points and the Jupiter Jaguars took home a seven-point win.
5th Grade Division
One of the most intense matchups of the weekend was the 5th grade game between the Florida Nets and the Stampede. The Nets would eventually pull out a win in a game that neither team was up by more than eleven points. The Nets found themselves up 23-20 at the half and were able to hold the Stampede scoreless until 5 minutes into the second half. By then the Nets has pushed their lead to ten. With six minutes and thirty seconds left in the game, Stampede managed to climb back within 2 points. But, Stampede big man Karastan Sebastian fouled out with six mins left in the game. A tough layup by Stampede guard Bryce Wright tied it up at 39 with just under five minutes to play. Nets big man Julien DeClou fouled out with ‪2:45 left and the Stampede tied the score at 42. Regulation ended with a tie score. The Nets scored back to back to open overtime and would never let up. They got the win by a score of 53-48. DeClou finished with 13 points, 10 boards, and 4 blocks in the win. Nets guard Nathan Kirk also had a solid game with 16 points.
Another 5th grade matchup I caught on Saturday morning was the Wellington Wolves versus OTE (On Time Elevation). OTE would pick up an eleven-point win, but two particular players stood out among the rest in the game. Wolves combo guard Tariq McLeod had an all-around solid weekend and finished this particular game with 12 points and a slew of steals and rebounds. He led an incredible comeback by the Wolves after they found themselves down double-digits in the second half. OTE big man Richard 'Rico' Harris was perhaps the most dominant post at his grade level that I saw. He had 15 points and 11 boards on his way to the OTE win.
In one of the few game winners of the weekend, SCE White got a win over the Wellington Wolves. Christian Fuller grabbed the ball off a last second scramble and hit a free throw line jumper off of one foot to lift SCE White over the Wolves.
7th Grade Division
Florida Blaze managed a double-digit lead at halftime against Beach City Basketball in their Sunday matchup. Jordan Richardson had 11 points for the Blaze while Ryder Callenius put up the dame amount for Beach City. The Blaze would stretch their lead out and take home a 20+ point win.
8th Grade Division
East Coast United and Wellington Wolves Gold faced off in the final matchup from Wellington Village Park on Saturday night. Robert Stafford got off to a hot start, scoring the first eight points of the game. ECU big man Daniel Harris also had five points in the first two minutes. Justin Sitomer picked up the scoring for the Wolves with 7 first half points but he wouldn't get much help. ECU had pushed their lead to 16 by halftime. He would add nine points in half two for a total of 16. Stafford and Harris got their work done early in the second half and finished with 17 and 12 points respectively, leading ECU to a 71-47 win.
The St. Cloud Kings got huge second halves from both Rafeal Balines and JeKirrick Ortiz in their matchup with Wellington Wolves Gold. Balines would finish with 18 tough points and a couple of steals. Ortiz put up 15 points and helped secure a 55-41 win over the Wolves.
9th Grade Division
Right after their 8th grade teams faced off, the St. Cloud Kings and Wellington Wolves 9th grade squads went at it. Wellington Wolves Gold jumped out to a 17-10 lead just six minutes into their game against the St. Cloud Kings and wouldn't slow down. Caleb Mackary put up 10 in the first half for the Wolves and got some help from Brenden Williams with eight points. The Kings found it hard to score in the first half but got a solid performance from the point guard spot by Ashton Arroyo who would finish with 13 points in the loss. Caleb Mackary would end the game with 15 for the Wolves who would win by double-digits.
10th Grade Division
The Palm Beach Garden Starzz jumped out to an 11-point lead just five minutes into their matchup with the 10th grade salvation Army squad. Darius Runner had seven first half points for the Starzz and Rodrick Johnson and Darnell Johnson each added six points. The Starrz lead 30-22 at halftime. Jakobe Hines lead the comeback for the Salvation Army with 10 first half points. They would chip away at the lead slowly but surely over the course of the second half and pulled themselves within four points with ‪2:30 left. Hines's big second half wouldn't be enough and the Starzz took a 56-51 win. Hines would finish with 21 points.
11th Grade Division
I shot over to Keiser University on Sunday morning to catch the 11th grade matchup between East Coast United and the Broward Sharks. Broward was up 37-30 at the half, but ECU point guard Kevin Chandler scored five straight points and dished an assist to open half two and put ECU up one point. The game stayed within one or two points for the majority of the second half until ECU went on a 7-0 run with five minutes left. ECU was up 59-50 with four minutes left. They would win by 13 points, with Chandler finishing with 16 points. Lorenzo Chris Harris added 14 points. The Sharks got 15 points from Dorian Clark.