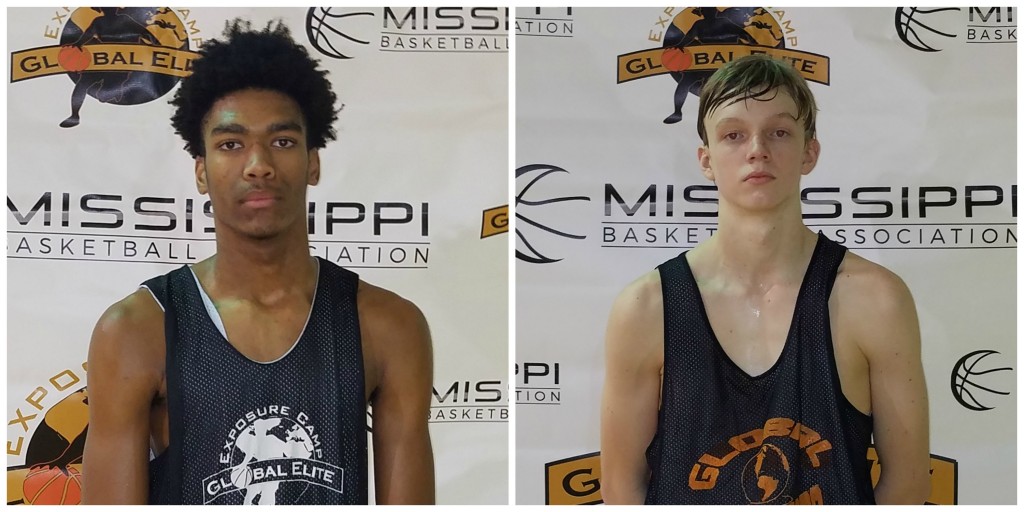 The 2019 Global Elite Exposure Camp, for players in the classes of 2023 and below, was held this past weekend in Jackson, MS and the thing that jumped out at you immediately was the large number of frontcourt prospects with size that were in attendance. That being the case as we take a look at this past weekend's top performers the frontcourt is heavily represented.
Matthew Stokes 6'7" Post 2023 Collierville, TN: An active, efficient post who had a very strong weekend. He scored around the hoop in traffic and thru contact, rebounded at a high rate, played with energy, blocked shots and defended, ran the floor and best of all stayed mostly around the hoop and didn't try to do too much when he had the ball in his hands. Gets my nod for top performer of the weekend based on a strong two day performance.
Jacob Gazzo 6'7´Forward 2023 McComb, MS: A highly skilled forward prospect who showed lots of moves in the one day he was at camp. Hit turn-arounds off the block consistently, showed a soft touch around the paint, showed a jumper with solid range, showed the ability to handle the ball in the open court, rebounded and played tough. He could very well have been my top performer of the weekend.
Kedric Osby 6'5" Forward 2023 Meridian, MS: A long active forward prospect who was very active on the weekend, worked the glass hard, ran the floor and scored on strong drives and finishes around the rim, showed he can stick an open jumper out past the mid-range. He had a very strong weekend.
Joshua Holman 6'5" Forward 2023 Jackson, MS: An active forward prospect who likes to put the ball on the floor and attack the rim but who really made an impact around the paint where he possesses a strong scoring touch and is a tough rebounder. He also showed a very good jumper with range out past the mid-range, ran the floor, and played hard.
Rashad Williams 6'6" Forward 2023 Memphis, TN: Another forward prospect who had a very good weekend, Tall and rangy he was very active and showed a nose for the ball, he really showed the ability to finish around the rim in the half court and ran the floor hard and converted on the break, he is also a strong rebounder and a willing defender.
Eric Paymon 6'5" Forward 2024 Terry, MS: A tall, long limbed forward prospect who showed strong perimeter abilities over the weekend, he is a very good shooter with solid range on his shot, a good ballhandler with good ball skills, he handled and made good decisions in the open floor and in the half court showed the ability to put the ball on the floor for some nice drives, also showed some nice passing skills.
Trey Petty 6'2" Guard 2024 Starkville, MS: A strongly built guard prospect who performed very well in this camp last year, he had another strong showing this weekend, a strong ballhandler who likes to get into the paint and use his strength to finish in traffic, he complimented that with some nice passes to teammates for baskets, he is a physical defender that really gets into his man, he also gets his hands on lots of balls and comes up with lots of steals, a streaky jump shooter his shot looks nice enough that he just needs more reps to improve it.