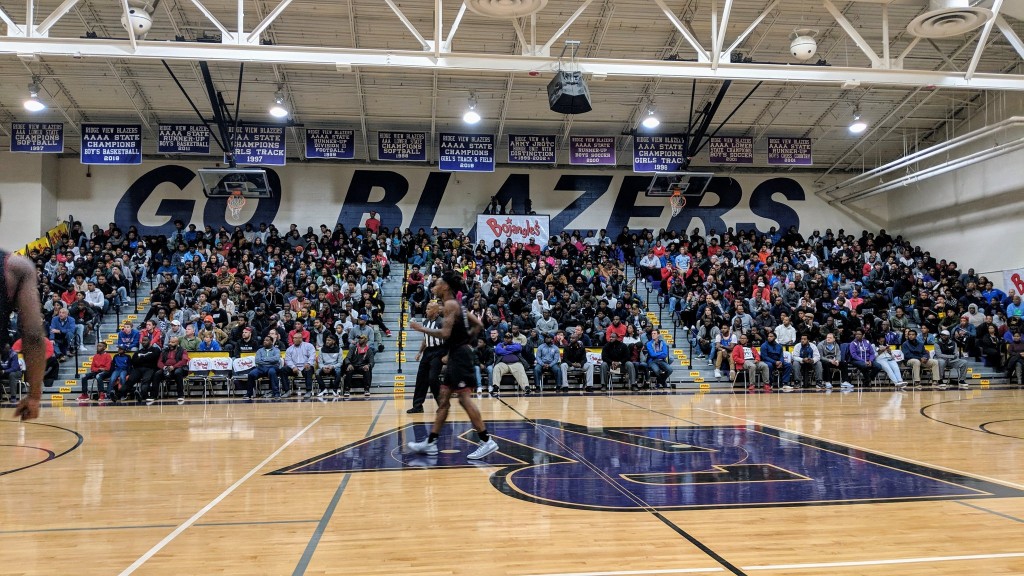 Columbia, SC - The Bojangles Bash featured some nationally ranked prospects and unknown availables throughout the course of their loaded three day event. After being front row for two of the three days, I decided to take a look at a few that stood out in specific categories. 
Best shooter: There were a few players that came to mind when thinking about this selection, primarily Oak Hill guard Cam Thomas. Ultimately it was Quinn Slazinski's effeciency that gave him the slight nudge in this category as he did more with less attempts from deep. For such a big prospect, it was entertaining to watch him navigate off the ball into open space. Despite having the full attention of his matchup, Slazinski could create just enough seperation to let off a beautifully shot basketball. His ability to stretch the court and defend should go over well with the Louisville lovers. Chris Mack and the Louisville Cardinals are going to have fun figuring out ways to utilize his shot making ability. 
Best rebounder:  An award that's normally reserved for those giant, uber athletic forwards, Cole Anthony doesn't breaks the mold of your traditional rebounder. His lack of size didnt offer him any hesitation as he chased rebounds down with the same urgency of a 6'7 big man. Games of double digit rebounds made Anthony an easy selection, as he routinely soared through a crowded paint to snatch his fair share. The result of one of the countries best passers not having to wait for an outlet often made starting the elite fast break of Oak Hill that much easier. Anthony plays with a reckless abondonment on the glass that very few guards, both older and younger than him posess. It's easy to see how he's highly touted by scouts and the elite high majors that are in pursuit. 
Best motor: There's not much in the game of basketball that gets my juices flowing like a prospect that has no regard for the wellfare of his body. Aspire has that wreckless motor in 6'6 available forward Ahmard Harvey. Another name when considering the award for best rebounder, Harvey threw his weight around against any and everyone that stood in his way. His approach to rebounding was the same whether a timid guard or the towering Kofi Cockburn lay waiting under the rim. Coastal Carolina is said to be the only offer on the table, which is puzzling, given the unchanging impact of rebounding in the win-loss column. 
Best athlete: If you haven't seen the in game eastbay put on by Huntington Prep guard Jimma Gatwech then now is a good time to take a break from reading and watch the video below. 
Jimma Gatwech of @HuntingtonPrep with a #SCTop10 worthy dunk against @OSNA_BVHOOPS at the #BoBash in Columbia, SC. pic.twitter.com/D6xDEs1k7G

— Bojangles' Bash (@BojanglesBash) December 8, 2018
This wasnt the first, nor the last time Gatwech displayed his elite ability as the events best high jumper. When given the proper runway, Gatwech often fed into the crowd by providing several of those dunks in effortless fashion. The 6'4 junior packs a powerful punch. 
Best passer: Can I give out two awards to the same player? With no one in the way to stop me, I have to hand it to Cole Anthony once again. Pin point pitch aheads and tight window passes led to several assists to his more than capable runningmates. The thought of a double digit rebounder being your best passer can open up an offense in more ways than imaginable. On more than a few occurances, Anthony's outlets would lead to points well before his opponents could form any semblance of a defense. There's alot of mouths to feed at Oak Hill and yet Anthony keeps food on the table. 
Best game: Anytime you come close to breaking the record for points scored at an event Il' be hard pressed to had the best game award out to anyone else. Murray State signee Chico Carter delievered on a grand stage, pouring in 39 points on his way to a victory over Gray Collegiate. Carter's known for his toughness, a sure thing to expect for a guard that laced them up for Team Charlotte's Jeff McGinnis. Aside from the grit I've come to appreciate about his game, last night was the most aggressive I've seen Carter offensively. Points were scored in waves from both the freethrow line and behind the arc without appearing too ball dominant. This was a pleasant surprise for a player that I tabbed primarily as a defender. With Ja Morants seemingly inevitable departure, Carter maybe asked to fill some big minutes as a freshman. Performances like this should help the Racers staff rest just a little easier.