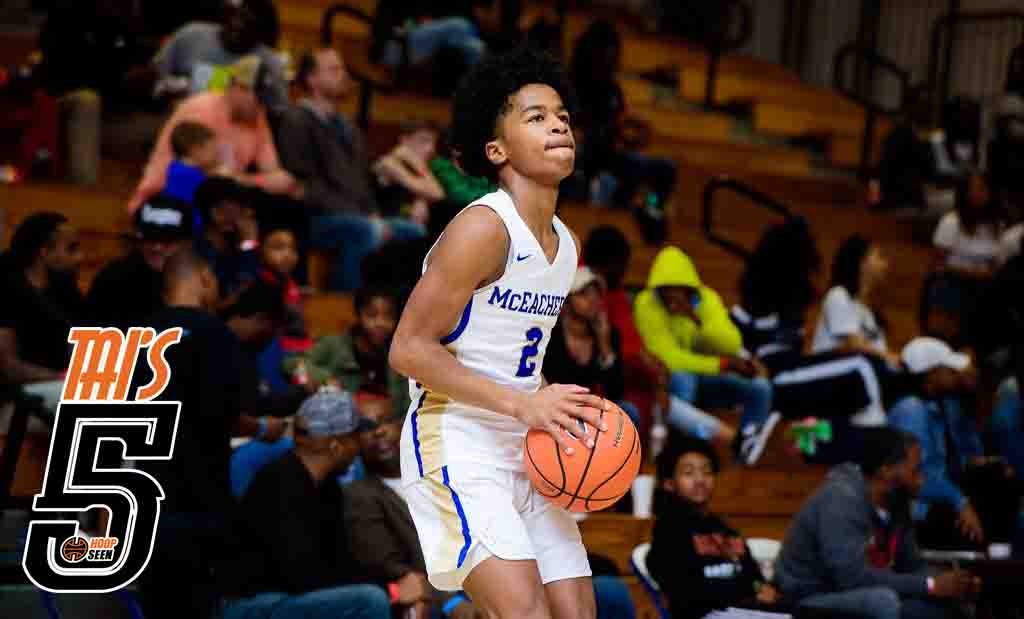 There were a lot of quality players at the third annual Georgia Elite 8 Tip-off Classic, but there 5 players were the best in attendance. Here I recap the great outings that were shown on the hardwood.
Lance Terry, G, The Heritage School, 2019: This time last year, at this same event, Lance Terry's play was one of the better ones to stand out. Fast forward a year and Terry makes my top 5 players list with one of the best all-around showings for the day.  What immediately jumped out from the first half was how much I had previously underrated Terry's athleticism. Of course, his value as a shooter was well documented given previous high school showings and high percentages during the UAA. His dunk attempt over Mt. Bethel anchor Jordan Meka was one of the days many highlights despite the miss. If there was a play to be made, then Terry showed up to deliver. Diving for loose balls, highly contested makes, and an overwhelming sense of playing in the moment are just some of the things that make up his DNA as a player. Simply put, Terry leaves it all out on the floor. We all expect players to do it but it's noticeable when someone's energy and effort radiates throughout a game. Gardner Webb got a winner when they got Terry.
Anthony Edwards, G, Holy Spirit Prep, 2020: Sometimes you wake up feeling lucky. For those that were raised in Georgia, seeing a player of Anthony Edwards abilities is probably something that some take for granted with all of the talents that have flowed through the state over the years. There were many moments throughout the game were my hat as a media member was taken off and I watched the game as a fan. Anthony Edwards plays with an aura around him that few players will ever get to experience. Every dunk brought people to their feet and sparked emotions that only the elite can. A player of Edwards caliber will justifiably bring out the every media outlet, camera phone, and video camera around when he's on the hardwood. We had our popcorn ready and he gave us the show we wanted.
Damian Dunn, G, Meadowcreek, 2019: Simple, yet sufficient. That's the best way to describe that play of Temple commit Damian Dunn. Those three words should accurately describe a player that can routinely get to his spots in less than that many dribbles. Make, miss or turnover, everything he does is with the purpose of getting closer to a bucket. There's no wasted movements or plays to entertain the crowd. What you get is someone that has an array of moves to score from in both the mid-post and behind the arc. The 6'4 two guard has a competitive edge that he's not afraid to verbalize when a player he feels incapable of providing resistance steps in front of him. Dunn's showing on the best opening stage for Georgia high school basketball was one to remember.  
Dereon Seaborn, G/W, Massanutten, 2019: There's always a player at one of these events that your unfamiliar with for any number of reasons. This was the case in this 6'5 rangy prospect that hails from Massanutten Military. Several plays caused me to look up the recruitment of Dereon Seaborn and after review, I wasn't surprised. Such a high ceiling is wrapped up nicely in a player that looks like a prototypical, multi-positional prospect. Watching such a long player twist and contort his way to the rim was impressive enough, while often finishing with aggression was the cherry on top. Moments of him running out on the wing to start the break would often leave the defense with a preordained outcome. An intriguing talent whos best ball is ahead of him, watching the right mid-major staff unlock his gifts is going to be something special to watch.
Sharife Cooper, G, McEachern, 2020: There was a moment going into the second quarter where Justin Young and I looked at each other and wondered who would take this game over down the stretch. Sharife Cooper did what Justin predicted as his second half effort put the game away in a typical showman's fashion. From deadly step backs, to tough in traffic rebounds, Cooper would go on to throw counter punches all night from that of Anthony Edwards. Watching him throw college level passes has been one of my favorite things over the year as his teammates are sometimes shocked by the delivery. I was often reminded that McEachern is, in fact, his gym. Whenever Holy Spirit made a run, a key play was made to knock them right back down to earth. It'll be interesting to see where he goes from here as the blue bloods continue to beat the door down. Where ever he goes, experiences from games like this will propel him in those tough top 25 showoffs.