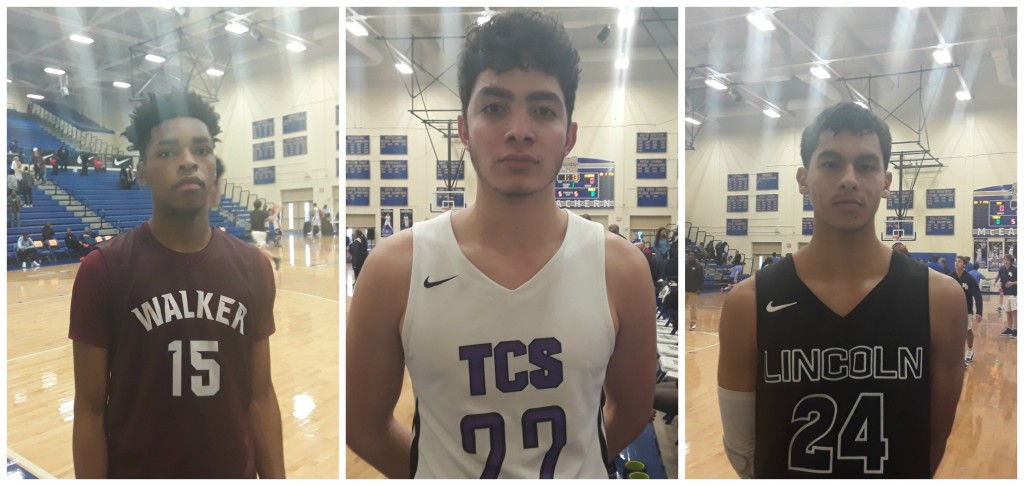 Were still very early on in the action but someone didn't tell that to the first few teams at Georgia's Elite 8 Tip Off. A game winning overtime shot, and an impressive showing from Trinity Christian started off our day. With some many quality players in attendance, this notebook will showcase many of the top players from the early action.  
Cumberland Christian vs. The Walker School
Chandler Baker started off with a great first half as his team's primary scorer. In the mid-range especially is where he made his impact both as a stand-still shooter and off the bounce. His fast start paid dividends later in the game as he ended with 36 points and a game winning shot. The Walker School got some great inside production particularly in the third quarter from 6'5 junior forward Burke Chebuhar. His aggressiveness allowed him to win the position battle on his way to some key rebounds. When given the opportunity to put the ball on the floor he was equally as impressive as he could evade oncoming defenders.  
Junior guard Omar Cooper made life easy for a few of his teammates throughout the morning. When the defense collapsed, there wasn't a hesitation in his decision to give it up. A team effort was on full display from the Walker School. From a team standpoint, the Walker school took more charges than any team Ive seen in a very, very, very long time. Every open driving lane was soon closed as the would routinely rotate and take it in the chest. A double-digit charge total would not be out of the question.
Jerry Vaughn's first quarter was a sign of what was to come for the rest of the night from the Cumberland Christian guard. In transition he excelled, gathering most of his points in an effortless fashion. A nice baseline floater was a routine occurrence when the game slowed down. Jordan Stanley gobbled up rebounds at high rate in the first half which often lead to easy attempts in transition. The junior forward would go ahead to chip in points the rest of the day as the opportunities presented themselves. Cumberland Christian has will benefit greatly from the arrival of Myson Lowe. New to the team after transferring in from Whitfield Academy, their fast paced style fits his skill set as a guard that can break down guards one on one.
Final: Cumberland Christian 87 Walker School 88
Miller Grove vs. Trinity Christian
Maclean Hoekwater and Giancarlo Sanchez are going to be relied upon heavily to make up for the loss of Jamir Williams and Eric Valdez from last years unit. Based on their showing they seem up for the challenge. Sanchez was one of the more physically imposing forwards at the event as he used his size well to carve out space in the paint. Good size, feet and hands are all some of the things to like in the 6'6 prospect. Hoekwater sprinkled in points from both the paint and behind the arc as he proved to be Trinity Christians most versatile piece. Tyler Whitfield used a strong right hand to get to the basket when he wasn't knocking down mid-range shots.
Miller Groves inexperience showed throughout the game but the back court of Shomik Shahjahan, Julius Coleman, and Tyriek Boyd will have their collective moments throughout the season. Coleman made several threes from deep, often times being set up by the likes of Shahjahan and Boyd. Boyd in particular used a good first step and a tight handle to find himself in the thick of the defense. This group of 2021 guards will eventually benefit greatly from being thrown in the fire early.
Final: Trinity Christian 78- Miller Grove 67
Lincoln Prep vs Greater Gwinnett Christian
Lincoln Prep has the benefit of having multiple Division 1 players on the court at one time. Even worse for their opponents is that they have several of the same coming off of the bench. One player that stood out to me amongst Lincoln's vast talent pool was 2021 guard Rafael Pizon. A unique talent standing at 6'6, his uniqueness as a talent may only be second on the team to Mississippi State commit Elias King. As a ball handler there is some inexperience that shows but often times he can flourish as the team's primary decision maker. On the other end, a great pair of hands and feet make him a multi-positional defender that can be shifted around. A high major projection is a easy one at this stage in his young career.  
Final: Lincoln Academy 83 Greater Gwinnett Christian 37