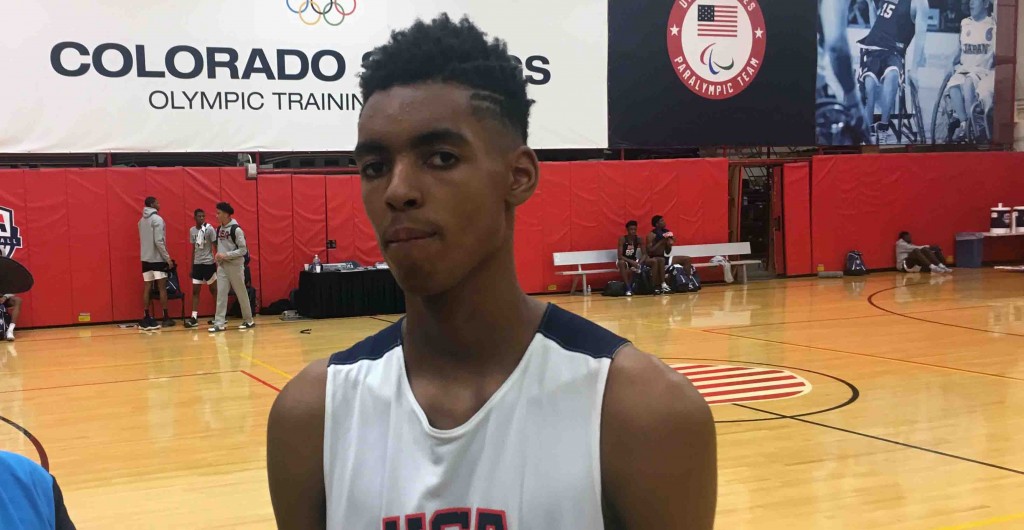 Emoni Bates hasn't even played a game of high school basketball and yet the chatter about the 14 year old from Michigan reached near mythical levels at the USA Basketball Junior Mini Camp. 
In fact, Bates hasn't even played a game of eighth-grade ball. Instead, the 6-foot-8 uber talent has been waiting in the wings for his shot of the accolades that few seem to garner like he has already. 
Bates could be a great one. He could be a generational talent. We could be talking about the most impressive young amateur player in the world. Typing that with fear of diving too deep into the hyperbole pool was a real thing. But here's the thing - it's true. All of it. 
Chew on that for a second. 
Those are also heavy words and a heavy opinion to live up to every time he walks into a gym. At the USA Basketball Junior Mini Camp, Bates opened things up with a bang and set the tone early. Playing on this big of a stage - the most important of his young career - didn't come with any public hesitation. 
"Fear has never been in me so this is just regular to me," Bates said.
He was the trending player after the opening night of action. All of the national recruiting outlets shouted his praise. 
The high school graduating class of 2022 may be the first group of high school players to enter the NBA Draft straight from the prep level. Bates, understandably, would be one of the top players considered. 
"That would be a blessing (to go pro out of high school," said Bates. "I don't want to rush it. I don't know my decision, to be honest." 
Nor should he. He's 14 and hasn't even played a high school game yet. But he will certainly be a player of interest for the teams at the highest level of basketball in the world. 
"My dream has always been going to the NBA since I was younger," Bates said. "If I could go straight out of high school, that's something I would look forward to."
But playing in college is the reality that every young American stud lives with right now. Coaches from Michigan State and Michigan have been in to see him this fall. DePaul has offered him a scholarship. He's been to the campus of Kentucky. 
"Just being in that environment," Bates said of the idea of college, "I think it would be a good experience." 
His first ever high school game will be played on a college campus - Eastern Michigan. Don't be surprised to see many more of his games being played at a venue bigger than a high school gym. 
Bates certainly has the star power, mixing his own flavor with that of Kevin Durant and Jayson Tatum. Tall and skinny and locked in from the wing, Bates will certainly draw comparisons to KD over the next decade. 
Fair to be in the same conversation with a NBA MVP and two-time champ? Maybe not. Maybe not right now. 
Who knows, really. Bates is just enjoying the ride. And this ride is just beginning. The hype will come. Heck, it already has. The baby-faced hooper said he's ready for what's ahead. 
"It's a blessing," he said.