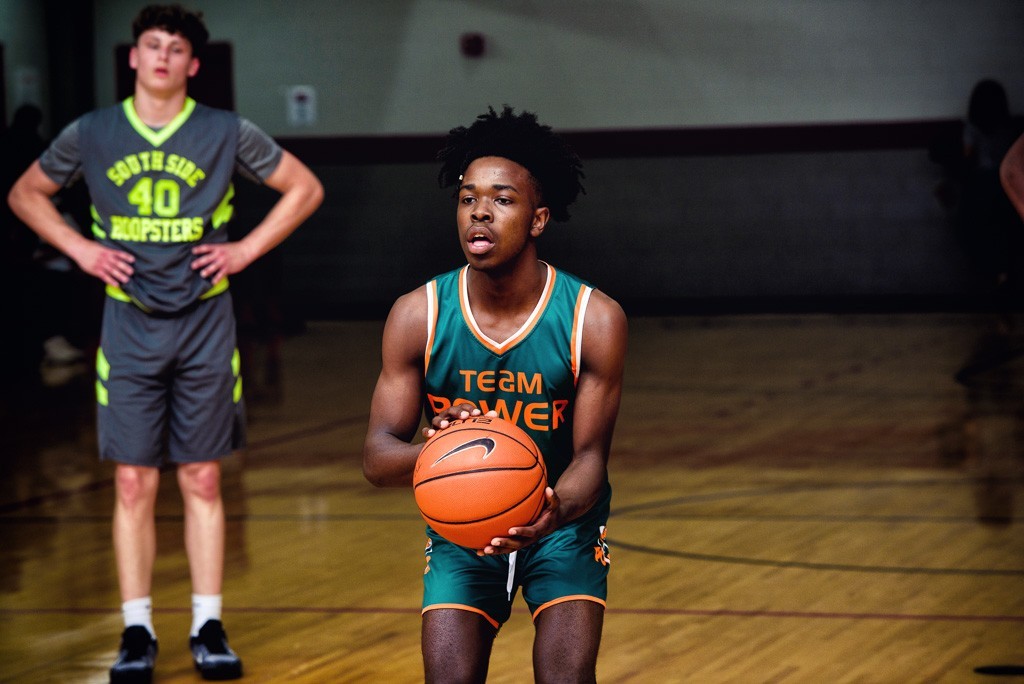 September 9th marks the day that college coaches get back on the road to further evaluate or even entice some of the prospects they targeted throughout the spring and summer. Despite several good showings, there are still several players that are flying under the radar. Heres part I of a long list of undervalued guards that should start to garner more attention in their open gyms.
Kalen Williams, Team Power
No list of undervalued guards would be complete without the inclusion of Team Power scoring guard Kalen Williams. Williams is well known around Georgia as a guard that can fill up a box score with a number of one man runs. He's dynamic in approach as he relentlessly looks to attack any one on one situation. Slicing his way through defenses is commonplace for Williams as he torched several defenses that have been geared to slow down his advances. Its been noted that his mechanics may need a touch up but there's no denying his ability to make tough shots. Williams knack for scoring the ball will keep him close to the top of the leaderboard in the points per game category this season. Still looking for his first offer, his productive junior season earned some interest from several Division 1 programs. His talent should continue to garner attention.  
Mitch Ganote, GA Ballers
One of the toughest players in the state of Georgia has gone toe to toe with several well-reputable guards and held his own. Mitch Ganote thrives at getting to the rim by using his ability to absorb and dish out contact. Pencil Ganote in for several free throw attempts per game as he tumbles his way to tough finishes on a regular basis. Gritty in nature while being a sound decision maker has landed him on the board of some division 2 and low major programs throughout the live periods. Ganote is an instant program booster as he carries himself as a grinder that's willing to put in a solid day's work. If this past spring and summer is any indication, Ganote will outplay several highly touted prospects on his way to a handful of offers. Lambert will soon be a frequented destination for several levels of college coaches. 
Brandon Barron, Smyrna Stars
A good mix of shooting and athleticism makes Smyrna Stars guard Brandon Barron an intriguing prospect for Division 1 coaches. Barron poses a threat both on and off the ball as his shooting ability makes him a constant factor from deep. His pace and feel bode well for a staff looking for a solid decision maker that doesn't put himself and others into binds. North Carolina A&T have offered while other Division 1 and division 2 programs maintain contact.
Zeb Graham Jr, Upward Stars
I'm confused by the lack of offers handed out to Upward Stars guard Zeb Graham Jr. based on his play at this past year's Bob Gibbons TOC. As crafty as any, Graham scored from all 3 levels with enough flare to stand out amongst the other talented prospects on the court. His handle makes him tough to stay in front off, as he has a vast array of moves to chose from. He's a wizard with the ball that can break down defenders at any moment. Once baited, Graham can blow by defenders for acrobatic finishes or pull up off the bounce from 3. His productivity this summer may have varied but those that watched closely can see the glimpses of how dynamic he can be. USC Upstate is one of the schools that have taken notice and offered so far.
Jaire Eastmond, Game Elite
A player's loose handle or sloppily thrown pass has a high chance of being picked off by Game Elite guard Jaire Eastmond. His instincts in the passing lane make him my early choice to lead the state of Georgia in steals given his knack for defense. There's no dip in playmaking on the offensive side as he's able to make college-level reads out of ball screen situations. Eastmond's play elevates those around him as he plays the game with the savvy of a polished vet. A calming demeanor and pace also help Eastmond as a staff will appreciate that his mistakes a few and far between. Stetson will continue watching Eastmond as they were the first to offer so far this season as Southern Utah, Jacksonville State, Morehead State, and Iowa have also shown interest.