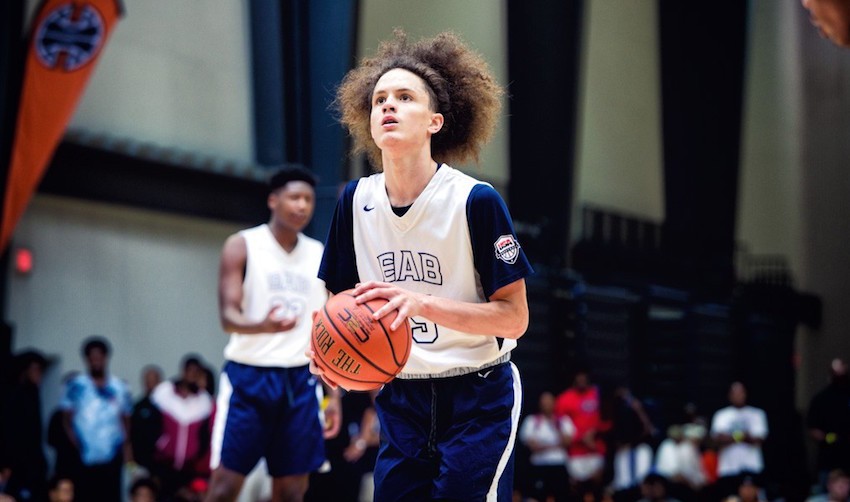 During the 2018 HoopSeen travel season, Nashville-based EAB stormed the headlines with their consistency and winning ways. Much of that was because of Lewisburg (TN) Marshall County guard K.J. Johnson. The talented guard announced his commitment to Lipscomb on Wednesday night.
"I'm going to be a Bison," Johnson told HoopSeen.com prior to his commitment. "They were one of the first schools to begin recruiting me. I feel like nothing is better than playing around one of the places I grew up and playing in the state I grew up in."
Lipscomb's Nashville campus is just under an hour away from Johnson's hometown of Lewisburg, Tennessee. Throughout his high school career, Johnson has been able to take numerous unofficial visits to campus. The proximity to home allowed him to get to know each and every coach on the Bison's staff.
"I chose Lipscomb because of my relationship with the coaching staff. I've been on many unofficial visits there and I felt like it was home every time. The environment around the school and the basketball program is great."
Lipscomb head coach Casey Alexander dished out a scholarship offer to Johnson this July following an impressive 34-point performance in a loss to AOT to open #BOTS. That performance was the epitome of the 6-foot-1 guard, who earned a reputation of being one of the grittiest, most competitive players in the country. IT was on display that night, as Johnson caught the eye of everyone in attendance for the game. 
After that, Alexander and his staff made Johnson their top priority. Both parties developed a strong relationship throughout the recruitment process.
"Coach Alexander has been on me since my freshman year. Our relationship is beyond close, and he proved how much he wanted me and showed it multiple times. He was at every single game during the summer, and, if he wasn't, he had multiple assistants there. The first day college coaches were allowed to call me, Lipscomb was the first one to call. All of the assistants and Coach Alexander called," Johnson explained. 
Johnson is quite the coup for the Bisons. He has showcased his winning attitude and demeanor time and time again this travel season as he helped lead EAB to championships at the Bama Jam, Atlanta Jam, and Bob Gibbons.
Johnson joins Jacob Hobbs to make up Lipscomb's current two-man recruiting class. The Bisons will now turn their attention towards Julius Dixon, one of Johnson's EAB teammates.