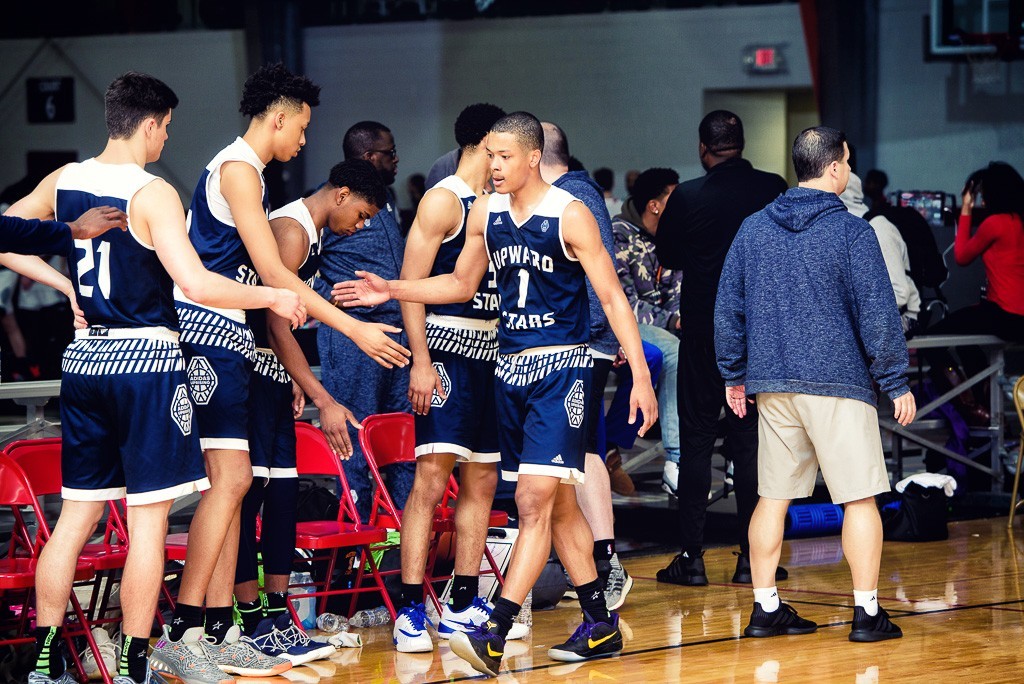 Hunter Cattoor has been one of the more sought after guards for mid-major programs throughout the southeast. As Cattoor's commitment to Wofford takes him off the market, we take a look at other guards that should be prioritized by other programs looking for viable options.
Trae Broadnax, Upward Stars
A guard that's still surprisingly on the table is Upward Stars guard Trae Broadnax. This combo guard checks a lot of boxes for mid to high major staffs as enough athleticism and perimeter skills to make him a three-level threat. It's hard to nail down his best attribute, as often times he uses his multi-faceted skill set to find a way to make a difference. His offensive versatility should demand attention at the next level, as he boasts both the size and skill that make for difficult to guard prospects. For someone with offers from CUSA, CAA, American and the Sunbelt he still has room to grow his current offer sheet. His move to Montverde could further pay off this year as a national schedule will put him in front of more eyes. Broadnax's current situation points upward as a player who will turn the corner into more high major offers.  
KJ Johnson, EAB Tigers
Our HoopSeen staff has seen plenty of K.J Johnson throughout the spring and summer live periods to know that he is one of the more dynamic point guards in the region. His ability to make plays off of a high ball screen is second to none as he understands how to prod his way into the paint. As competitive as they come, this EAB Tiger could take the reigns early for a program that's looking for a spark.
Jacques Glover, B. Maze Elite
An impressive run with B. Maze Elite lands this shot maker on this list of players that could potentially see an uptick in recruitment. His unwavering confidence makes him lethal with the ball in his hands, routinely proving more than capable to knock down shots off the bounce. A team that boasts several division 1 players has to bode well for his decision making as well, as he often played the role as his team's primary distributor. Glover could be one of the more undervalued prospects on this list despite having several offers to choose from. 
Ta'Lon Cooper, Upward Stars Upstate
A once known sleeper has turned into a regularly used name as Ta'Lon Cooper rose up the ranks through several of our events this season. The Big South, OVC are both accounted for in his recruitment but there seems to be a "wait and see" approach from several schools. Tre Jackson could be the first big in-state domino needed to fall for schools to come running after this Upward Stars Upstate combo guard. With Hunter off the board and Jacksons recruitment steadily picking up, I anticipate other mid-major programs getting involved as he currently only has two visits set. Dorman will have their fair share of visitors this season as well as they have a competitive schedule along with several mid to high major prospects.
Mikale Stephens, Georgia Stars
One of the best facilitators to come through the doors at a HoopSeen event this season was GA Stars-Lincoln Prep guard Mikale Stephens. A throwback playmaker in every sense, Stephens is a playmaker that can instantly increase the productivity of shot ready players around him. His ability to weave in and out of traffic is a sight to see, making on-point passes to anyone in waiting. Ultimately it will be his decision making that will improve his stock as coaches that evaluate him will see an extension of themselves. A player with his skill set and IQ can be projected as having a great assist to turnover ratio at the next level. Detroit and Chicago State have extended offers, with many others taking the time to evaluate him throughout the season.