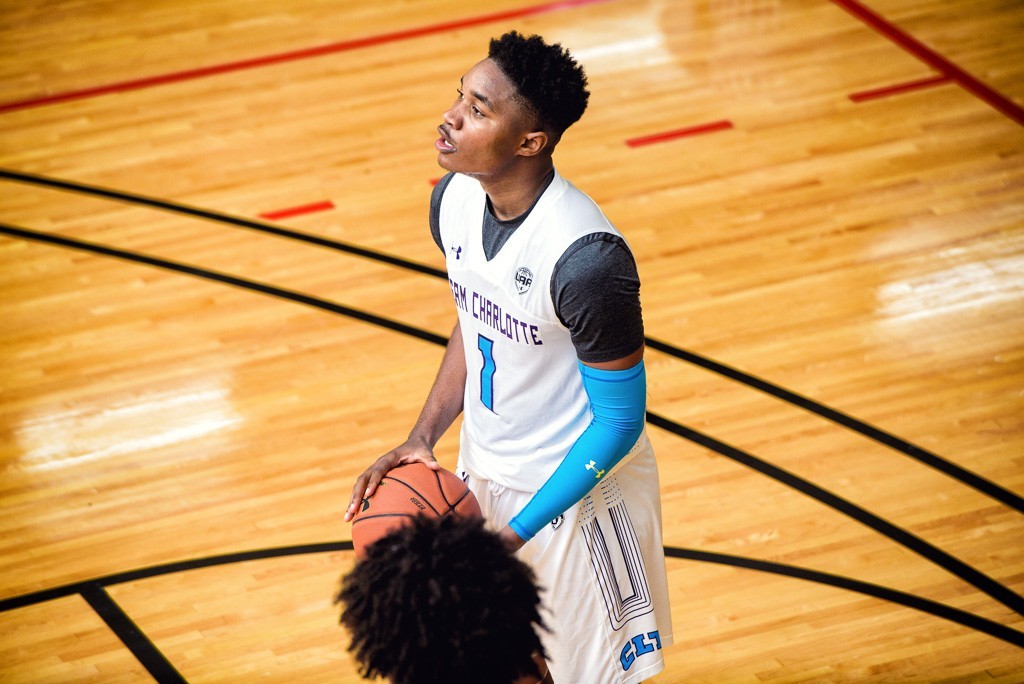 With the recent commitment from Atlanta Celtics-Dacula guard Brenden Tucker to the College of Charleston, I take a look at some guards that could benefit from the trickle-down effect.
Tyrin Lawrence, 6-4 guard, Atlanta Celtics
A great blend of athleticism and playmaking was enough to land Tyrin Lawrence on a list of players that could be next up on the board of 2019 prospects. Smooth in his approach to the game, Lawrence could give a program a multi-dimensional threat as a playmaker. This 6'4 guard is skilled as both a shot maker and facilitator without ever feeling like he's dominating the ball. His natural feel of the game will bode well for any program that needs a prospect that understands those subtle nuances of ball screen situations. His ability to play multiple positions should only increase his stock going forward for those mid-major programs in need of more versatility. Schools from the OVC and Sun Belt have all given their pitch and extended offers.  
Raquan Brown, 6-3 guard, Team Charlotte (pictured above)
Coming from a long line of tough defenders for Team Charlotte, Raquan Brown is an undervalued prospect that delivered in doses throughout the spring and summer. Tenacity is the word that comes to mind when thinking about what characteristic best carries over into his freshman year at the next level. His defensive ability to disrupt the other team's threats is what could eventually be the separator from him and other prospects still jockeying for position on coaches shortlists. In our Bob Gibbons TOC, Brown lead Team Charlotte to a championship behind his tough play and crunch time shot making ability. Currently, both Hampton and North Carolina A&T have extended offers.  
Deuce Dean, 6-4 guard, Team Loaded NC
At this springs past HoopSeen Tip-Off event, Deuce Dean took on the role of lockdown defender as it appeared he looked forward to taking on the opponents best scoring threat. Armed with Division 1 size, his attitude and demeanor should carry over well as he brings a no-nonsense approach to the hardwood. He consistently beat his matchups to spots, and once there his overwhelming strength would routinely cause weak-bodied guards to change their path or pick up the ball. Offensively he's an emerging threat that should continue to breakthrough as he continues to improve on his ability to knock down shots. He's no stranger to a lot of coaching staffs having offers from ACC, C-USA, MAAC, and the Mountain West to name a few.
Max Demeus, 6-0 guard, Ball4Lyfe
One of the fastest end to end players I've seen this season, Max Demeus is as under the radar of any prospect on this list. Max Demeus opened eyes at our Florida Jam this year with his natural ability to get downhill in a blink of an eye. His ability to see the floor is second to none, using his first step past defenders to open up his passing options. Any up and down system could benefit from Demeus at the helm as his decision making on the move often yields positive results. Prospects that slip through the cracks like this one make me question exactly what is valued when evaluating a point guard. Assistant coaches that play against Max in the future may have to explain how he wasn't on their list of options.