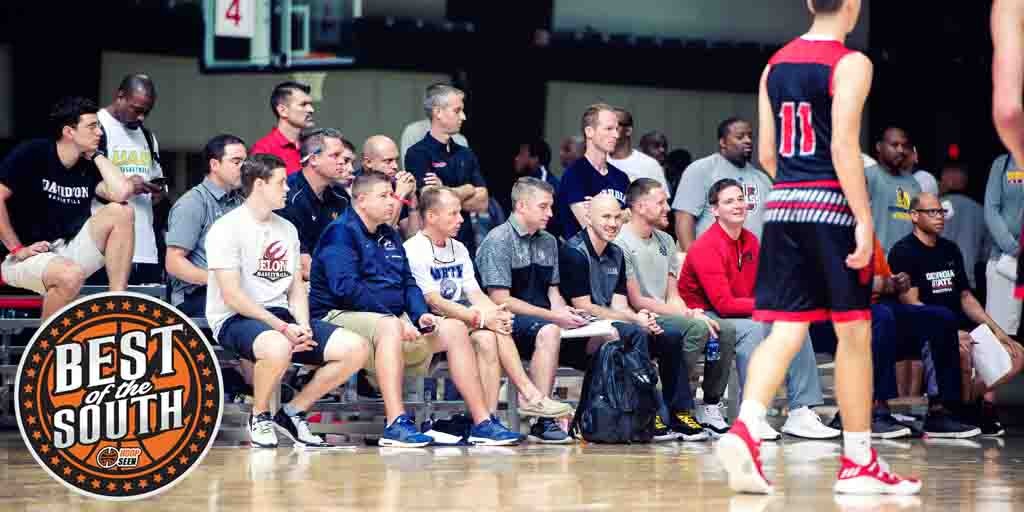 Day 2 of our Best of the South started off with some high-level matchups. Here are some mid-day thoughts of some of the guys that have played well so far.
To start the game there was a competitive matchup vs the 16U EAB Tigers and PSB Elite. Mason McKnatt had 4 threes in the first half, solidifying himself as a high-level shooter at our Best of the South. EAB also has a pair of intriguing prospects in Keshawn Lawrence and Andrew Williams. Lawrence is a high major football prospect having offers from several SEC level schools. The toughness needed to play at that level translated as the 6'1 guard soared for rim breaking dunks in traffic. Williams, a 6'5 forward displayed some nifty footwork in the high post and a decent touch from the perimeter. If this game was any indication of what's to come, then the EAB program doesn't show any signs of slowing down.
KJ Johnson continues to be masterful in the pick and roll as both a scorer and facilitator. Throughout the first few minutes of the first half, Johnson would routinely prod defenses with high IQ decision making. So far, he has picked up an offer from Lipscomb and should garner more as he shows off his offensive skill. Julius Dixon continues to be a major sleeper amongst southeast independent programs. Standing 6'8 with a frame that could blow up after a year in the weight room, Dixon shows flashes of a versatile forward that can handle the ball, shoot from the arc and defend the rim. I don't use the term "sleeper" often, but I struggle to see what many of the mid-major programs have not gotten more involved.
One player that impressed with simple plays was Georgia Stars guard Mykial Stephens. Not much for flash but if its substance you're looking for he could be your guy. An old-school playmaker that has a tendency to get in the paint and find open guys. There are no blurred lines when deciphering what value he brings to the game. I can project Stephens having a great assist to turnover ration while being a guy that teammates thrive off of in the right system.
Team WHBH (16u) was a team that came in the building with a handful of prospects but 6'6 forward J'Quan Ewing stood out the most. The 2020 forward checks several boxes as a floor running big man that shows good hands and the ability to finish on the move. His lateral quickness allows him to stay in front of perimeter plays thus adding value to his stock. He has a frame that looks like he's spent a little time in the weight room but not enough to make him a stiff.  If his play today was any indication he looks like he could eventually turn the corner to be a Division 1 prospect. Dearre McDonald showed some flashes of scoring spurts from all 3 levels for Team WHBH. Armed with Division 1 size, athleticism, and a high arching jump shot, McDonald had a good showing in front of TSU and Lipscomb.
Gods Property and East Coast United engaged in a tough matchup in our 10:20 slot. Nate Davila started how with three off the bounce 3s to get me locked into how he would perform going forward. Davila has enough tools in the bag to lean defenders on his way to the paint. The 5'9 guard played bigger than his size while keeping some of the elusiveness of most small guards. Despite not being lightning quick, Davila would thrive in an open court fast-paced game with his ability to play on and off the ball. His ability to move into open space without the ball shows his feel for the game as he got just as many looks as he would have as the primary ball handler.
Jordan Meka of the Georgia Stars (16u) came out of the gate with some impressive displays of athleticism. A couple of major blocks and finishes showed why he currently has some high major suitors. At 6'7, Meka displays the characteristics of a defensive-minded forward that's beginning to improve on the offensive end.