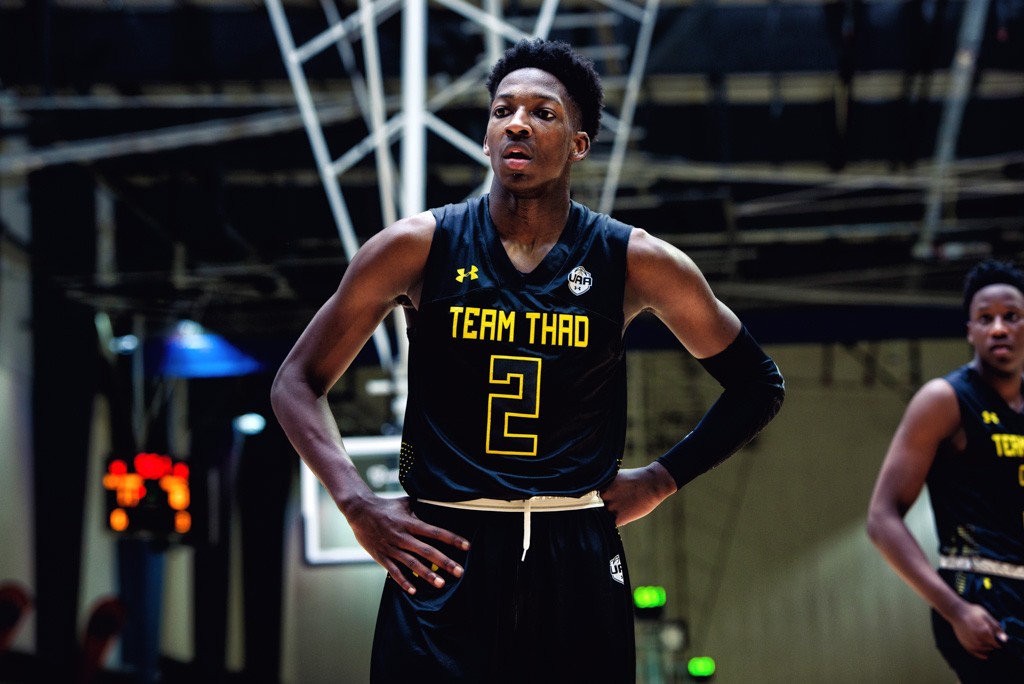 2019 Memphis (TN) Prep point guard Damion Baugh has arguably been one of the biggest stock-risers nationally since the spring. To no one's surprise, Baugh and his Team Thad teammates were tracked very closely this weekend at #BOTS. 
Baugh, a 6-foot-4 point guard, impressed with his playmaking ability and versatility on the perimeter. The Nashville-area product can defend multiple positions on the perimeter with his length and size and he is even a load to handle on offense with his speed and ability to get downhill. 
Prior to competing at the Best of the South, Baugh landed a scholarship offer Texas head coach Shaka Smart. The Longhorns are just the latest high-major school to throw their hat in the ring for the four-star prospect.
"I have offers from Vanderbilt, Texas, Houston, Florida, Miami, TCU, SMU, LSU, Ole Miss, Georgia, Tulsa, Auburn, and some others right now," Baugh told HoopSeen.com following his opening game at #BOTS. "Oklahoma State and Wichita State are showing interest."
Originally from Nashville, Vanderbilt has made the hometown boy a priority to this point. Commodores head coach Bryce Drew and his assistants were frequent visitors at LakePoint to see Baugh and his teammates. As expected, the hometown school provides a draw to Baugh.
"Vanderbilt is a great campus and good education. Coach Drew just reminds me that if I come home to play the city would love it. He's also been in the NBA and knows what it takes to help me live out my dream."
Florida also looked on intently from the stands throughout the weekend, as Mike White and/or his assistants watched each of Team Thad's games. Former Thad point guard Chris Chiozza just graduated from Florida and the two have a quality relationship.
"I love Florida's coaching staff. They tell me that they can develop me into a guard like Chris [Chiozza]. Chris has been telling me that Florida is a good school and it helped him a lot. That means a lot coming from another Team Thad player," he explained.
Despite being the most recent offer, Texas brings some intrigue to Baugh. In fact, the program resonates very well with the guard.
"I really love Texas because my favorite player, Kevin Durant, went to school there. Also, I've seen the way Coach Smart has developed players and I love the way he coaches."
While different college programs continue to gauge their interest in Baugh, the rising senior is in no hurry to make a decision. He mentioned no favorites, nor did he hint at any schools that would definitely receive official visits this fall.