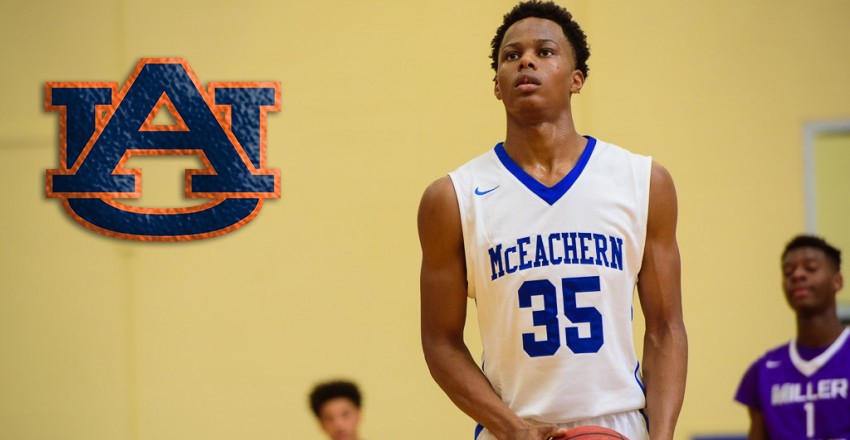 Auburn head coach Bruce Pearl and his staff received good news just ahead of the final July evaluation period on Tuesday night, as 2019 Powder Springs (GA) McEachern wing Isaac Okoro took to Twitter to announce his commitment to the Tigers. 
"Auburn has been there for me since day one and they've shown me love every single day," Okoro told HoopSeen.com following his commitment. "They've shown me how I can come in and impact the school and program immediately."
Okoro, a 6-foot-5 power wing, has separated himself from his peers throughout his high school career with his toughness and physicality on both ends of the floor. He is one of the most consistent producers in the country, as he is one of the best two-way wings in his class. Okoro should fit in perfectly at Auburn under Pearl. 
Since being named the head coach on the Plains, Pearl and his staff have made Georgia's top prospects some of their biggest priorities. Okoro was one of the first young priorities for the Tigers and it paid off.
"Coach Pearl said he plans to build players around me, and he's studied my game, so he knows where I like the ball and what my strengths and weaknesses are."
Okoro's decision actually came down to two schools, with Auburn's counterpart being their biggest rival.
"It was really between Auburn or Alabama," he explained.
Okoro is yet another top-50 prospect to make his pledge to the Tigers during the Bruce Pearl era. He joins fellow high school teammate Babatunde Akingbola to make up Auburn's current two-man class. They will now turn their focus towards in-state forward Kobe Brown and PSA Cardinals forward Ismael Massoud.