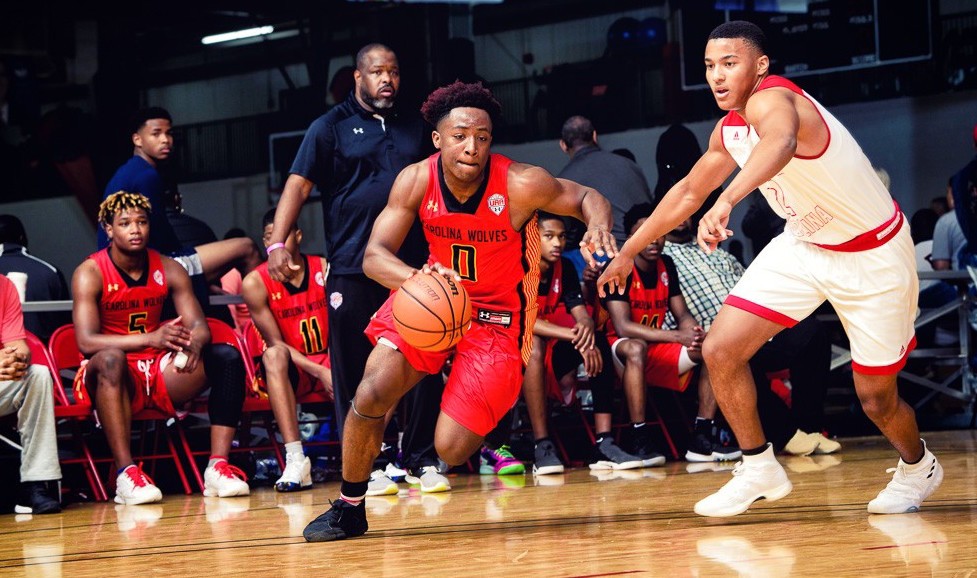 2019 Hartsville (SC) point guard Trae Hannibal wasted no time when deciding where he wanted to play his college basketball. The in-state product received a scholarship offer from South Carolina a few weeks ago and he made his verbal pledge to coach Frank Martin and his staff on Friday.
"South Carolina is home for me, and I know the people there will get me where I need to be in life," an excited Hannibal told HoopSeen.com following his commitment. "It's a blessing to be able to stay home and play college basketball."
Hannibal, a 6-foot-2 guard, excelled this spring with the Carolina Wolves at the HoopSeen Tip-Off and the Atlanta Jam. He was a top performer at both events. Hannibal also garnered all-state honors last season with his high school team, as he averaged 16 points and eight rebounds per game. 
A strong power guard, Hannibal showcased his talents each time he stepped on the floor at Suwanee Sports Academy. One of our evaluators, Tai Young, had this to say about the Palmetto State product following the Tip-Off: 
"If there was any player who's stock rose more today than Trae Hannibal I'd be hard-pressed to say who.  One of the more dominant players at our Tip-off,  Trae got from end to end as quick and powerful as anyone in the building.  Coaches are going to love how strong he is as it allows him to make body to body finishes with bigs at the rim. He is poised to blow up way before the summer live period." - Tai Young
South Carolina wrapped things up before too many other high-major programs got involved. Hannibal said he heavily considered College of Charleston and Oklahoma State, too. 
There haven't been many discussions about Hannibal's future role on the floor as a Gamecock, but one can believe that the junior will fit right in with Martin's distinctive style of play that has thrived in Columbia. 
"We haven't gotten deeper into game-like conversations knowing I have another year of high school, but Coach Martin knows what I bring to the table and how I can make an impact. But you best believe I'm going to put on for my state."
Hannibal is South Carolina's first commitment in the 2019 class. The Gamecocks are largely focused on several in-state players, including Josiah James and Christian Brown.