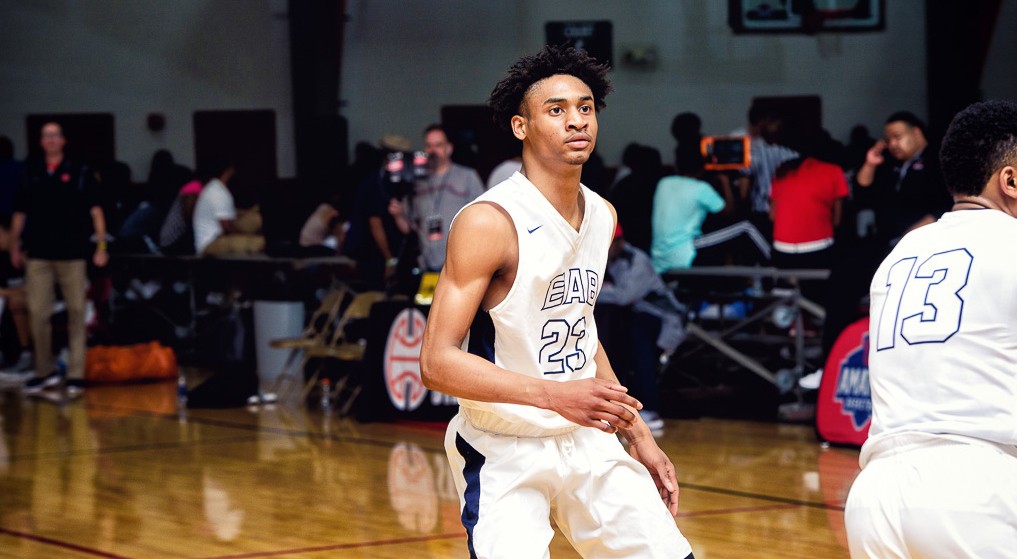 There haven't been many players that have been more impressive than 2020 Bell Buckle (TN) Webb School shooting guard Keon Johnson this spring. The sophomore put together a strong resume during March and April as he helped lead his EAB squad to championships at our Bama Jam and Atlanta Jam.
Many people have taken notice of Johnson's emergence thus far. In fact, Johnson, a 6-foot-5 wing, has been preparing for this stretch in recent months.  
"I feel like I have increased a lot over the spring just working on different aspects offensively and defensively," Johnson told HoopSeen.com. "My main objective is to become a bigger threat from outside. I can shoot the basketball but I like to get my teammates involved."
Fans and spectators haven't been the only ones that have taken note of Johnson's blistering spring. Following the Atlanta Jam, he picked up scholarship offers from Wake Forest and Florida to go along with the other handful he had already earned.
"I have offers from Tennessee, Auburn, Ole Miss, Middle Tennessee State, Western Kentucky, and Florida Atlantic. Vanderbilt is showing interest."
Johnson earned his first scholarship as a freshman when then-Middle Tennessee State head coach Kermit Davis extended an offer. When Davis made the move to Ole Miss he wasted no time reassuring Johnson and his family that his scholarship offer was still available despite the new program.
"Coach [Kermit] Davis has been there ever since he started recruiting me at Middle Tennessee. He's very loyal. He was the first one to take a chance on me and offer and when he went to Ole Miss he still took that chance on me. It means a lot," he said.
Home-state school Tennessee has also invested some quality time in recruiting Johnson to this point. Rick Barnes and his staff have made an early impression on the top-50 sophomore.
"I really like the program culture at Tennessee. They have great fans and they are very passionate about their basketball."
Johnson has had an interesting connection to Auburn dating back a generation. His mother, Conswella Sparrow Johnson, was a standout on the Plains in the 90's. She was also a two-time All-SEC player when she suited up for the Tigers.  
"I've been on campus plenty of times, but I haven't been to a game yet. I really like their playing style, though. I'm a big fan of Bruce Pearl."
In addition to Auburn, Johnson has also visited Tennessee and Vanderbilt. With practically all of the SEC paying close attention early in his recruitment, it's safe to say Johnson will have a plethora of options when it comes down to his decision.
Johnson and his Nashville-based EAB team will look to continue their winning ways this travel season next weekend at the Bob Gibbons Tournament of Champions.