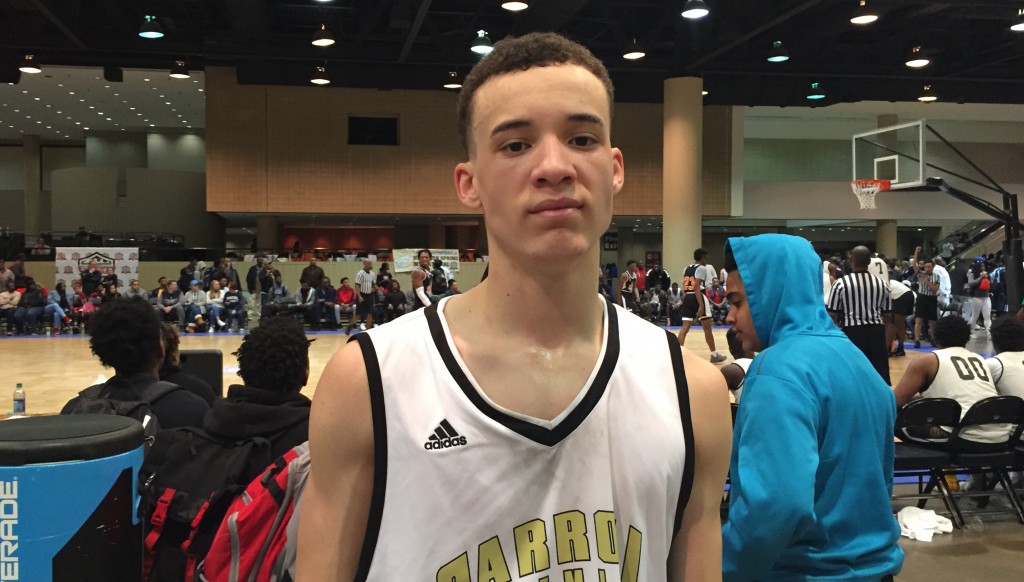 This past weekend at the Southern Spring Invitational, 2020 Birmingham (AL) Central Park Christian guard Jayden Stone had a coming out party, as he was one of the best players in the 16U division.
Playing with Team Carroll Premier, the Australian combo has an advanced game for his age. He has excellent ball skills and passing ability, but the most impressive facet of his game is his shooting and scoring ability. He racked up points in a hurry throughout the course of the weekend, including a 37-point performance against the Alabama Fusion and another game in which he made eight three-pointers.
"I'm from Perth, which is on the west side of Australia," Stone told HoopSeen.com. "I've been in the states for almost a year. I played my first season at Central Park Christian."
Stone's initial taste of basketball in the United States came last summer as he participated in the CP3 Memorial Day Classic in California. After that and a quality showing in the Australian championships, Stone and his family opted to come to America to showcase his talent.   
"I had a successful time during the Australian championships and averaged 18 points and 8 rebounds per game. That gave me the confidence to come back over here and play."
Stone was one of the focal points for Central Park this season. Playing a national schedule against some of the top prep school programs in the country was beneficial for the 6-foot-3 guard.
"The high school season went really well. I got a lot of opportunities and played against a lot of talent all over the United States. I've been trying to become a leader and a point guard and the season worked really well for me," he explained.
While it is still early in his career, several college programs are showing early interest in the Australian import. LSU, Arkansas, Samford, UAB, Alabama, Cincinnati, and Iowa State are showing interest now, but scholarship offers could come in the few weeks. Many programs have yet to hear about the talented guard, who looks like a definite high-major guard and may be the best prospect in Alabama's 2020 class.
Over the past few years, Stone has watched closely as some of Australia's best basketball talent has made their way to the states to compete and ultimately reach the professional level. Players like Ben Simmons and Josh Green have inspired the junior to make the move.  
"I played against Josh Green when we were really young. Guys like Josh and Ben Simmons inspired me to come over as well and take the leap of faith and show the world what I can do."
If his performances at the Southern Spring Invitational are any indication, Jayden Stone could be one of the next names from Australia that circulates in basketball circles.