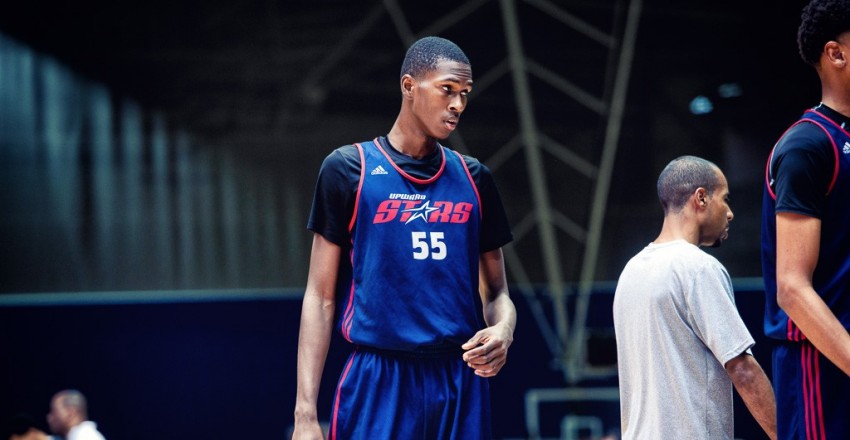 2019 Columbia (SC) Ridge View center Malcolm Wilson has been patient with the recruiting process thus far in his recruitment. Many expect things to excelerate following the upcoming live period events, but it looks like things are heating up before the travel season begins.
The 6-foot-11 big man made the trip to VCU on Saturday for an official visit as the Rams hosted A-10 foe Dayton. It was Wilson's first trip to campus and he came away impressed.
"The VCU visit went well. Coach Rhodes and Coach Byers seem like great people and cared about me and my family," Wilson told HoopSeen.com. "The fans were full of energy, and that made it even more exciting."
VCU feels that with his size and mobility, Wilson would be a quality piece in their system that has thrived in recent years.
"The coaches think I'm a great fit for their program because their system is similar to ours at Ridge View. They said I would be perfect in the back of the press, which is also my role in high school. I also like that they have good academics, and Coach Rhodes said that committing to play for him is also a commitment to graduate from college."
On his trip back home from VCU, Wilson received a call from Georgetown head coach Patrick Ewing. The NBA Hall-of-Fame player and first-year head coach extended a scholarship offer. 
"I don't know much about the Hoyas, but I've only heard good things about them. Coach Ewing said that he likes my ability to change the game with shot-blocking and rebounding. I know they are good academically, which is very important," Wilson explained.
Georgetown is the latest program to extend an offer to the high-upside big man. Hampton, South Carolina State, Clemson, South Carolina, and VCU have also offered. There are a handful of different programs showing interest, including many high-academic schools.
"Rice, Princeton, Yale, UMass, Georgia, Georgia Tech, Tennessee, Wake Forest, Furman, Tulsa, Old Dominion, NC State, Florida, and Virginia Tech are all showing interest."
Wilson has seen success from the in-state powers in the past two seasons. The Columbia native has been a frequent visitor to South Carolina games, while Clemson's success this season is only creating buzz in the state.
"I actually just spoke with Coach Chuck Martin from South Carolina and he was telling me to keep them on my mind. Coach Smith from Clemson does the same thing and invited me to their game next Sunday against Duke. I'm planning to be there."
Wilson will suit up with the Upward Stars again this travel season. Last summer, South Carolina head coach Frank Martin and many other high-major programs tracked the big man and his teammates at Best of the South.