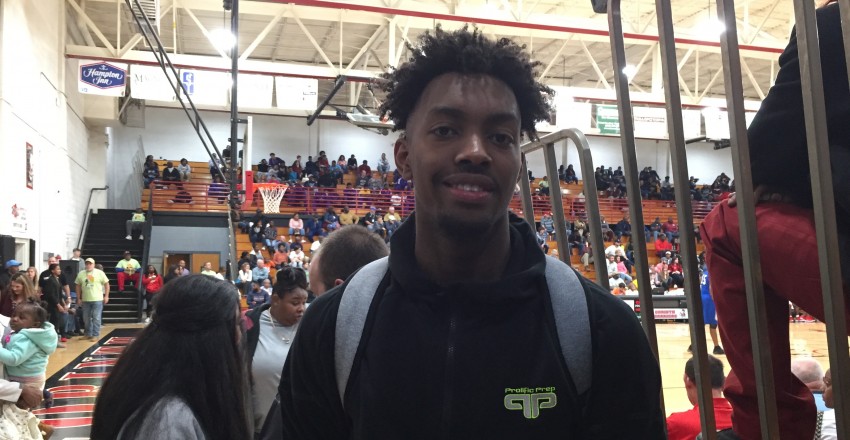 2018 Napa Valley (CA) Prolific Prep power forward Jordan Brown has kept things quiet on the recruiting front over the past few months. Prior to the early signing period, the senior made a last-second trip to St. John's for an official visit. Other than that, not much has been said about his recruitment.
Brown, a 6-foot-11 big man, participated in the Lighthouse Classic with his Prolific Prep squad over Thanksgiving weekend. He broke the event's rebounding record, as he pulled in 20 boards on Friday. Brown showcased his agility, elusiveness, and versatility as a near 7-footer, something that has college coaches drooling for his services. 
During his trip to the South, UL-Lafayette head coach Bobby Marlin followed him closely, watching both games. Despite the common belief, the Rajin Cajuns are very much in the picture.
"You never know," Brown said with a smile. "Lafayette produced a lottery pick in Elfrid Payton. Lafayette is my dad's old school. If it's a good fit for me, that's where I'll go."
Lafayette faces an uphill battle, as they are in a final group of seven schools that include California, UCLA, St. John's, Oregon, Nevada, and Gonzaga.
UCLA received the first official visit from Brown and his family in August. The trip across California was actually Brown's first time in the city of angels.
"UCLA was really nice. It was my first time in Los Angeles and everything is really nice out there. I like their style of play, and they are looking for a 4 man like me to help spread the floor."
St. John's is also preaching the same message to Brown, as an abundance of playing time is waiting on him in New York.
"St. John's is looking for another 4 man. They have some nice guards right now, but they are really looking for some more bigs to come in and help in the post and spread the floor. They want me to come in and play right away," he explained.
While the desire for Brown is apparent for several programs, the five-star big man is in no rush to make a decision. In fact, he's very content with the process right now.
"I'm in no rush. We're planning on taking some more official visits, but we have to find a good time now that we are in the high school season. I'm not rushing anything right now, though."