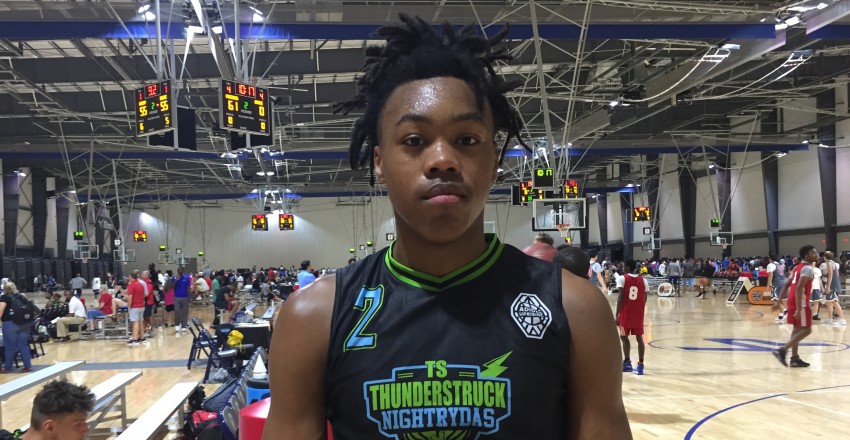 There is still some time before the attention focuses towards the Class of 2020, but don't tell that to West Palm Beach (FL) Cardinal Newman forward Scottie Barnes.
Barnes, a versatile, 6-foot-7 point-forward prospect, has done his best to put his name in the discussion as one of the top players in his class. With some similarities to current Los Angeles Laker and former Duke standout Brandon Ingram, Barnes is already distancing himself from the rest of his peers.
The rising sophomore is a mismatch nightmare for opposing defenses. With the ability to play the 1-4, Barnes does an outstanding job of taking advantage of matchups that favor him. He is an efficient scorer in the lane, and, if he can become a more consistent shooter, the Florida native will be an even tougher matchup going forward.
Barnes was one of the best long-term prospects we saw at #BOTS a few weeks ago. It's hard not to be intrigued by his upside and potential. Barnes was also named to the 16U top performers list. 
Despite it being early in the process, Barnes has already popped up on college coaches' radars. UCF, Miami, Florida, and Louisville have all extended early offers and others could come soon. Barnes broke down each of his offers with HoopSeen.com:
Florida: "I've been on campus there before. It wasn't a visit or anything but Florida is a nice place. I've talked to the coaches and they really like me. I know it's a big campus, but I don't know much about it."
Louisville: "They have a really good program. Some really talented players have come out of Louisville. Coach Pitino is a really good coach, too."
Miami: "I know Miami has a good basketball program. They have several summer league players. I know they can help me be a better player."
UCF: "I don't know much about UCF, but the coaching staff has been recruiting me a lot. I know they really want me. UCF is recruiting me the hardest."
Class of 2020 rankings haven't been formulated and published yet, but it's safe to say Barnes will be high on the initial list when they are revealed.