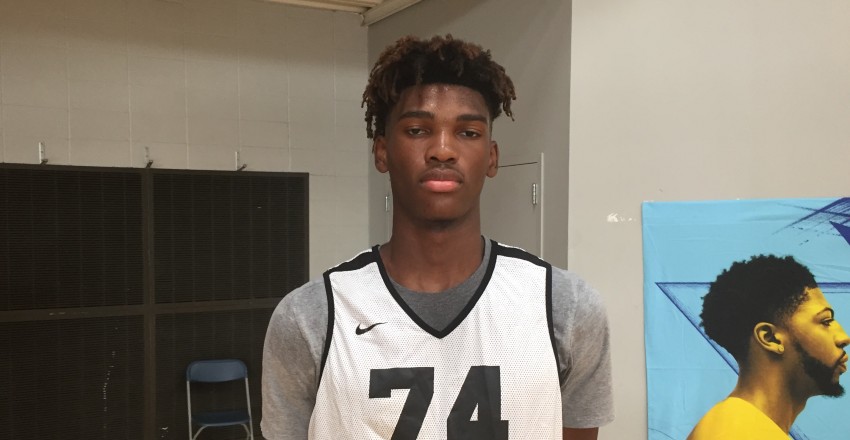 2019 Cedar Hill (TX) Trinity Christian School forward Tyreek Smith hasn't been playing basketball long, but he fit right in at the Nike Elite 100 last weekend. In fact, he was one of the top post prospects from the camp.
At 6-foot-8, Smith brings versatility and athleticism as a face-up 4 man. The rising junior was one of the most energetic players in camp, as he started and finished the event with one of the best motors. Smith used his hard-nosed attitude and toughness to emerge as a standout. 
Word has traveled quickly since Smith's impressive weekend in St. Louis. Since the Elite 100, Smith has earned scholarship offers from Houston and Kansas State in addition to the handful of offers he already had.
"Texas A&M, SMU, TCU, Oklahoma, Oklahoma State, and Louisiana-Lafayette have all offered me," Smith told HoopSeen.com. "Baylor, Virginia Tech, and UT-San Antonio are a couple of the schools showing interest."
Oklahoma extended their official offer on June 15th, the first day college coaches could contact 2019 prospects. Since then, the Sooners have stayed in close contact with Smith.
"Oklahoma was actually the first school to contact me that day. I really like their coaches. They are friendly people."
Texas A&M has also made an early impact in their pursuit of the four-star prospect. Smith hopes to make a trip to College Station in the near future.
"I really want to make it out to Texas A&M. I'm interested in them a lot. I would say they are recruiting me the hardest right now," Smith explained.
Originally from just outside New Orleans, Smith made the move to Texas and only began playing basketball three years ago. What started out as just a test has evolved into something far more impressive.
"I had some people convince me to play basketball because I was tall. I never thought it would turn into something like this. I didn't expect to have college coaches calling me likes this."
While the majority of the schools recruiting Smith currently have ties to the state of Texas and the Big 12, expect some SEC schools to take a dip into his recruitment with his ties to New Orleans. The athletic 4 man will be a highly sought after prospect as his recruitment carries on.