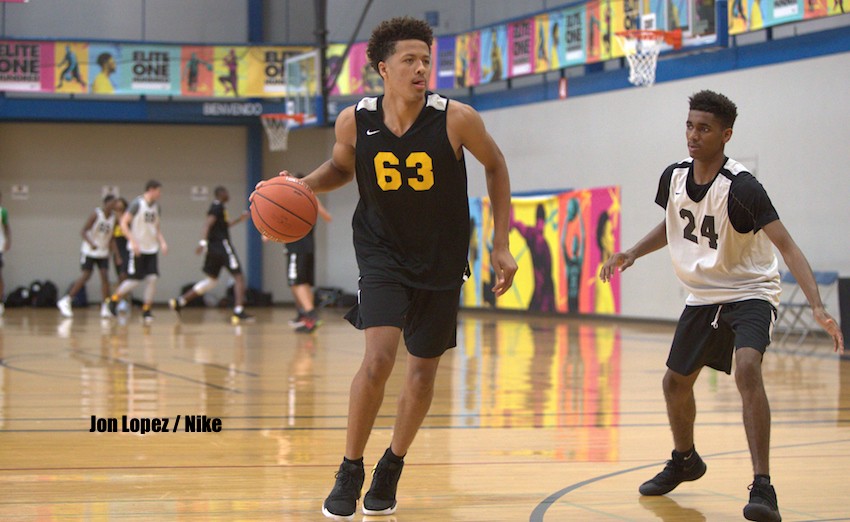 No one raised more eyebrows at the Nike Elite 100 last week than 2020 Arlington (TX) Bowie wing Cade Cunningham. He came into the event known in Texas hoop circles, but, by the conclusion of the event, he cemented himself as a staple product early in the 2020 class.
At 6-foot-5, Cunningham is a playmaker on the perimeter. He did a masterful job of slicing through the lane and making plays for teammates and himself, as he showed the ability to pass the basketball in traffic and score with either hand at the rim. He also brings versatility and quality size to the perimeter.
Cunningham just competed his freshman year of high school, but he already has three scholarship offers in hand.
"Oklahoma State, Texas A&M, and Tulane have offered," Cunningham told HoopSeen.com. "SMU, Kansas State, Houston, and USC are interested."
Hailing from the Dallas-Fort Worth area, Cade is the brother of former SMU standout Cannen Cunningham. Because of his brother's ties to college basketball during his career, the younger Cunningham already has some early relationships built on the recruiting front. He broke down is three scholarship offers with HoopSeen.com:
Texas A&M: "I really like Coach Ulric [Maligi]. He was an assistant coach at SMU when my brother played there. We have a really good relationship because I've known him for a long time."
Oklahoma State: "Oklahoma State was my first offer. Coach [Mike] Boynton actually offered me when he was an assistant coach. Now he's the head coach, so that means a lot. I really like him and we have a good relationship."
Tulane: "My brother's roommate is actually Coach Dunleavy's nephew, so we are connected like that. That's how we are familiar with each other. I like what Coach Dunleavy has had to say and we have built a nice relationship."
It's still very early in the recruiting process for Cunningham. However, it won't be that way for long. His performance in St. Louis penciled him in as one of the top rising sophomores in the country and more college coaches will make him a priority in the future.
Until then, Cunningham hopes to make some visits.
"I haven't taken any visits recently besides SMU. I'm there all the time because it's local, so it's hard to consider that a visit. I want to see Texas soon. That's a school I really want to get to see. I haven't seen Oklahoma State yet, so that's another one I want to see soon."