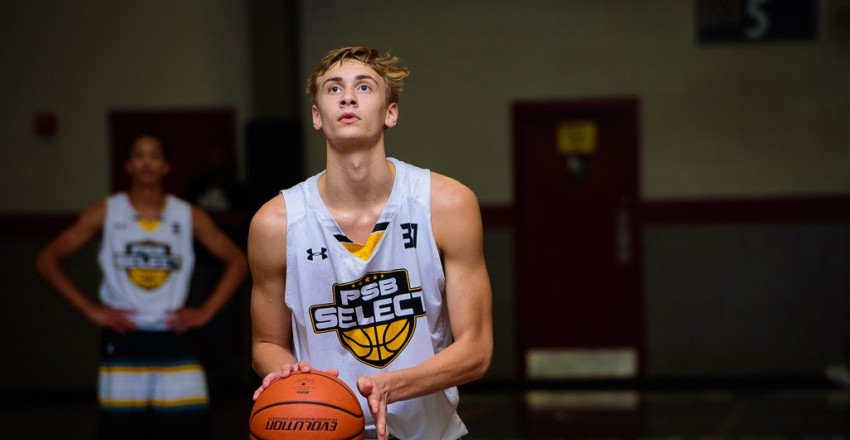 2018 Piedmont (NC) forward Hunter Tyson took some time to rest during the month of June to prepare himself for the three July evaluation periods. Playing with Team CP3, Tyson and his fellow North Carolina natives will tip off the month at Peach Jam later this week.
Just as the evaluation is set to begin, it looks like Tyson is beginning to gain traction with his recruitment. The 6-foot-7 forward has earned a couple of big scholarship offers recently.
"Butler and Michigan recently offered me,"Tyson told HoopSeen.com. "Clemson, Tennessee, Wake Forest, Providence, Davidson, DePaul, East Carolina, Elon, Appalachian State, and Charlotte have also offered."
While there is still plenty of time left in his recruitment, three schools have managed to emerge from the pack heading into July.
"I'd say Michigan, Clemson, and Butler are sticking out right now."
Clemson and head coach Brad Brownell have had Tyson as a priority for over a year. In fact, the Tigers' head coach was front and center and Best of the South last year to see him. Tyson has become very familiar with what the ACC program has to offer.
"I've been to Clemson a few times. The last time I went, I was there for a game. The coaches showed me around their new basketball arena and facilities. I enjoyed how nice it all was and spending time with the coaching staff," he explained.
Tyson earned an offer from Michigan following a visit to campus at the beginning of June. 
"They showed me around the whole campus, from the dining halls to the dorms. We also went through the facilities and checked them out. I enjoyed spending time with their staff as well. They told me where I would fit in their program and I also got to play pick-up with their guys, so that was a lot of fun."
Butler is the most recent offer for Tyson. New head coach LaVall Jordan extended his official offer to the rising senior this weekend, and there is plenty of intrigue in the Big East school.
"Well, my favorite player, Gordon Hayward, went to Butler, so that has some meaning. I've enjoyed building a relationship with that staff, too."
At 6-foot-7, Tyson has the ability to play both forward spots. He is very skilled for his size and stretches the floor with his shooting ability, but he has some playmaking ability when he puts the ball on the floor. With his deep range and shooting, it's not surprising to see Tyson being prioritized by several high-major programs where he would be a perfect fit. He averaged eight points and five rebounds per game in EYBL play.
With schools like NC State, Vanderbilt, and Northwestern still in play, more scholarship offers could come during the crucial July evaluation periods this month. However, Clemson, Michigan, and Butler have already done their due diligence with Tyson. Expect for these schools to closely follow him over the next few weeks.