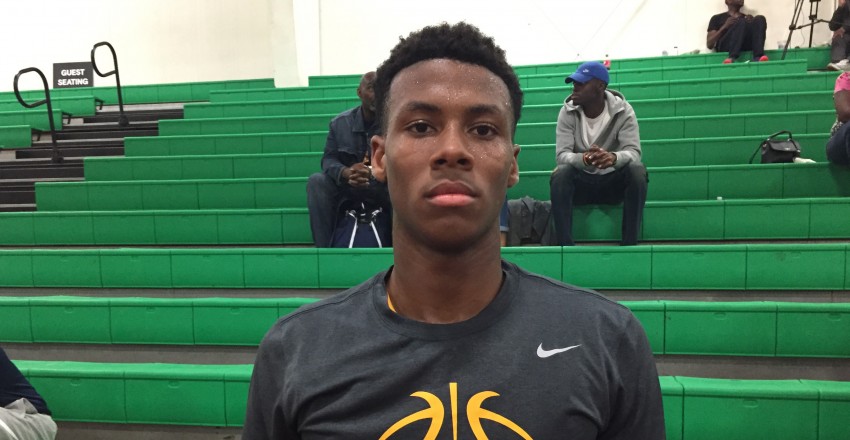 Days shortly following the July evaluation periods have been kind to Mississippi State over the past two weeks. Last week, five-star power forward Reggie Perry announced his verbal pledge to the Bulldogs just after backing off his commitment from Arkansas. 
Ben Howland and his staff received more good news Monday, as 2018 Grace (MS) Riverside wing D.J. Stewart gave his commitment to Mississippi State.
"I just felt it in my heart like Mississippi State was the right choice," Stewart told HoopSeen.com following his pledge. "I like the staff and basketball program. Coach Howland is a great coach."
Howland and Bulldog assistant George Brooks prioritized Stewart this month, as they were visible at many of his games. This is a nice, timely grab for the Bulldogs, as Illinois and Ole Miss, along with a host of other schools, were beginning to make hard pushes for Stewart's services.
A long, athletic 6-foot-6 wing, Stewart first caught the eye of the HoopSeen.com staff playing with the Jackson Tigers 16U squad last summer. After a successful high school season, the rising senior showed some noticeable improvements this year. While he still needs to be more consistent, Stewart has improved as a shooter. However, his best attribute will be his slashing and attacking ability.
Howland has made it a priority to keep the top players in-state, and Stewart will follow Nick Weatherspoon and Keyshawn Feazell as Mississippi players to represent their home state. That alone carried some weight for Stewart.
"It means a lot that I can put on for my state. I grew up on Mississippi State. And most importantly, my family can see me play."
Stewart chose the Bulldogs over scholarship offers from Alabama, Arkansas, Illinois, Louisiana Tech, LSU, Oklahoma State, Ole Miss, Stephen F. Austin, and UAB. 
Stewart and Perry give Mississippi State a solid foundation for their 2018 recruiting class. With two HoopSeen125 players now in the mix, the Bulldogs will turn their attention to another in-state priority, top 50 forward Robert Woodard. They also watched K.J. Williams several times at #BOTS with Da House.