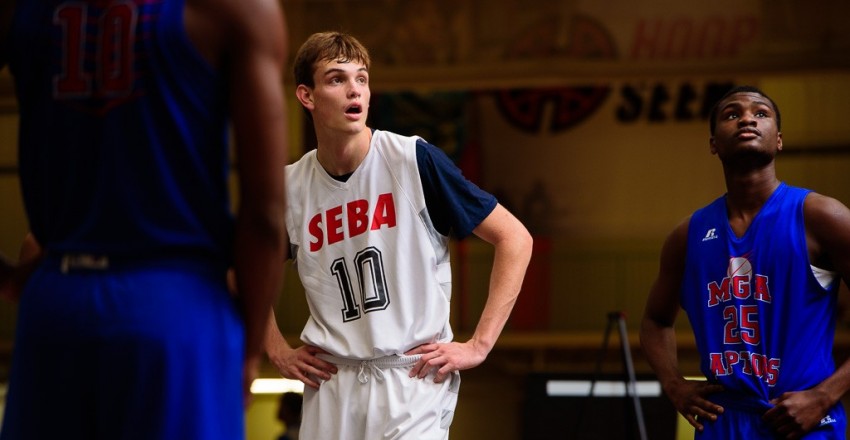 2018 Seminole (FL) forward Duncan Demuth was one of the breakout performers last year at #BOTS, as he entered the July live period without a single high-major offer.
Fast-forward to this year and the 6-foot-8 versatile forward has several high-major programs hot on his trail. A handful of those programs had a constant presence at his games last weekend at LakePoint Champions Center.
"I have offers from South Carolina, Florida State, Iowa State, South Florida, James Madison, Western Carolina, Wyoming, and a few others," Demuth told HoopSeen.com following one of his games.
South Carolina head coach Frank Martin spent a lot of his time at #BOTS, and one of the main reasons why was Demuth. The slender forward is intrigued by the SEC program.
"I like Frank Martin a lot. He's tough like my high school coach and I like that coaching style a lot."
Florida State was one of the first schools to offer Demuth last summer. Since then, the Seminoles have developed a solid relationship with the home-state recruit.
"I like Coach [Leonard] Hamilton a lot and Florida State is really close to home, and that's something important to me," he noted.
However, the one school that seems to be making the most noise in Demuth's recruitment right now is Iowa State. The Cyclones have made Demuth a priority for their 2018 recruiting class, as head coach Steve Prohm and assistant coach William Small have been recruiting him hard sicne the fall.
"Iowa State is really recruiting me hard and I like them a lot," Demuth explained. "I like Steve Prohm a lot. He seems like a great guy and I feel like I fit their playing style very well. I'm going to take an official visit to Iowa State sometime after AAU is over with."
With only one week of the travel ball season remaining, Demuth's recruitment could speed up rather quickly. Demuth plans to sit down and plan some official visits, but with Iowa State currently being the only school he knows he will definitely visit, it's hard not to say that the Cyclones are in the driver's seat going forward.