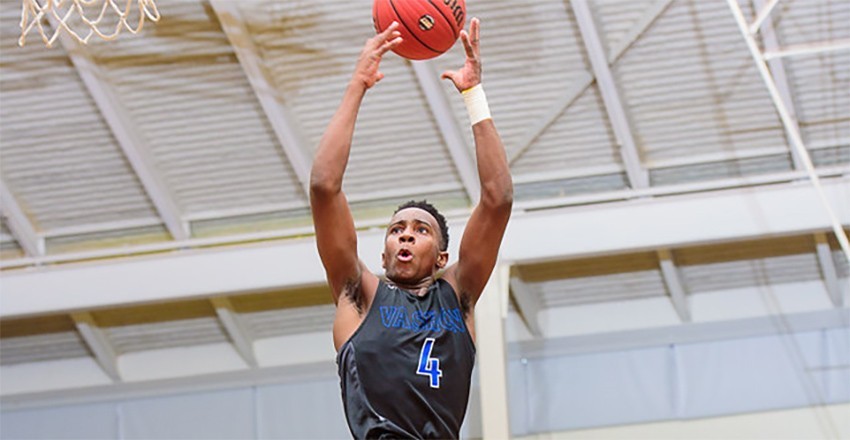 2019 St. Louis (MO) Vashon combo guard Mario McKinney was one of the most impressive backcourt players at the Nike Elite 100. The lefty left his mark in his hometown at Saint Louis University and breaking out along the way.
The 6-foot-1 combo guard's quickness and speed made him a handful to guard on the perimeter, as he racked up points in a hurry. McKinney had no problem finishing at the rim despite his size. In fact, he was one of the most efficient finishers at the rim.
Recruiting interest is beginning to roll in for McKinney, who has been busy since June 15th.
"Kansas State was the first school to call me at 12:01," McKinney told HoopSeen.com. "Missouri texts me every day and Auburn texts my dad a lot. It's been pretty busy."
Xavier, Missouri, Kansas State, Saint Louis, Auburn, Tulsa, Southern Miss, Duquesne, and DePaul are among the schools who have extended scholarship offers to the rising junior. More interest is coming in.
"Creighton, Iowa, Purdue, Illinois, and Arkansas are showing a lot of interest in me right now. I would say Missouri, Arkansas, Purdue, Xavier, and Iowa are sticking out right now."
Since being hired at Missouri, Cuonzo Martin has made McKinney an early priority for the Tigers. McKinney visited Columbia two weeks ago, but the coaching staff wants him back for another visit soon.
"Coach Martin wants me to come back and visit again and hang out with the players before AAU starts in July. I also want to see Illinois and Purdue soon, too," McKinney explained.